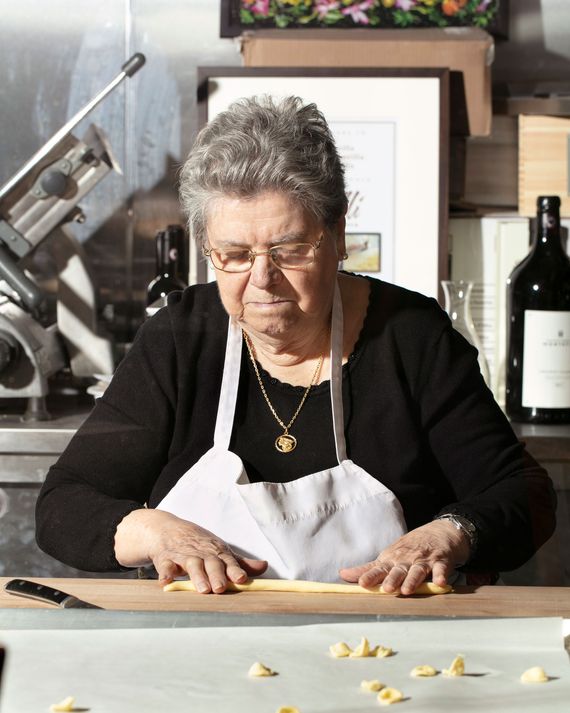 Nonna Dora's Pasta Bar's Addolorata "Dora" Marzovilla on orecchiette duty.
Photo: Melissa Hom
As the world continues down its current path of crazy, is tucking into a plate of pasta followed by another plate of pasta and calling it dinner the coping mechanism of the future? You'd think so, judging by the crowd at Nonna Dora's Pasta Bar. The modus operandi of these pastivores is to stupefy themselves with starch, loading up on carbs as if they had an important marathon to run in the morning. "I've got parties of three coming in and ordering five pastas," says owner Nicola Marzovilla, who opened the 28-stool spot in a sunken strip mall in Kips Bay in February. "Since there's no proteins on the menu, instead of just doing pasta, they're doing pasta, and then they're doing more pasta." And who can blame them considering the woman at the heart of the operation is certified pasta granny and Nicola's mother, Dora Marzovilla, a.k.a. Nonna Dora?
For 27 years, at Nicola's Puglian restaurant I Trulli on 27th Street, Dora rolled and shaped the dough with the lightning speed and nimble finger work of a three-card-monte man, earning her the nickname the Human Pasta Machine. But it's only since her 2019 appearance in a Pasta Grannies YouTube video that she's become an internet star. That video begat more videos, and soon enough Dora was enjoying a bit of international celebrity. "After she exploded online, people were coming in literally from all over the world to see her," says Nicola. "We had one kid who lived in Tel Aviv. His aunt said, 'What do you want for your bar mitzvah?' And he said, 'I want to go to New York and visit Nonna Dora.' And wouldn't you know it, he came to I Trulli and sat at the counter with my mother and watched her make pasta for two nights."
During the pandemic, Dora pivoted to pasta kits. "She was at home in her apartment for one year," says Nicola. "I'd drop off flour outside her door and she'd give me pasta. It was like a drug deal." When Nicola decided to shutter I Trulli to focus on his Tuscan wine estate, Dora wasn't having it. "Look, I just spent a year at home by myself," she told her son. "I hated it. I'm not ready to stay home." So Nicola found a space nearby for a new restaurant where she would be the main attraction. He expanded the pasta menu to 20 selections (more than twice the number available at any one time at I Trulli) and built a glass-walled exhibition kitchen where the Human Pasta Machine could do her stuff, which now includes rolling out enough product to sell from a retail corner up front and ship nationally via Goldbelly.
So far so good. On a recent Tuesday, the pastivores began pouring in at 5 o'clock. The narrow room combines counter and high-top seating, and by 5:30, every stool was filled. By 7, the rate at which plates of pasta were flying out of the kitchen seemed to have quadrupled.
Having gobbled our way through a sizable chunk of the menu, we can happily direct you to our favorites — perfectly textured cavatelli with broccoli rabe; thick, chewy-tender orecchiette with rabbit ragù; and well-grooved Sardinian gnocchi (malloreddus) scented with saffron and mingled with bits of sausage. These are Nonna Dora's greatest hits. Nearly as satisfying are maccheroncini made from grano arso (burnt grain) flour and mingled with peas and duck confit, and candy-striped casoncelli stuffed with beets and garnished like a dessert with lemon zest and poppy seeds. Nonna Dora's is also the only place (besides I Trulli) where we've ever seen ceci e tria, a regional oddity from the Marzovillas' native Puglia that combines fresh and fried squares of thin pasta sheets in an elemental sauce of chickpeas and tomato. Add it to your pasta bucket list.
The only problem with a restaurant that focuses on pasta and does it well is that it shifts the emphasis off of everything else. The antipasti, for instance — especially the mini-calzones called panzerotti, the springy fave e cicoria purée, and the Sunday-sauced meatballs — happen to be entirely deserving of your attention. There's also salumi, and when you spot salumi on a menu, formaggi cannot be far behind. You're not here to eat cheese, but if you order the six-month-aged pecorino anyway, you'll be glad you did. The knockout apple mostarda it comes with alone is worth the price of admission.
Then there's the drinks. Pasta grannies are not known to batch and bottle negronis, but you could go to Nonna Dora's Pasta Bar just to binge on six first-rate variations of that bittersweet elixir. And the all-Italian wine list runs deep, belying the pasta bar's casual setting. All things considered, you might view the new restaurant as the pandemic-streamlined and e-commerce-fueled version of I Trulli, targeting a younger clientele willing to trade tablecloths and secondi for bottled cocktails and bar stools.
"What do people want when they go out to dinner today?" poses Nicola with the assuredness of a veteran restaurateur who has figured it out. "A great cocktail, a great glass of wine, and some good pasta."
606 Second Ave., nr. 33rd St.
More From the underground gourmet
See All