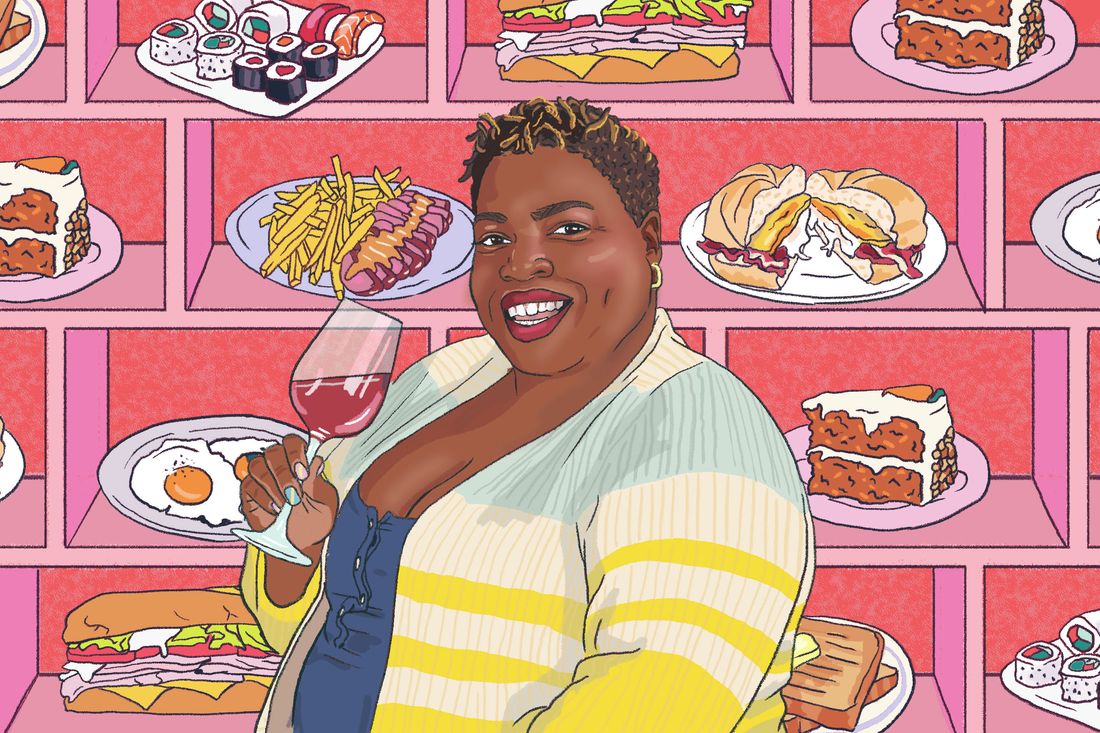 Kilolo Strobert drinking some wine.
Illustration: Margalit Cutler
Late last year, Kilolo Strobert became the owner of the Prospect Heights wine store where she started her career. Though she only worked at Fermented Grapes for about a year, subsequently spending time at places like Zagat and FreshDirect, she stayed in touch with the owners. "Three or four years ago, I said, 'When you guys are ready to sell, approach me and I'll figure it out,'" she recalls. So in September, she ended up buying it with her friend Max Katzenberg. In many ways, it's a homecoming: Strobert grew up nearby in Crown Heights, where her family would barbecue in the backyard, and went to high school on the Upper West Side, where she got a supplemental education from places like Zabar's, La Caridad, and Big Nick's. "It was open 24 hours, you would be drinking Zima and order Big Nick's at three in the morning in high school," she says. "We were New York kids, that's what we did."
Thursday, April 28
Breakfast: Toasted, buttered poppy-seed bagel with bacon, egg, and Swiss from Olde Brooklyn Bagel Shoppe on Vanderbilt Avenue. I get Swiss because it's one of my favorites and it won't upset my stomach. Becoming somewhat lactose intolerant sucks. At least butter is still good to go! If I couldn't eat bread or chocolate, there would be an issue. I'd definitely have a couple of days of crying because I'd be extremely upset.
Oat-milk latte with two shots from Mille-Feuille on Vanderbilt Avenue. I was never a big milk fan, anyway, and I prefer unsweetened almond milk to all the others, but coffee shops don't stock the unsweetened. Oat milk, to me, is typically the least sweetened out of the nondairy options. Also, this was the third coffee drink I'd had since December. I'm trying to lay off the caffeine, but the night before, I was at the Roots Fund Gala and out 'til about 1 a.m. I needed a boost.
Lunch was a three-roll combo from Inaka on Vanderbilt: salmon roll, spicy salmon roll, and shrimp tempura roll. Shrimp shumai, too. I call this the standard. I love this combo. I love shrimp shumai, maybe more than pork gyoza.
Butter cookies three-pack from an employee right before closing the store. One of the many pieces of my kryptonite! Love a good cookie. I like chocolate chip cookies. I like white chocolate macadamia. There's this guy, Sean, who owns this café called Yardsale in Park Slope. I used to work near it, and we all really hit it off. When he was testing recipes, he would come over and say, "You always tell me the truth. That's why I like testing stuff out with you." Well, yeah, I shouldn't want to eat it if it doesn't taste good. What's the point? Anyway, he has a vegan chocolate chip pistachio cookie there that is awesome.
Friday, April 29
Breakfast: half-bag Wegmans salad kit with one garlic chicken breast sliced over. Their salad kits are fire. First time grabbing one. I'm not, like, a frequenter of Wegmans. One of my closest friends is. And she's like, "You want to go to Wegmans? They're open until 11." So sometimes after she finishes from her restaurant, she'll come down and we'll go.
Lunch was a chicken salad sandwich on a roll with lettuce, tomato, red onion, and pickles with a bag of kettle-cooked chips. Also from Olde Brooklyn Bagel Shoppe. Their chicken salad is some of the best! I hope they never change their recipe.
I figured out what makes chicken salad good. I guess I'll divulge the secret. You have to poach the chicken. It's not baked chicken. It's not rotisserie chicken. It's poached or steamed chicken, and it sounds really weird. But it's really good for chicken salad. The texture and the way that it's still juicy but not dry, but not super juicy. It just retains the right amount of moisture. It's all about the chicken.
Went to Pasquale Jones for dinner, where I snacked on three pieces of sopressata and a small slice of pepperoni pizza. I drank red, white, rosé, and Champagne. I was there for a Dwyane Wade event for the release of his rosé and preview of his new Cabernet Sauvignon. Super fun and super good. (Don't sleep on his wines.) Everyone was asking him questions, and he said that Carmelo Anthony, out of everyone, knows the most about wine and that every time they go out, they hand the list to Carmelo.
I won a trivia question and got a signed Miami Heat jersey. I said it was going to be for my sister as a birthday present, because it was my sister's birthday that day. It was really nice; he asked me if I wanted to do a video for her. I was like, "What? Yeah!" It was just super exciting.
Then I came home and finished the Wegmans bag salad with another slice of grilled chicken breast.
Saturday, April 30
I was supposed to meet up with my friends today. None of us felt like getting up on Saturday to go to brunch at the right time, because we all had to work. Instead, I made myself breakfast: one fried egg over medium, homemade potatoes, and veggie sausage. I love making breakfast. This was yummy.
I will say breakfast is my favorite meal of the day. You can eat anything you want! I realized that in college. I was like, "Oh, it's not just cereal. Like I can have anything for breakfast? This is great. I'm an adult."
I also like making grits for breakfast. I make grits a lot, but I like to eat grits more in the summer than I do in the winter. My mom's from the South and we used to go down to Atlanta every summer to stay with my grandmother and grandfather. I was raised with grits for breakfast and I do sugar and butter on my grits. I don't care what anyone says about the salt and pepper and all that. It's whatever you want. I'm a sugar, butter person.
Lunch was a turkey sandwich with bacon jam and 50-cent bag of Ruffles. From Prospect Butcher Co. and the bodega next door to my shop. There's a lot of food to try on Vanderbilt. And if I just like round-robin one side to the other, I have like more than two weeks covered.
At Prospect Butcher, you see them taking the whole carcass off the refrigerated truck — they're serious. So when you know that they are whole butchering inside their space, like, how can you not give them props? I haven't really gone in there a lot because I don't have time to cook myself as much because of the store. I went in and got a sandwich because one of my employees goes in there and buys stuff like all the time to make at home for himself and his girlfriend. I had the roast beef one and I wanted to try a different one.
This is a good sandwich. Honestly, though, the place I'm falling in love with the most right now, it's called Stocked and it's on Washington Avenue, between St. Marks, across that. I didn't realize how legit it was until like a month and a half, two months ago. Their roast beef sandwich is legit. Their turkey sandwich is legit. There's a couple other things that are slamming.
Sunday, May 1
I met up with my friends for brunch. We settled on Leland because I'd been there for dinner one time before, and it was excellent. I was half-asleep that whole dinner, because I'd just worked, I don't know, probably 20 days straight and I couldn't keep my eyes open. But I remember almost everything tasting and smelling amazing. And my friends were like, "That was legit." And I'm like, "Yeah, it was legit," and then I was snoring again.
We were there for five hours. We ordered almost the whole menu. I had mussels and sourdough as a main course. Tried the homemade sausage, biscuits, zucchini bread, fritters, and had wine.
We ended up just catching up. We're all beverage professionals and we were very respectful — saying, "Oh, do you need this table?" — but they said we were good. So we just had fun. I was with friends that lived in the neighborhood, and we decided to go somewhere I'd never been in. We ended up at Ode to Babel, where I had been once very briefly. We drank gin and tonics and had an unplanned afternoon dance hang.
One friend went home, and I ended up getting dinner with another of my friends. We live a block away from each other. We ended up getting dinner at Rangoon because we'd always talked about going. They had room and it was great. It was excellent, even though I believe our server was brand-new, so we had to keep pushing for items.
We did the onion fritters, the ginger pork meatballs, the roast duck curry, the tamarind pumpkin stew. Then she got the coconut chicken noodle soup and we got the spicy fish relish, because I saw it and said, "We got to get that." Sides of sticky rice, and that was it.
This one was a great day because we were like, "Oh, we're at Leland, blah, blah, blah. Oh, we're still out. We're hungry. Let's go. We just danced." It was my first day off since March 29. I only got two phone calls from the store, one that annoyed me a little and one that didn't. So it was a good day.