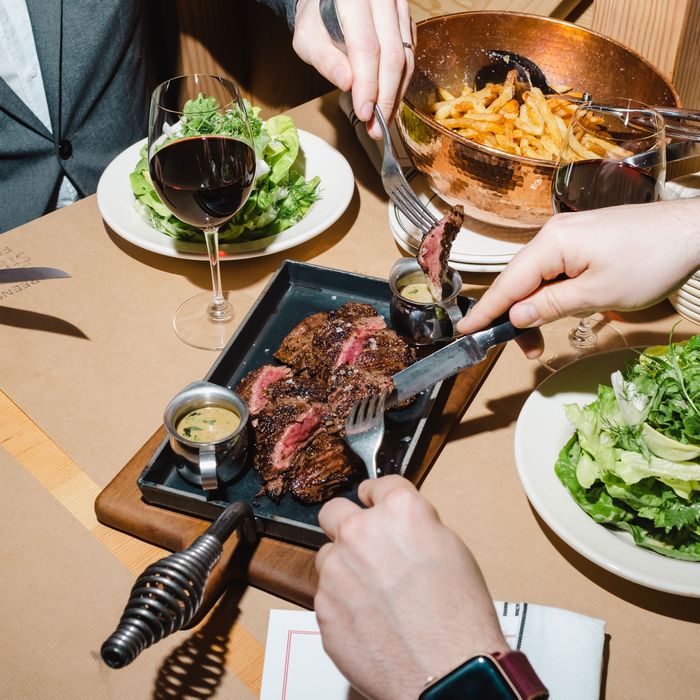 Skirt Steak offers just one set menu of salad, steak, and French fries.
Photo: Lanna Apisukh
"I feel like we're having an early dinner in the San Francisco airport," one of the assembled steak loons said as we huddled around the corner of the crowded, square-shaped bar at Skirt Steak, which that old beef impresario Laurent Tourondel opened last fall in a well-traveled restaurant space at the bottom of a Kimpton Hotel on Sixth Avenue and 29th Street. It was 5 p.m., which is certainly prime airport dining time if you're catching a plane to the East Coast, and the menu (a well-dressed salad and a chunk of charred, flavorful skirt steak, plus all the frites you can jam into your craw for $28 before tax and tip), along with the woodsy, utilitarian décor — "Your local CrossFit gym meets Cracker Barrel," one of the loons noted — had the air of an operation designed to facilitate as many covers as possible, spaced out in 45-minute increments.
Inside, I was immediately reminded of the great Parisian one-stop steak chain Le Relais de Venise l'Entrecôte, which operated an outlet for many years in midtown on Lexington Avenue ("temporarily closed") as well as one very briefly in Soho (permanently closed) and is similarly known for a biting mustard salad dressing, the quality of its frites, and a mysterious butter-and-cream-laced steak sauce made enticingly delicious, according to the French newspaper Le Monde, by a wicked infusion of chicken liver. There's a trademark steak sauce here, too, served in little cream cups, though we agreed it tasted more like a blandly American airport version of béarnaise than the Entrecôte original, which used to be served around the long tables on Lexington by a mostly female waitstaff dressed in black skirts and frilly white aprons.
The service at Skirt Steak was efficient and friendly, and we all agreed that the corn-fed U.S. beef, which arrived sizzling on hot cast-iron squares, was possibly a little overcharred but better than the desiccated old Entrecôte cut, which cost $24 with all the trimmings the last time I dropped in more than a decade ago. The salad here is better, too, and the frites, dispensed from great copper bowls by waiters wielding large silver tongs, are Parisian quality, which is what you'd expect from a French cook who began his career decades ago as the head chef for an admiral in the French Navy. Predictably, you can pay many dollars more for the option of "American Wagyu" beef, though I'd save the cash for the well-buttered peas mixed with nuggets of bacon and the excellent "cheesy potatoes," which are sliced and sizzled under a crunchy blanket of melted cheddar.
"This is what my grandfather used to call 'a good honest meal,'" one of my guests asserted as we looked around the room, which was filled, as at a diverse and crowded airport restaurant, with tourists who'd wandered down from Times Square, young couples enjoying the affordable prices, and, because this is New York City, hordes of influencers busily retouching photos of their dinners.
The line to get in begins forming at 4:30 p.m., the bartender said, and by the time we staggered out the door, it was twice as long as it'd been when we arrived (though maybe that's changed a bit since the restaurant opened for lunch). Once you're granted entry, you can enjoy a variety of stolid wines with your beef and frites, of course, and as at your local Cracker Barrel, the beers and cocktails start at $10. For that same price, you can add a strawberry torte or a decent slice of lime-meringue pie from the passing dessert cart, though neither were as satisfying as that other great Relais de Venise speciality, profiteroles, which used to come with plenty of hot chocolate sauce and melting scoops of vanilla ice cream.