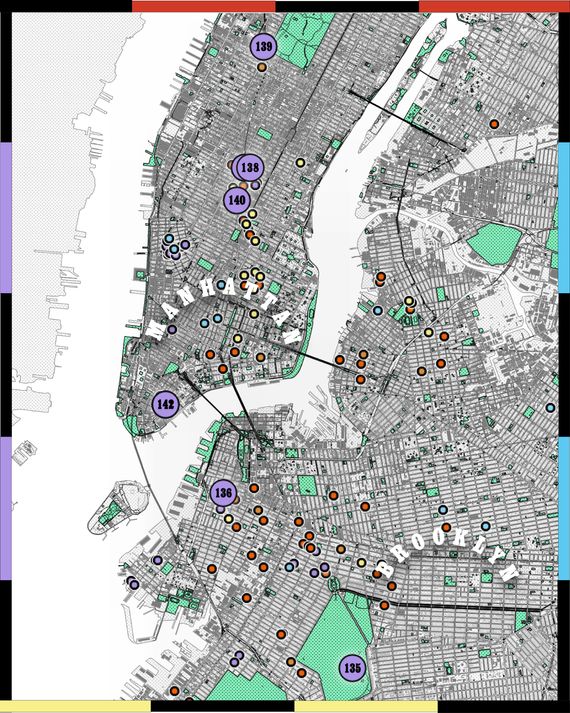 Photo: Tammie Teclemariam
A running list of everywhere I've eaten, week 13: Smorgasburg Prospect Park, Al Badawi, Gaonnuri, Grace Street, Porter House Bar and Grill, SERRA by Birreria, Overstory, Crown Shy
"Are you okay?!" bellowed the stranger pounding on the door of my bathroom stall. "Um, yes," I responded as I double-checked the lock. Then a moment of silence before she followed up: "Wanna do a bump?"
I declined as politely as possible given that I was sitting on a toilet seat and still not sure exactly whom I was talking to or who she thought I was. I guess there are bathrooms around New York where this kind of exchange would be, well, I don't want to say "normal," but at least somewhat expected. But we were in the W.C. at Porter House, a Columbus Circle steakhouse that, as far as I could tell, caters mostly to tourists, expense-account types, and well-to-do families from the Upper West Side. It's billed as a "bar and grill," and it was not the first place I expected to be offered drugs while on the job, though, to be fair, I had gone because I spent the week getting high.
Sometimes when you're looking for an escape, elevation is the answer. It's easy to write off bars and restaurants with tremendous views as places for tourists and special occasions, but there's a whole ecosystem of New Yorkers who take high-speed elevators to rooms where they can dance or drink or eat for no other reason than, say, it's a Tuesday. I wanted to know who these people are and get some perspective on what it's like at the top.
I was inspired to explore such heights by a trip to Manhatta, the 60th-floor Danny Meyer restaurant in Fidi that recently reopened after its pandemic hiatus. I went there to celebrate the birthday of a food-writer friend, and — because the restaurant's PR team had arranged things for her — we were seated at a corner table with unobstructed sunset views of lower Manhattan, the East River, and beyond. It was like staring down at New York City from an airplane, with everything in better focus. It helped that the drinks — a strawberry negroni and a carbonated Cosmo among them —  were pretty good, so we lingered a bit.
Soon after that trip, I asked a friend to meet me at the K-town restaurant Gaonnuri, which occupies the 39th floor of an office building in Herald Square. I was circling the exterior of the building in search of something resembling a lobby when I ran into my friend outside, also looking for the entrance. We turned back around toward Broadway and finally noticed the door leading to the restaurant's private entrance, a brightly lit, white hallway heavily obscured by the Tiger Sugar boba shop next door.
After checking in with a waitress downstairs, we zoomed up the elevator and were directed to wait for our table in the lounge, where the outlook mostly consisted of the tops of the surrounding buildings, primarily offices, and a bit of the night sky. It felt like the view you might get from the cheapest condo in a high-rise building. There wasn't much to see inside the dining room either, unless you were at one of the handful of tables right next to a window. We were surrounded by rich-looking families and overdressed people on dates, and without the skyline, we could have been eating Korean barbecue in Las Vegas, or maybe Houston.
The next stop was Porter House, which is lower from a vertical-rise perspective but nevertheless offers a view of Columbus Circle, provided you call ahead, as I did, and request a window seat, and then actually choose the correct seat. "Which side of the table should I pick?" I asked the hostess as I was sitting down. "Well," she responded, "Columbus Circle is this way, and the other side is a construction site." I nibbled on some raisin-walnut bread and noticed the sign for the Trump Hotel across the street.
I'm still not sure who offered me cocaine in the bathroom: A round table next to me consisted of two little girls and three adults, plus a lot of shopping bags, while a large group in the middle of the room appeared to comprise several generations of the same family, who were celebrating … something. At the table behind me were two sets of senior citizens on a double date, with each of the women sporting a different but equally elaborate black beret. At another table, a set of twin toddlers surrounded by a few adults were coloring with crayons.
The space that most impressed me on my treetop tour of New York was Overstory, a 64th-floor cocktail bar that serves as something of a companion to the restaurant Saga. Part of the appeal of any of these places is the ride up, when you leave the ground and your real-world problems below. The folks from Overstory seem to understand this, because to get to the bar, you enter an office building on Pine Street and follow the arrows to check in at the Saga desk, where there is a small waiting area. When you are summoned to go up, the hostess guides you to an elevator, which will eventually spit you out in front of another hostess stand, where someone will guide you past the Saga dining area and through two left turns before you reach a staircase, which you then ascend to arrive inside Overstory. Nobody enters by mistake.
Whether you can actually enjoy that view once you get all the way up there is largely dependent on the weather, since you really can't see that much from the interior, which is decked out with tall burgundy curtains that match the plush booths and a disco ball. To get the full Overstory experience, you need to walk around outside.
I'd personally been hoping to catch the sunset from one of the heated seats on the balcony, but I could only swing an 8:15 seating. I still considered myself lucky that my reservation was right after a rainstorm and not during it; the sky had cleared up by the time I went outside, though it was still windy. "We recommend all the glassware stay here," I heard a bartender tell a customer who asked if it was okay for them to take their drinks outside. If the man heard the request, he definitely did not heed it; he and his date took their cocktails out the door to the balcony, and nobody stopped them.
"So you're really just here by yourself?" asked a man sitting on my right who had just been complaining to his date about the $10,000 cost of a first-class ticket to the Maldives. "Do you got the juice or what, 'cause my boy said this place was exclusive."
After a couple of $24 cocktails and a few more trips around the balcony, I decided it was time to head back down to sea level, where I grabbed a seat at the Crown Shy bar — which is sort of like the ground-level version of Overstory, since it's run by the same people. As I sat down, I counted no fewer than four espresso martinis on the bar. Here on the street it was louder and chattier than it had been upstairs, which was fine with me. The elevation was lower, but now, without any windows to distract me, I could turn my attention fully to some food.