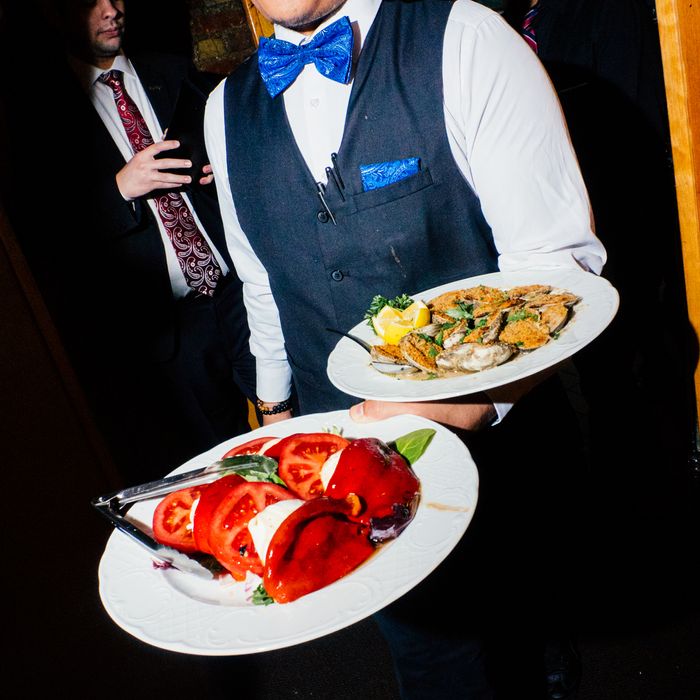 Appetizers moving through the dining room of Michael's in southern Brooklyn.
Photo: Jutharat Pinyodoonyachet
On a frigid Friday evening in early March, Mayor Eric Adams trekked to southern Brooklyn to join a birthday celebration that was already well underway. At the time, Adams was in the midst of touting an end to the city's pandemic restrictions with a tour of several East Village restaurants — in addition to promoting the city's still-struggling restaurants and clubs by patronizing Manhattan power-dining spots like Osteria La Baia, Rao's, Fresco by Scotto, Le Pavillon, as well as the members-only social club Zero Bond. "This is a city of nightlife," Adams told Stephen Colbert last fall. "I must test the product — I have to be out."
But this dinner was not on Adams's official schedule. The party was at Michael's, an unassuming Italian restaurant on the corner of Nostrand and Avenue R on the border of Madison and Marine Park, which has long been a gathering place for Adams's inner circle and Brooklyn's Democratic Party bigwigs looking to celebrate an anniversary or seal an endorsement over a two-hour meal. The restaurant was already buzzing when Adams arrived. He ordered eggplant, artichoke and fennel salad, and portobello mushrooms with fava beans; he stayed for about 30 minutes according to Michael Cacace, who co-owns the restaurant with his father, Fred. "The crowd was very excited to see the mayor," Cacace says, noting the mayor has come a few other times already this year. "He doesn't really eat that long. He has a little something: a salad, an appetizer. He comes in and he leaves."
For the celebration, Adams's chief of staff, Frank Carone, had commandeered table 65 in the restaurant's rear alcove, where he sat with a dozen other guests. Among them was Frank Seddio — a former state assemblyman and surrogate judge who led the Brooklyn Democratic Party for eight years and had started a law firm with Carone in 2007. Seddio still serves in the party's leadership and often suggests that candidates and clients meet at Michael's, which he claims makes the best red sauce in the entire city. "I don't look like this by accident," he says. "A lot of macaroni has gone through this body."
Seddio has been eating at Michael's for more than two decades; he has taken nearly every major figure in the state's Democratic Party there to partake in "pasta diplomacy." Before Kathy Hochul was governor, she dined with Seddio and Carone ("We're waiting now to set up another thing with her for dinner," Seddio says). Attorney General Letitia James, State Comptroller Tom DiNapoli, and Senator Kirsten Gillibrand have all noshed at Seddio's invitation. So did the previous attorney general, Eric Schneiderman, before his career ended in disgrace. "He had his security detail come in and check the place out, and not one person had any clue who he was," Seddio recalls.
Bill de Blasio, on the other hand, never had trouble being recognized when he visited Michael's while serving as mayor. He favored pizza and pasta dishes with the restaurant's signature tomato sauce. "Every person in the restaurant came over, shook hands, took pictures with him — the whole bit," Seddio says.
In a city of nearly 24,000 restaurants, only a handful become habitats for local power brokers; fewer are able to maintain that vaunted status. Langan's, a Theater District Irish pub, attracted reporters and media figures from News Corp's headquarters until it closed in 2018. Queen, a lunchtime haven for Brooklyn's legal elite, couldn't survive the absence of court proceedings and office traffic during the pandemic and shut down in 2020. And Forlini's, one of Manhattan's oldest red-sauce restaurants, drew federal prosecutors and judges who designated their preferred tables by having their names etched on plaques attached to its leather-upholstered booths before it shuttered last month.
Yet the mystique of Michael's has endured. "There are three main reasons politicians like Michael's," explains Democratic operative and Michael's regular Michael Tobman. "One, it's a warm, inviting environment, conducive to intimate conversations. Two, the food is really good. And three, it's still there." He adds, "I don't know that I could overstate the comfort and sense of being in the thick of things that comes from being in a restaurant like Michael's — talking politics with people who do politics for a living. You really feel like you're a part of something."
Italian American restaurants such as Michael's seem like they've always dazzled city elites and, to some extent, that's because they have. Politicians began courting Italian American voters in the 1920s and 1930s by canvasing street festivals and visiting community leaders at neighborhood restaurants. (At the time, the city's Italian population was growing to the point that it began to matter to elected officials — and it helped that Italian-restaurant owners sold liquor during Prohibition while the city's French restaurants refused.) "Restaurants became a natural meeting place of Italian Americans — much more so than any other kind of business," says Ian MacAllen, author of Red Sauce: How Italian Food Became American. "It was a casual setting that expressed the needs of the community and could turn out votes in a way that didn't come across as under the table — even if it was literally under the table."
Italian Americans — like Mayors Fiorello La Guardia and Vincent Impellitteri — had reached the upper echelon of city politics by the time Michael's opened in 1964. The first iteration of the restaurant was a small pizzeria with four tables, a counter, and a gas oven that came with the place. The neighborhood had a few other Italian restaurants, and customers were largely families who had immigrated from Bari — the port capital of Italy's Puglia region. A political hangout this was not.
Four years later, Michael's expanded — adding bluestone to the façade and heavy wooden double doors to resemble a Tuscan castle — while offering a three-page menu of traditional red-sauce cuisine. As years went on, word about the quality of the food spread, but the stock-market crash in the 1980s and the recession of the 1990s hammered the restaurant's profits. Tastes began to change, too, as discriminating diners drifted away from richer southern Italian specialties toward lighter northern Italian dishes and Mediterranean-style entrees.
Brooklyn's political and judicial class continued to patronize red-sauce restaurants despite the shifting trends. Democratic bosses like Meade Esposito (who ran the Brooklyn Democratic Party before he was convicted of making improper payments to Bronx Representative Mario Biaggi in 1987) held court at Abbracciamento's on the Canarsie Pier, Queen and Foffe in Brooklyn Heights, and Gargiulio's in Coney Island. Esposito's successor, Howard Golden, also loved Foffe, and he ordered broiled chicken and vegetables at Gargiulio's so often that waiters shouted his order to him as soon as he walked in the door.
Assemblyman Vito Lopez, who led the Brooklyn Democratic Party in the early 2000s, had his own rotating circuit of restaurants suited to specific needs. When he wanted to regale political hopefuls seeking his much-coveted endorsement, he took them to Cono's in Williamsburg. He hosted annual fundraisers for the county party at Giando on the Water on Kent Avenue. Staff meals and receptions supporting his assembly campaigns occurred at Nina's — a homey restaurant under the BQE.
When Lopez resigned as party chairman in 2012, Frank Seddio emerged as his successor. Presented with the opportunity to entertain more people in his corner of the world, Seddio went to Michael's, one of the few Old World Italian places left, where he had become a regular. As power shifted to southern Brooklyn, the restaurant became the New York City political world's center of gravity almost by default. And who would refuse? Setting a dinner at Michael's could define the magnitude of the meeting itself.
"Everybody who has come into power" understands that Michael's is the place to go to cut deals, says Andrew Holt, former publisher of City & State and a spokesperson for the political action committee A Better New York for All. "For every meeting of significance, the suggestion is always Michael's and nobody ever says no. You have to say yes." Holt explains that there's a hierarchy of restaurant dealmaking with Michael's situated firmly at the top: "Michael's is the place where the deal is happening, where all parties are present."
The most storied political sit-down happened in late 2005, when about 30 Brooklyn Democratic leaders and operatives turned the Michael's wine cellar into their personal war room to plot who would become the next City Council speaker and how they could secure committee chairs for their members. After shared plates of baked clams, calamari, antipasti, and salad and several bottles of wine, they discussed what rewards they would get for backing Christine Quinn, who became the Council's first female speaker, and how they might stiff one particular Park Slope councilman who also wanted the job. "Bill de Blasio was not talked about warmly at this meeting," one attendee recalls. "He was not one of the candidates we discussed or supported."
The tradition of horse-trading at Michael's might have ended two years ago — when Rodneyse Bichotte Hermelyn succeeded Seddio to become the current Brooklyn Democratic Party leader. Or the era of Michael's may have drawn to a close when its dining room temporarily shuttered and the restaurant had to rely on takeout orders, sauce sales, and a tented outdoor dining structure to keep it afloat through the pandemic. But Bichotte Hermelyn continues to hold meetings with candidates and other Democratic leaders at Michael's, and she has eaten there so frequently that the waiters know her favorites: lentil soup with pasta, lamb chops, steak, eggplant parmesan, lasagna, or spaghetti and meatballs — and a glass of Chianti to wash it all down.
"The people who work there know how to treat politicians. They know how to serve us. They know our world, and they take care of us," Bichotte Hermelyn tells me. "Outside of the food, there's a level of comfort and privacy. They respect the fact that people come in to talk about business and enjoy a four-course meal."
Even if Michael's remains a distant world for most Brooklynites north of Church Avenue, regulars say they've noticed more 20- and 30-somethings making date-night reservations — a phenomenon that could be attributed to the red-sauce renaissance that has taken hold across the five boroughs. "The pandemic may have accelerated this sense of nostalgia, and we're living in a time when nostalgia is comforting," MacAllen, the author of Red Sauce, theorizes. "There's no better way to eat our feelings than a big fat lasagna or a nice veal parm oozing with mozzarella cheese on top."
It doesn't hurt that the food at Michael's is, by all accounts, objectively good. The restaurant's fabled red sauce is a simple recipe of Italian plum tomatoes, olive oil, salt, and garlic that's been tested and passed down among family members over half a century. John Cacace, current head chef at Michael's, has worked in the restaurant's kitchen since he was 10 years old, and he says he is one of only four living people who have made the sauce. "The worst mistake I ever made was staying in the kitchen — not going to school, not becoming a lawyer," he jokes. (One of the better ideas, though, was to begin jarring the sauce in 2006. The small operation grew, and Michael's now produces 6,000 jars a day; it uses 300-gallon kettles that can fill 40 jars a minute and distributes the sauce nationwide and in seven countries in Central and South America.)
For first-timers, a trip to Michael's is a way to experience an era of Brooklyn that never stopped existing. Before the pandemic, Holt (from City & State) owned an Italian restaurant in Gowanus called Mamma Rosa. One day, he took his Rome-born chef to Michael's for lunch. They had Italian wedding soup, shared a plate of pasta, and downed a couple of glasses of wine. On their way out, they picked up a pastry from the bakery that Michael's operates across the street. "One of the wait staff wearing a white tuxedo was jogging across the street with a tiered white cake from the bakery to the restaurant," Holt remembers. "My chef could not believe that this restaurant existed in real life — this type of Italian American mentality. He said, 'It's unreal. I had to call my brother and explain this to him. My God, it's amazing! It's a movie! It's a film!'"