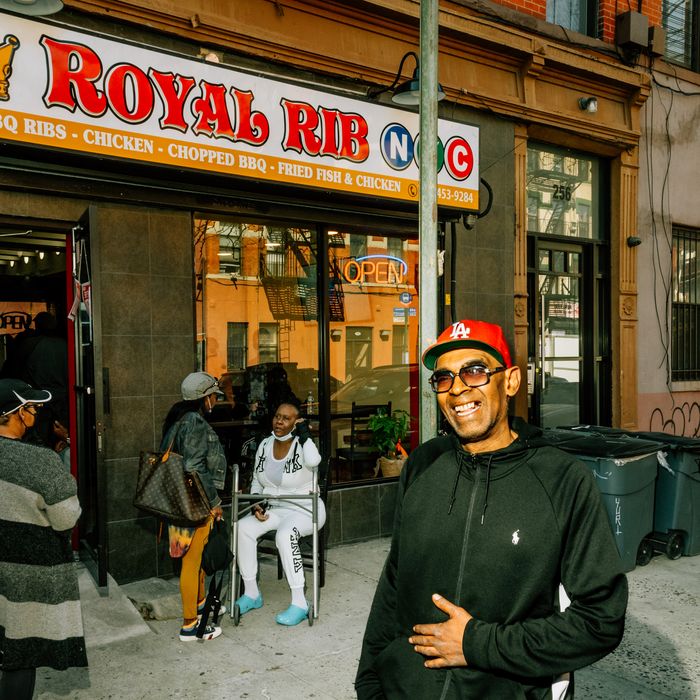 Paris Ryan, a longtime customer, outside the new Royal Rib House.
Photo: DeSean McClinton-Holland
On a recent Friday afternoon, Mattie Betts was outside of Royal Rib House, in Bed-Stuy, while family stood in line. Like those other customers, she'd been a fan of the first restaurant, which closed two years ago, and had been waiting for its return. She decided to go the first chance she got. "I came straight from the hospital here," she said. "I'd been in there for three months." Her daughter, Kaela Jeter, confirmed the story. "This is her treat."
Jeter and her mom were there with extended family, including Betts's older sister, Crystal Betts — who grew up in the neighborhood but now lives in Fayetteville, North Carolina — and her son. "I've been a customer of theirs ever since my mother used to bring me. I bring my son, my baby sister here, my niece, the whole family," Crystal said. "Everybody knows about here."
There are restaurants with fans, and there are restaurants where families will plan entire days or trips to accommodate a visit. Royal Rib House is in the latter camp. When the previous location closed in January 2020, after the owners sold the building, regular customers were devastated. "I wish I could sue y'all for just abandoning my taste buds," commented one disappointed follower on Instagram.
In truth, the restaurant was not supposed to be closed for so long. Third-generation Rib House owner Jason Barnett had, as he told the BK Reader, originally wanted to reopen in a new location in 2020, and in 2021 he posted on the restaurant's Facebook account that he hoped to open by the end of summer. Now, after several delays, Barnett has brought his family's famous ribs — and, with them, the equally famous lines — back to Bed-Stuy. (At 256 Malcolm X Boulevard, the new location is four blocks away from the old spot on Halsey Street.)
Since reopening, queues on Fridays and Saturdays have stretched around the corner. "I waited an hour and half, then had to wait another hour for the food," said one customer the first Friday that Royal Rib House was back in business. Nobody seems to mind — mostly they're just relieved that they can once again get Royal Rib House's baked pork ribs soaked in sweet vinegar sauce, chopped barbecue and coleslaw sandwiches, candied yams, and fried chicken. "With the area changing so much, you want to get a taste of everything," the Reverend Dr. B. Nixon, who also goes by Church Lady, told me.
The Royal Rib House was first opened in 1968 by Barnett's grandfather, Calvin Grier, who came to New York from the Carolinas, and scouted for restaurant spaces while working as a cab driver. Later, he'd hand the business down to his daughter Carole Grier, who ran the place with her husband, Teddy Barnett, and their son, Jason. At the same time, the Rib House became part of the fabric of Bed-Stuy, and a legacy of the Great Migration and part of a collection of soul-food restaurants in New York that speak to the history of the city's Black communities.
Fittingly, appreciation for the Rib House is passed down through family generations, as well.  "It's a lot of the older people that you see come here," said Jeter. "That shows you how long they've been around. I'm only 23. If you see the age difference in all the customers, that just tells you the love."
"There aren't places like this in the neighborhood," said another waiting customer. "It's all in the sauce."
Since reopening, the line has felt like a reunion, with people running into friends and acquaintances, talking about the old location and the long lines there, and their relationship with the owners. One young mom confessed to a couple of longtime customers that this was her first time eating at the Rib House; she'd always passed it up because it was too busy.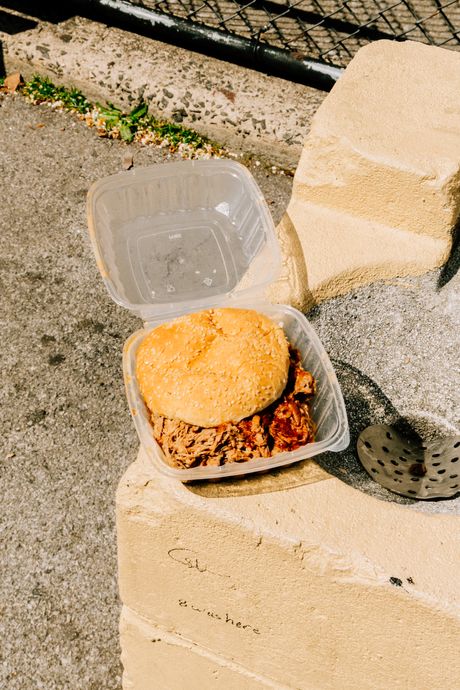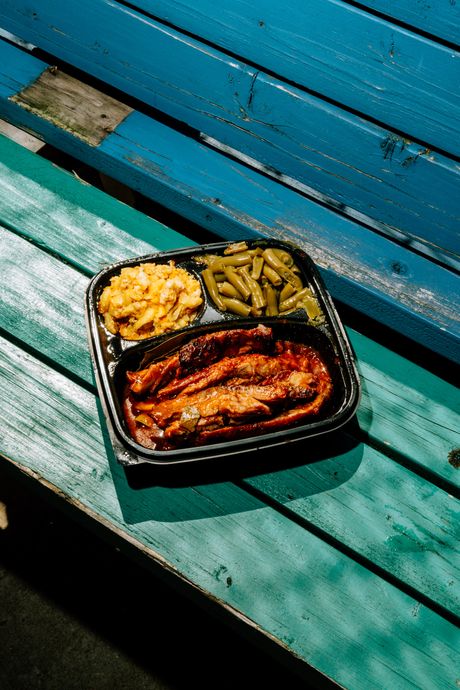 Joining the crowd across several afternoons, I realized more customers than not have been eating here for decades. You might see an older man from nearby flirting with a lady he's known since they were both years younger. A Vietnam vet told me he'd started going before he was shipped off to war half a century ago.
Though she now lives in East Flatbush, a customer named Louise was raised in Bed-Stuy, and has been going to the restaurant since its earliest days. (When she turned 80 this February, she tried to get the restaurant to cater the party, but they weren't quite ready yet.) Like the Barnetts, her family has roots in the South, and she says she'd spend summers in Virginia picking tobacco on her grandparents' farm.
On the afternoon I met her, she was making her second visit in two weeks. "I was on the bus the other day and saw they were about to open," she said. "So I got off. Then when I went to my eye doctor today, I came here."
She said she didn't tell anyone about her first trip, but word still got out, and a couple hours after Louise got home, she got a call from her granddaughter. "It was supposed to be a secret," Louise said, but she'd been spotted by Barnett, whose been friends with the family forever. "I knew them since they were this high," Louise said, holding her hand low to the ground.
Still other customers travel even further, like Paris Ryan, who spent an hour on the subway. "It's the best rib spot in New York, the best soul food," he said. "I came all the way from Harlem, from 155th, the C train." Before moving uptown, Ryan lived around Bed-Stuy and Clinton Hill for almost three decades, and has been going to Royal Rib House for 15 years. "I came down twice last week," he said. And he was back again, hoping to convert a first-timer. "My friend, she never had it, she's from Harlem, so I'm showing her something — how we eat in Brooklyn."
For the restaurant's fans, return trips become necessary. "Every week I would make a visit. Twice a week, probably, and they were only open Thursday, Friday, Saturday," Jeter said. "The ribs, the yams, the greens, the cornbread, the peach cobbler — the whole menu. I want all of it. I want all of it, all of the time."