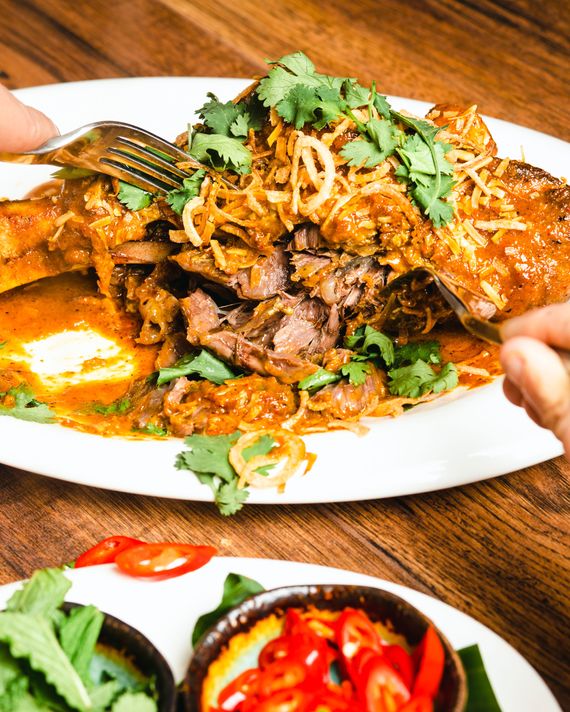 Some assembly required.
Photo: Lanna Apisukh
There are some reassuring signs that life is returning to midtown: People are trickling back into offices and hotels, the Rangers are drawing crowds at Madison Square Garden, and "Billy Joel is playing again," laughs the chef Leah Cohen. The Piano Man can't singlehandedly revive a neighborhood, but "it actually does help."
When the chef opened her second New York City restaurant — officially Piggyback by Pig & Khao, colloquially just "Piggyback" — in January 2020, midtown was as bustling as it had ever been. "I've never had a restaurant opening as busy as we were," she recalls. "It was insane." They had the happy-hour office crowd, which would spill over into dinner, and the Madison Square Garden crowd, the pre-theater crowd, the hotel crowd, the Penn Station commuters. They had a good two months like this, the bar in front so packed you could hardly maneuver to the rest of the restaurant, and then 17 months when Piggyback, at West 30th Street and Seventh Avenue, was completely closed.
Cohen and her husband and business partner, Ben Byruch, had been betting on the area, which before the pandemic seemed to be a hub of new development. "We were like, 'Okay, this is the next up-and-coming spot,'" she says. "And we were right … two years ago." When Piggyback reopened in October, the happy-hour crowd wasn't spilling into dinner because it wasn't there. And really, what it even means to be a midtown restaurant has changed. Part of Piggyback's draw was its default convenience — you're here, I'm here, Billy Joel is here, so let's grab a heaping plate of noodles — and it isn't necessarily convenient anymore. "Now it's more of a destination location," Cohen says. Which means a destination menu.
From the start, the pan–Southeast Asian menu at Piggyback was playful, a place for Cohen and her executive chef, Justin Romine, to toy with recipes that didn't, for one reason or another, quite fit in at Pig & Khao. And in many ways, the menu was already suited to the great comfort-food renaissance of 2022: pork belly over noodles, whole fried chicken, Thai fried rice, big flavors, lots of sauce. They didn't completely overhaul the menu when they reopened, but they did make some strategic tweaks to fit the times, nowhere more clearly than in the lamb rendang.
Cohen's lamb rendang, the old way, was a composed plate: braised lamb shoulder for one, served over potato purée and kale, with a side of roti. Now, they've turned it into an event. It was Romine's idea, she says: What if, instead of shoulder, they did lamb shank — a giant meat showpiece that arrives on the table, bone intact, bathed in more sauce than a typical rendang. The kind of dish that moves through the dining room as an advertisement for itself. "People are like, What is that? I gotta order that," Cohen says.
The $48 platter is meant to be ripped apart at the table, dressed with accoutrements (herbs, pickled chiles, toasted coconut), and eaten on roti. The flavor is the same as ever, bright and rich and spiced but not quite spicy, while the experience has become downright Dionysian. "It's just more interactive and fun," she says, pointing out what we all know: "People want fun now. People are sick of being isolated." And isn't it nice when dinner can be a reminder that we aren't afraid of each other anymore?
There was a time when Cohen wasn't sure if we'd ever eat like this again, tearing into the communal lamb shank, nibbling off each other's plates, dipping into shared condiment bowls. For the first months of the pandemic, it seemed like maybe not. "I was really worried," she says, "but people really want that interaction."