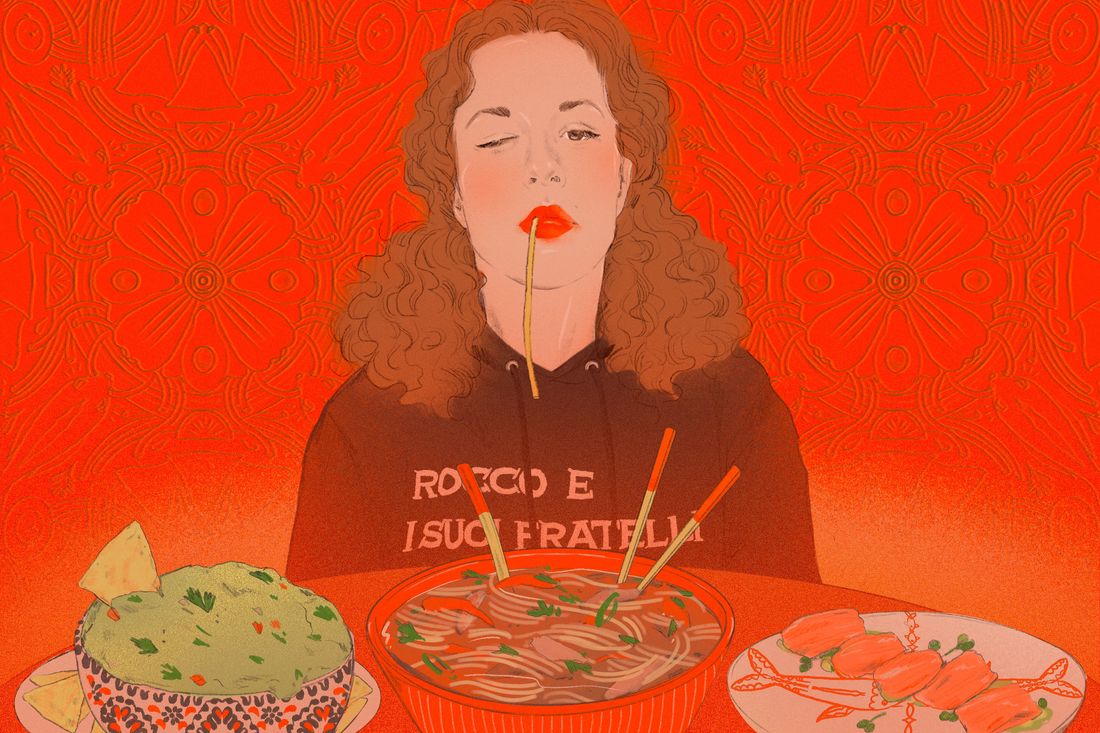 Molly Lambert.
Illustration: Lindsay Mound
Molly Lambert had big plans this week, namely to eat tons of noodles and a particular Koreatown soup she loves. Then her plans were foiled when a massive heat wave hit Los Angeles. "It was 100,000 degrees, and I just needed salad and air-conditioning," she says. Noodles or not, it was still a big week: She released the first episode of her podcast Heidi World, about the life of Hollywood madam Heidi Fleiss. Meanwhile, Lambert, who grew up in the San Fernando Valley, spends her time — as much as she can — roaming the city finding places to work and eat good food, a Jonathan Gold lifestyle "within a certain radius." 
Tuesday, April 5
I had a recording session for the podcast followed by my Deckheads Twitch stream, so I had to stay pretty close to my house for the day. Normally I'm roaming around a lot. Ever since I've gone freelance and don't have to be on a computer every day, I've really made an effort to not live that way. I started driving around and taking the time when I don't have to be working to just be out in the city and go out and walk around. My friend Alex Pappademas said I live in Larry David's Los Angeles, because I always run into people on the street.
I've got a couple cafés that I go to that are near me, and I use coffee as an excuse to get out. In order to start my day, I need to leave the house. It gives me time for my brain to boot up.
This morning, I got an ice almond milk latte at Kumquat Coffee, and then I dropped by Jugos Azteca, where I got the Super Green juice. That is the best place. It's the linchpin of Highland Park. Everybody goes there. Highland Park has been gentrifying a lot and Azteca is the midpoint of gentrification. All the locals still go there, but the fact that they make pressed juices attracts yuppies as well. There's a Brooklynization of neighborhoods in Los Angeles that I absolutely loathe because they make it more homogenous. Who wants that? Jugos Aztecas is a place to me that's incredibly L.A. because Mexican culture is L.A.'s culture. That's what makes LA a great city. If Jugos Aztecas ever closes, I will be so mad. I will throw a fit.
One thing is that I'm just not a person who eats breakfast. For whatever reason, I've been this way throughout my whole life. I don't wake up hungry. (I'm also a stoner, so I tend to eat my third meal late at night.)
If I were to eat breakfast, I would get it at Jugos Aztecas. The thing there that's really amazing is the chile relleno burrito, which I'm obsessed with. I love it because it's like a turducken. It's cheese inside a chili that's inside a batter that's inside a burrito, and that's the best thing. But if I ate that at ten in the morning, my day would be over. (There's another really good one at a place in the South Bay called El Tarasco that I have heard is Thomas Pynchon's favorite Mexican restaurant.)
There were two ceviche trucks that I wanted to go to, but they weren't out. I ended up going to Via Mar instead, which is fine, and got two ceviche tostadas. One shrimp, one fish. It's not as good as the trucks. It's not the place I would take you to get the best ceviche in L.A. It's more a place that I like to go to because it has this outdoor patio and I feel like I'm at the beach. There are a lot of places I go where maybe the food isn't the greatest or the best example, but I love the ambiance. This is one of them.
Went to Café de Leche for a large cold brew. I used to see Marc Maron here all the time because we were both on a podcaster's schedule. 
Made green tea at home before streaming and ate an entire tin of dolmas as a snack.
At Angel's Tacos, I got three tacos al pollo con queso and an horchata the size of my head. When I do my Twitch show on Tuesdays, I have to scavenge for dinner after, and there's never anything open because things close really early in Eagle Rock and Highland Park like it's a small town. So that's when I usually get tacos.
Another reason I went is that my uncle was in town, so I took him and my dad to Angel's because I thought they would enjoy it — and also because it's a scene. You wait in this line and you walk past a churro stand where you can see the churros being made. It's just fun to be around people, especially if you've been in your apartment a lot all day.
I always do some eavesdropping, just observing people. There's this feral cat who hangs out over where people eat tacos, just waiting for someone to drop some taco meat. It's great. It's fun. The tacos are really good.
Wednesday, April 6
A gigantic heat wave started.
I got coffee at this place Proof Bakery with Tess Lynch (who plays Realtor to the stars Elaine Young in Heidi World). I'd made a lot of plans with people from the podcast because it was coming out this week.
It had been 40 degrees the week before, and one of my plans for this week was to eat soup in Koreatown at MDK Noodles. Then it was 110 degrees, and I was not about to eat hot noodle soup. My brain just turns off when it gets that hot. I don't even know what I want to eat. I just have to eat something.
I do a lot of deciding what to eat by just driving around aimlessly until I see something I want. I was driving around Los Feliz on my way to El Compadre — I was definitely seeking a cold, dark cave of a Mexican restaurant — when I went past Carousel. I went there instead. It was perfect because I could get a bunch of cold salad, which sounded amazing. I got the fattoush, tabbouleh, and hummus.
I do love to go to Carousel. I love to go to a Middle Eastern restaurant and just order a bunch of mezze. That, to me, is a great lunch, especially on a hot day. I don't then need to take a nap. I get something similar at Zankou Chicken, this modest hole-in-the-wall that's incredible.
This was a long day, and it was so hot that I knew if I went home, I would just pass out because it'd be really hot in my house. When it's that hot, I try to stay out, and my air-conditioned car is better than most places.
To kill time, I met my friend at the Galleria mall in Glendale. I wanted to go somewhere indoors and air-conditioned where I could walk around for a couple hours until my next thing. It was too hot to be outside.
We walked around, and then my friend got conveyor-belt sushi. I initially turned it down because I didn't want to spoil my appetite for dinner. But then I did have a piece, and it was a huge mistake. It totally spoiled my appetite. It was an absolute L on my part. Not so much the ice green tea.
I went to a poetry reading on Hollywood Boulevard. It was at this weird club called Black Rabbit Rose that I have been to for a jazz night and Fred Durst was there. It's this incredibly strange club that's magic themed. Sometimes there are magicians.
Afterward, I got dinner at the Musso & Frank Grill with Gracie Hadland (who plays gossip columnist Liz Smith in Heidi World) and Karina Longworth (the You Must Remember This podcaster who plays producer Julia Phillips).
We had shrimp cocktails and asparagus with hollandaise sauce. I tried to order swordfish, but they were out, so I ordered fettuccine Alfredo after Karina told me it was supposedly invented here after two Old Hollywood movie stars had something like it in Italy and requested it at Musso's. Ice-cream sundae and chocolate mousse cake.
Back when I was 8 or something, I had a Hollywood-themed birthday party at Musso's, and I got to bring a friend or two. Now having dinner at Musso's to celebrate something I've made is a fulfillment of a lifelong fantasy for me.
Postscript: a carton of blueberries in the middle of the night.
Thursday, April 7
Brunch: drank a bunch of green tea and ate a bunch of Trader Joe's smoked salmon at home like an animal. What I should have done was put it on toast, but I was just hungry. There's something about eating it out of the container like a raccoon — 100 percent a raccoon — that makes me feel alive. I like anything you have to rip apart with your claws. It makes me feel like a bear fishing in a stream.
That was a tactical meal. Dinner was not.
I went to Colombo's. Normally, I don't eat Italian food this much. I usually go to what I call red salsa Mexican restaurants, which are my classic places to go. A place like El Cholo or El Coyote, just such a classic Mexican restaurant, or this spot in the Valley called La Fogata. But I wanted to go to Colombo's because it's just got a really strange vibe. That is also what I love in a restaurant. When it's got a bizarre energy. There's these haunted paintings, there's a giant portrait of Al Pacino, and a party room.
I went to Colombo's with Max Silvestri (plays Ivan Nagy), his girlfriend Leah, Andrew Ti (who plays Detective Sammy Lee) and Sarah Johnson (who plays a former escort). Max is the perfect person to go with to Colombo's, he has a good order.
We got the garlic bread, Caesar salad, and mozzarella sticks for the table (that's the thing to get there — they're really good). I got the linguine with clams and a side of spinach. For dessert, we had spumoni and chocolate ice cream.
The spumoni was really weird, and we all liked how weird it was.
It's this classic '50s Italian weird dessert. It's cherry, pistachio, and maybe chocolate or vanilla — I'm not even sure what the third flavor is. But cherry and pistachio? That's already pretty insane. The cherry part has chopped cherries in it, the pistachio has chopped pistachios, and we all agreed that the cherry ice cream tasted incredibly medicinal like NyQuil. But in this way where we couldn't stop eating it.
We had to know. It's such a weird flavor that none of us could fully get a handle on what was going on. It was like first cherry chemical flavoring that was used in cough syrup is also just what was used in ice cream in the '50s.
Friday, April 8
Breakfast was a Super Green juice from Jugos Azteca.
This was another 1,000-degree day. My big plan was to get lunch with a couple of friends at this place on Melrose that I love, Murakami, where they have these really amazing chirashi bowls. We all bailed because it was so hot that nobody wanted to do anything.
I really cannot overstate how hot it was and how dispiriting that was. I was stressed out because the release party for the podcast was at night, and I was worrying like, Oh, God, is anybody going to come to my party? It's so hot. Is it going to cool off later, or is it going to just be like this forever? Which is how it feels when it gets that hot. You think it's never not going to be like this.
My friend Aiden Arata, she is a famous meme account admin who is also in the podcast, told me, "Oh, sorry. I caved and just ate a sandwich." And all I heard was that one word. "Sandwich." I thought, that sounds good. Sandwich. Cold.
I was driving around and was going to Murakami by myself, but then I passed this place, the Village Bakery, and realized I'd really just like a veggie sandwich, which is very classic California. A hippie sandwich is my favorite thing. It's just an avocado and sprouts and cheese sandwich. I know it's not everyone's, but it is mine, because I'm a hippie.
I went to the bakery because I know they have a good veggie sandwich, but what I ended up getting is this really great vegan BLT that's made with tempeh bacon. I got it with a side salad and a big iced coffee. It was exactly what I wanted. It was air-conditioned in there. It was just so nice.
When I briefly lived on the East Coast during college, my friends made fun of me because I would talk about avocados as if they were the lost treasure. Because you couldn't really find them on the East Coast. And when you did, they weren't very good. I would just rhapsodize about Mexican food, avocados.
I am very California in that way where it's like, I love a vegetable. I love a fresh fruit and a fresh vegetable. I don't eat a ton of heavy food that often except on special occasions. I love raw fish, and I love salad, and I love hippie bullshit. And I love a hippie sandwich.
We had the Heidi World party at Walt's bar, where I ate a hot dog, part of my friend Leah's pretzel, some Ruffles potato chips, and Pocky. The party did end up going really well. The heat broke at the last second, then everybody came, and it was fun. My friend brought a Fudgie the Whale cake from Carvel. There's only one in L.A., and it's in Culver City. So she went and got an ice-cream cake on the hottest day of the year, which is incredible.
I had decided I'd go to Del Taco after the party. And then they were closed. And then Tommy's, this burger place, was also closed. (I wanted to be able to include my argument about why Del Taco is better than Taco Bell or at least my argument about why Tommy's is better than In-N-Out.) And then I went to 7-Eleven, where I got a sad stoner snack of Cheez-It, a Kit Kat Dark, an ice-cream bar, and a giant night water.
Saturday, April 9
Breakfast: gigantic iced coffee from Café de Leche.
Went to a screening of Barry Levinson's Bugsy at the Los Feliz 3 Theatre.
I had lunch at Suehiro, a Japanese diner in Little Tokyo that's awesome and open pretty late at night. You can get meat cutlets, cold noodles, coleslaw. They have this cold noodles thing here called oroshi soba that my friend Lizzy turned me on to. It's just the best thing on a hot day. I got that, edamame, a house salad, and this cold tofu with bonito flakes that comes on ice. It's a thing where the flavor is just cold.
Suehiro is the place I go for lunch a lot. I love any place that's a diner, like MDK Noodles in Koreatown — that's also a Korean diner. I love all the different iterations of diner. Any place with a booth, really.
Got an iced milk tea with almond milk and no sugar from Bubble in Chinatown.
I had dreams of getting out to the San Gabriel Valley for noodles, but I had to go to a birthday party in Hollywood, where I thought there might be free food (there was not). Instead, I ended up getting a late-night dinner at Swingers: waffle, poached egg, and an order of onion rings for the table.
I debated a lot about which diner to go to. We almost went to Canters. The vibes there are immaculate. Guns N' Roses hung out there. It's a great L.A.-history place. But the food is good at Swingers, and Swingers is a '90s place. It almost closed recently, and that made me realize I do like that space.
That was one of the first places I went with friends as a teenager where we were out in Los Angeles without parents. It's still a place where teenagers go to loiter late at night. I was really happy because there were tons of teenagers there. There was just a huge booth of teenagers just hanging out, clearly not even eating anymore, just hanging out until they get kicked out. So that felt very full circle: Hey, I'm an adult having a night out on the town, and here I am at Swingers at the end. Because it was on the other side of the hill from the Valley, it was also very exotic to me. I was more in the city, you know? I just love a late scene where you see people hanging out after their night — and I really wanted a waffle.