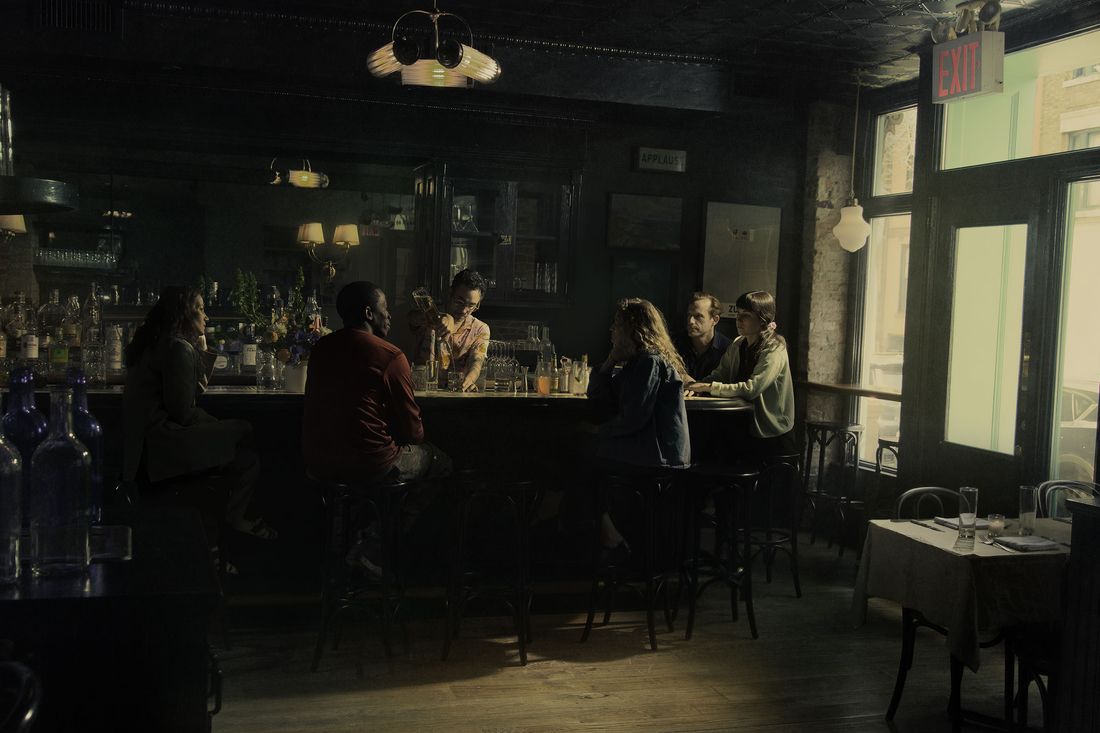 Inga's Bar in Brooklyn Heights.
Photo: Richard Tuschman
I'm tired of food stuff," says Sean Rembold. "I'm tired of it just being about food or about someone's name." Hardly the sentiment you'd expect from a New York chef who recently opened his first restaurant after decades spent working his way up the culinary ladder, culminating in an 11-year stint running the locavore kitchens at Williamsburg's Diner, Marlow & Sons, and Reynard. He left that post in 2017, fed up with the volume-crazed restaurant-group grind. But on a family trip to the coast of Ireland, he found fresh inspiration over potted prawns and raw oysters at a local landmark called Nancy's, a quintessential pub where the food — "So simple, so good," Rembold says — mattered less to him than the neighborly spirit and true sense of community.
"I was like, Why can't we just do a tavern like this where it can be all things to all people? " he says. "If you want to stop by after work for a drink with friends, so be it. If you want to eat at the bar, so be it. And if you want to come in for a big celebratory dinner, so be it." After much scouting of spaces and the inevitable pandemic-related delays, Rembold and his wife and business partner, the fashion designer Caron Callahan, opened the New York tavern of their Nancy's-inspired dreams in March on a quiet Brooklyn Heights corner. They named it Inga's Bar (66 Hicks St., at Cranberry St.) after the great-aunt of Rembold's whose house in Louisville, Kentucky, was where his extended family gathered to "play cards, drink tons of bourbon, and essentially party," he says.
Rembold is not alone in recognizing the enduring appeal of the tavern or identifying his business as such. Some of the city's best-regarded chefs are drawing design and culinary inspiration from the distant past, signaling a newfound appreciation of simplicity in food and atmosphere as well as of a certain low-key, unpretentious hospitality that seems much in demand in COVID-era New York. In the West Village, Rita Sodi and Jody Williams call the cozy bar area of their Shaker-inspired Commerce Inn the "Tavern," where guests can snack on spoon bread and bone marrow in snug wood booths. Around the corner, according to liquor license paperwork filed with the community board, the old Chumley's space will soon be reborn as an upscale American tavern (working name: Froggy's), marking the return to town of Mimi opening chef Liz Johnson and her husband and partner, Will Aghajanian. (Johnson says it's too early to share details.) And up in Dutchess County, King co-owner Clare de Boer has converted a former French restaurant at the 18th-century Stissing House inn into a country tavern, where she roasts aged pheasant in a wood-fired hearth. We now have a self-described Japanese-western tavern (Hall, a Wagyu-burger-and-cocktail den in the Flatiron District) and a Korean-Chinese tasting-menu tavern (Joomak Banjum in Koreatown, where the stated mission is simply to bring people together).
And then there's Emmett's on Grove, described by owner Emmett Burke as a midwestern tavern, whose signature dish is a Chicago-style thin-crust round pizza that gets sliced into tiny squares instead of the usual giant triangles — a technique that has a sizable fan base and its own nomenclature: tavern-cut, a.k.a. party-cut. Before there was Emmett's, of course, there was Lee's Tavern, a Staten Island pizza institution. Not to mention, beyond the pizza realm, ancient enshrined barrooms from Pete's to the Ear Inn, places where you can practically smell the history.
The simple definition of a tavern is a place where you can get a drink and maybe a bite to eat. But the ultimate goal of a tavern is to make everyone from any walk of life feel completely at ease, to serve as a home away from home. What distinguishes the new breed from its forebears is a greater emphasis on food and ingredients. If the Spotted Pig ushered in the age of the gastropub back in the aughts, Inga's and its ilk represent the rise of the gastrotavern, despite Rembold's protestations to the contrary. He might claim he's "so over" food (and food reviews: "I'm really against them at this point," he says. "We want to be there for the community, not for any other reason.") But what comes out of his kitchen says otherwise: a runny-yolked Scotch egg encased in homemade lamb sausage, a version of the San Francisco classic Celery Victor that evokes a braised Caesar, a perfectly cooked fillet of Spanish mackerel with soft potatoes over vibrant mint sauce. Yes, there's a cheeseburger, but it's constructed from two dry-aged patties, and both the pickles and mayo are made in-house.
Rembold built his reputation in the local-and-seasonal school, but at Inga's, he pulls influences from as far afield as Ireland and Wisconsin, which is where he sources his liverwurst. He is, it turns out, as much a connoisseur of the stuff as he is of neighborhood taverns and is a particular fan of the version served at Old Town Bar. "The liverwurst sandwich there is incredible," he says, lapsing momentarily into foodiespeak. "It's a religious experience."
Want more stories like this one? Subscribe now to support our journalism and get unlimited access to our coverage. If you prefer to read in print, you can also find this article in the April 11, 2022, issue of New York Magazine.