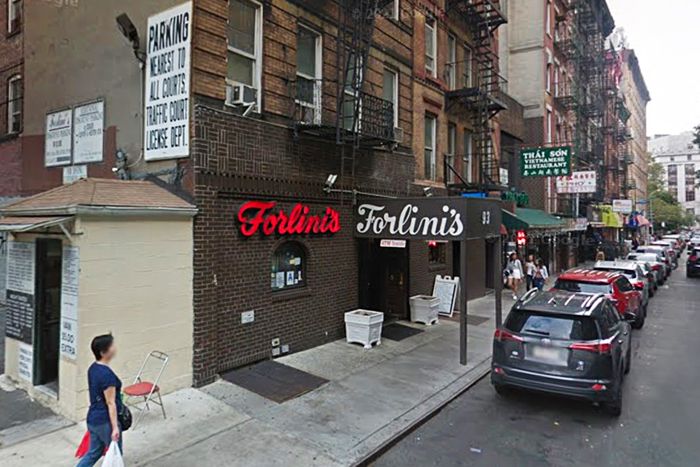 Outside Forlini's.
Photo: Google
The last Bolognese has been served at Forlini's. The Chinatown red-sauce haunt and pink-boothed Instagram favorite closed this week. Joe Forlini, who runs the restaurant with his cousin Derek, told Eater NY that it was simply time. So his family — 12 members of which owned the conjoined buildings at 91-93 Baxter Street that housed Forlini's — sold the property (asking price: $9.75 million) and have moved on.
But now everyone is wondering: Who bought it? Apparently a big believer in the maxim that loose lips ship sinks, Joe wouldn't disclose any details of the sale, namely the new owners. He would only tell Eater that while the Forlinis retain the name Forlini's — preventing an unasked-for resurrection — the restaurant's famous pink banquettes, chairs, and equipment were indeed included in the overall sale.
Also worth noting: While Joe originally told Eater that he would like to close the Monday after Easter, word quickly spread that, in fact, Forlini's would never again reopen. Did the mysterious new owners decide that April 1 was the only date they could start to move in? Did Forlini's longtime employees hopefully get some kind of advanced notice? Is it all one big April Fools' joke?
Nobody seems to know, and anyone who does know apparently isn't talking, leading to at least some very fun opportunities for speculation. One person I asked speculated — with no evidence — that the sale might be somehow connected to the new 50-story jail that the city is building nearby. (Joe says the closing is unrelated to that project, which would seem to throw at least some cold water on this theory.) Did NBC become tired of having to rent it out every time they used the space for Law & Order, so they simply bought it outright? (Seems like it would be cheaper to build a set in an existing studio.) Has Major Food Group — known for its deep pockets and love of transforming old red-sauce restaurants into new red-sauce restaurants — taken over the space? (It is currently busy opening a Carbone in Dallas, so the timing for a forced Forlini's shutdown seems suspect.) Is Pete Davidson already opening another Pebble Bar? Or maybe Nicholas Braun and Justin Theroux, the current kings of downtown nightlife, decided to capitalize on the success of Ray's with an even more ambitious expansion? (I asked Braun's reps, just to be sure; they assured me he wasn't involved.)
What's actually going on? Who can say! No one I've talked to has a clue or even any sense of how the space may end up being used. Given the history of Forlini's, which has been open since the 1950s, and the resurgence of interest in the restaurant itself, it seems likely that whomever bought the building would want to leverage that renown into … something.
I asked one well-connected restaurateur what he thought the worst-case scenario might be. "Smashburger?" he replied, before adding that he also didn't see the appeal in reopening the Forlini's space as another retro-themed red-sauce joint. "I don't really get the zombie-restaurant thing."