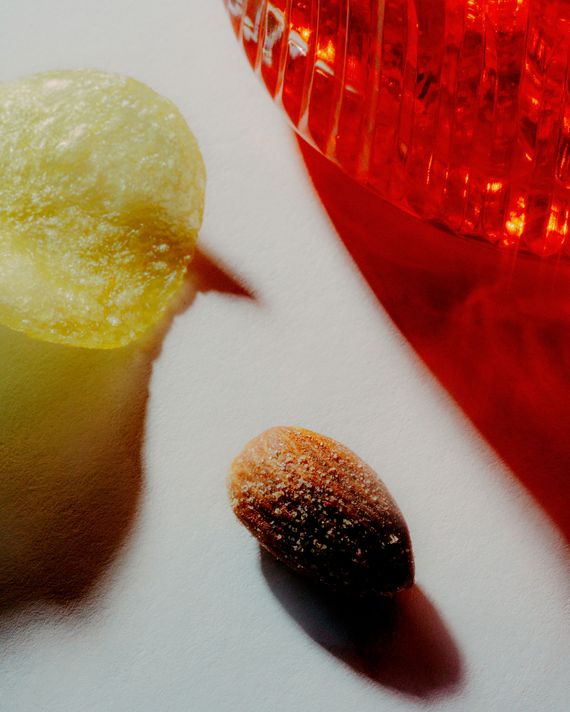 Photo: Ryan Duffin; Prop Styling: Liz Mydlowski
When Milan native Edoardo Mantelli was planning his new Fort Greene restaurant, Saraghina Caffè (195 Dekalb Ave.), aperitivo — that distinctly Italian form of socializing over low-proof cocktails and snacks, before or sometimes in place of dinner — was meant to be a big part of it. But now that he has officially opened, he finds himself facing a cultural conundrum: Will frenzied, time-pressed New Yorkers embrace the carefree ritual of his homeland? And will our different business model allow it? For one thing, he says, Italians tend to dine later than Americans, and a leisurely aperitivo session can stretch out for hours without jeopardizing dinner-table availability: "At 7 p.m. in a restaurant there, they're still sweeping the floor." Contrast that with the line that has already begun forming on weekend nights before his café's five o'clock opening time, full of families and couples ready to eat dinner, not just nibble. As he gradually extends the hours, he's planning to open at 4 p.m. in the coming weeks for riffs on drinks like the Americano and the spritz, which practically define aperitivo, and snacks like chips and olives — "Maybe a small pizzette," he says. "It's a short time frame between four and five, but I still want to give it a try."
He's not the only one. Aperitivo culture has been on the rise among Italophile restaurateurs and customers alike, even if, owing to the exigencies of service hours and price structures, our between-meal version tends to be early bird and à la carte. (In Italy, the cost of the food is typically built into the drink price. Here, it's almost always extra.) But even an attenuated aperitivo is better than no aperitivo at all, especially as the weather warms, outdoor dining returns, and the prospect of social gathering has never felt more irresistible. Here, where to go and what to get.
440 W. 33rd St.
Aside from generally celebrating life while fantasizing that you're some well-heeled character in a Paolo Sorrentino film, the point of the aperitivo hour is to stimulate the appetite, not crush it. Which is why, when stimulating said appetite at Ci Siamo, you need to exercise a sort of superhuman restraint. Hillary Sterling's snacks are that good. To go with the excellent cocktails (try the house spritz or the Bitter Giuseppe), there are wonderfully doughy bites designed for sharing but fated for hoarding: a plank of pizza bianca topped with Spanish anchovies, Pop-Tart-size gnocco fritto stuffed with melted goat Gouda that you can drape with mortadella, and what we're calling the best new slice in town: a focaccia-like Roman-style square going under the alias of "pizzette." As all restaurants should be required by law to do, Ci Siamo reserves the bar and the lounge for walk-ins. But get there early if you want a seat.
1 Rockefeller Plz.
With its linen tablecloths and beige-coated waiters, Lodi practically oozes elegance — an island of refinement in a sea of American Girl shopping bags. But do not be put off by the seeming incongruity; the suavest of European cafés have their share of tourists too. And Lodi's setup nicely suits al fresco–drinking purposes: The snug interior is confined to window ledges, while all the tables occupy the spacious, traffic-free plaza. Forgo the tented Terrazza for the umbrella-shaded seats around the corner, and let afternoon turn to evening as you sample seasonal and even daily variations on the spritz and the negroni, like the recent admixture of an Alpine aperitivo and a local rhubarb liqueur. Snacks run the gamut from a caddy of peanuts, chips, and olives to a painterly still life of anchovies, butter, and marinated peppers. Focus on anything that comes with or on the house-baked bread (an attraction in its own right), including tramezzini and fresh ricotta drizzled with oil.
52 Grove St.
Unlike other hubs of New York aperitivo culture, Bar Pisellino isn't a restaurant. There is no dinner service, no power lunch, no reservations — no need, therefore, to squeeze your visit into some preordained window. A West Village boulevardier can drop in anytime for what might be the city's most stylish interpretation of the Italian art of drinking: salty snacks lined up on the glowing stage set of a bar (cacio e pepe patatine are potato chips' higher calling), spritzes and Americanos ferried to and fro on silver trays, paper-wrapped bite-size sandwiches ready to sate any appetite that might develop. Form meets function at the triangular corner lot, where the generous layout favors outdoor seating on two separate stretches of sidewalk and, sooner or later, the whole world passes by.
79-81 Macdougal St.
Why is Dante nirvana for budget-minded aperitivo-hour addicts? Because the Negroni Sessions menu is a 12-drink ode to that cocktail and its infinite permutations, and if you go from 3 to 5 p.m., you can work your way through this meticulously executed list at a rate of $10 per drink, $1 of which goes to God's Love We Deliver. See why many consider the house classic negroni the last word on the subject of sweet-bitter-botanical balance. Discover the Cardinale (a negroni that swaps out sweet vermouth for dry) or a superior Americano, made with Maldon sea salt and gingerless "ginger soda." Between sips, munch mortadella flatbread and Kalamata olives. Revel in the leisurely pace. Even with the current scaffolding situation, a seat on the sidewalk is a transporting experience.
Multiple locations
The standing coffee bar, the spiffy pink uniforms, the museum-quality pastry and panini displays: When Milanese export Sant Ambroeus touched down on Madison Avenue 40 years ago, it created a template that many would aspire to (including itself; Stateside branches now number ten and counting). Though there is no designated aperitivo hour, if you show up between lunch and dinner and, with the confidence of a practiced aperitivo habitué, request some snacks to accompany your negroni variation (try the soda-topped Salted or the Rosato, with Lillet Blanc and pink gin), the kitchen will happily oblige. Recently we grazed contentedly on chunks of Parmigiana and a bowl of good olives, and the maître d' threw in an overflowing bread basket and some candied nuts. We recommend the Soho location for prime people-watching, amply umbrella'd sidewalk seats, and the option of slipping into the new gelateria next door for dessert.
359 Metropolitan Ave., Williamsburg
With quality craft beer available everywhere from bodega to microbrewery, the destination beer bar has become almost irrelevant. And so, nearly two decades after Joe Carroll opened the pioneering Spuyten Duyvil, he's shifted his focus to what he considers the next big thing: amari, vermouth, and low-ABV cocktails made with them. "We're not abandoning craft beer," says Carroll. "We're augmenting it with other stuff." Visitors will find the old backbar chalkboard menu replaced by shelves of bitter liqueurs (including vintage finds) from all over the world. Sample them neat, on the rocks, or in a spritz, but if the choice overwhelms, you can order a cocktail like the Tinto de Bràulio, which combines the Alpine amaro with lemon soda and mint. Carroll notes that much of his business now comes from customers of his next-door steakhouse, St. Anselm, stopping in for pre- and post-dinner aperitivi and digestivi. For those without dinner plans, Carroll has expanded his snack menu to include a wide range of conservas, served straight from the tin or jar. Despite these changes, Carroll has wisely done nothing to the big, open-air, gravel-strewn backyard, as apt an aperitivo patio as biergarten.
132 Greene Ave., Clinton Hill
Clinton Hill is not Venice, but judging by the crowd of revelers clinking glasses, guzzling spritzes, and generally whooping it up the other night outside Aita, you wouldn't know it. The Italian restaurant has several things going for it in the aperitivo-lifestyle department: first, its prime corner location, affording it ample outdoor space in a lights-strung curbside "gazebo" and at sidewalk tables. Second, it has instituted an actual aperitivo menu, a sort of bitters-based happy hour from 5 to 7 p.m., at which time the kitchen includes cichetti (toothpicked, finger-friendly bites like bruschette and croquettes) with the price of a drink. And third, and most crucially, it has Althea Codamon, general manager and self-described spritz obsessive. She has compiled a lengthy drinks menu spotlighting small-batch, naturally colored and flavored amari, vermouths, and bitter liqueurs, all available on the rocks, as a highball, or in a spritz. It is great fun to work your way through it, testing your bitters tolerance and ascertaining the botanical variance between, say, the mildly sweet Apologue Persimmon from Chicago and an Aperol alternative from Sardinian producer Silvio Carta. Another selling point? The proximity of further sustenance, from Aita itself, or from Impasto, its affiliated Roman-style pizzeria across the street, where you can prolong la dolce vita with a swirl of vanilla and pistachio soft-serve, anointed with olive oil and sea salt.