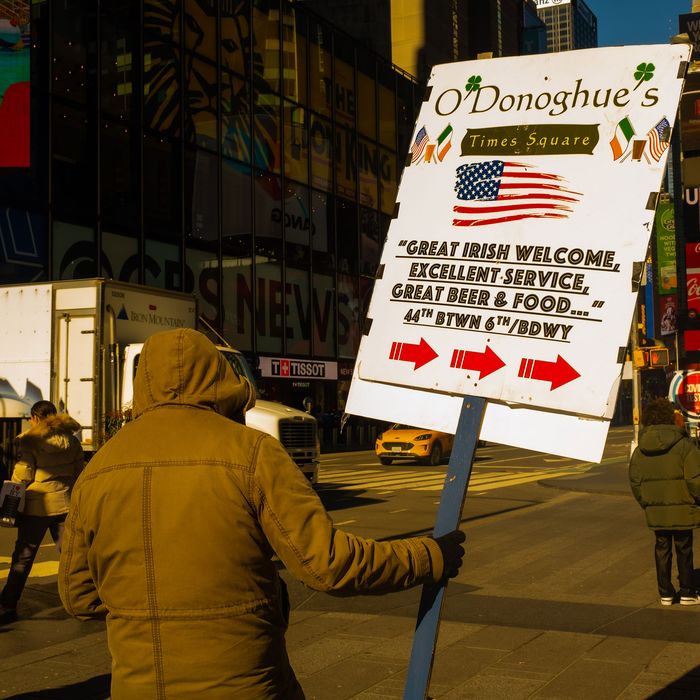 A sign directs potential customers to O'Donoghue's, where business has slowly started to pick back up.
Photo: John Taggart
On a dreary Monday afternoon in mid-February, Times Square was looking a bit drab. Staring up at the buildings, you could practically count the number of office lights that were on, but you were more likely to be struck by how many were off. A couple of tourists were having a great time with the Naked Cowboy, but around 1:30, the area's lunch business looked slow. I counted four customers in John's Pizza, three in Carmine's, and maybe a couple dozen at Junior's. Some lunch places have looked okay, with construction workers piling into the Cuban joint Margon, and about 20 people inside Los Tacos No. 1 — "We're doing all right, better than expected," says co-owner Kyle Cameron — but of all the hot dog and halal stands I passed, only one had any customers at all.
"There's just a number of things coming together that's causing a fairly significant decrease in business for everyone," says Adam Glenn, who owns the well-loved dive bar Jimmy's Corner. Business on one recent Thursday was relatively busy around 6:30, but there were still some seats open. "Before COVID," Glenn adds, "if you came in at six o'clock, you might not even be able to get in the door — we'd be a full bar, one- or two-people deep, every table in the back, and people still looking to come in."
Jimmy's, which has been open since 1971, is one of the most famous bars in New York, and places with less name recognition have had even more trouble pulling in business. O'Donoghue's Pub reopened last March, and owner Fregal Burke says it wasn't until November that they started to see any real business — which then dried up once Omicron swept through town. "New Year's Eve, 11:45, everybody went outside to see the ball drop and nobody came back in the doors," Burke recalls. "We got nothing in January — absolutely nothing. It was so quiet." He says business has started to pick up again — "We've been getting dribs and drabs" — but that without office workers, who made up the bulk of O'Donoghue's customers, "we're in serious trouble."
The effects of the pandemic have been particularly acute in this part of town, known mostly for its tourist-targeting chains, but with a robust ecosystem of independent operators that also cater to the New Yorkers who used to spend time around 42nd Street. Now these owners say they are starting to feel more hopeful but are struggling to adapt when business is, at best, depressingly inconsistent.
For his part, Mayor Adams has lately waged a one-man campaign to get workers back to offices, lifting various pandemic restrictions and chiding anyone who still works remotely, telling them, "You can't stay home in your pajamas all day." At a Times Square press conference announcing the end of the city's vaccine mandate, Adams continued his push, lamenting, "We have become so boring as a city," adding, "I want to become a city of excitement." And there are early signs that people are starting to return. Last week, The City noted that office occupancy in New York "finally ticked back up" over 30 percent. Single-day subway ridership also rose to its highest level since mid-December.
The question now facing business owners in this part of town is: When will it be enough? Absent office workers aren't the only thing hurting restaurants and bars. Tourism isn't expected to fully rebound until 2025, and both Broadway and hotels saw their numbers plummet in December and January. Hotel occupancy in New York fell mid-December, from 81.5 percent of total capacity the week ending December 11 to 62 percent during the week of Christmas. "January occupancy for the city as a whole was 40 percent, the lowest in several decades barring last year," according to Vijay Dandapani, the president and CEO of the Hotel Association of New York City. He points out that midtown's hotels comprise "roughly 20 percent" of hotels across the city, adding, "I don't believe their occupancy was better than the citywide rate" but rather is likely lower, perhaps "considerably so," Dandapani says.
In mid-January, Broadway's box-office grosses, the New York Times reported, were "falling off a cliff." Some shows closed temporarily because of COVID cases; a number of others closed permanently. Capacity did increase throughout January, and grosses in February rose during the month's final week, but nevertheless remained below pre-pandemic levels.
"As you know, we are primarily a theater restaurant, so we're married to the theater," says Sardi's owner, Max Klimacius. After nearly two years of being closed, he reopened the restaurant in late December. Business in January, he says, was roughly half of what he saw in 2019, yet he strikes a hopeful tone: "Coming up in March, April, there are a lot of shows that are going to be opening up. By then I hope we'll be ready and be able to provide what is expected of us."
I stopped by Rum House — the popular cocktail bar in the Hotel Edison — at 6 p.m. on a Thursday and counted around 30 customers. "Are they making you come back to work?" I heard the bartender ask one patron. "No," she replied.
When I asked how business has been, the bartender said it felt like a typical Thursday. "It used to be jam-packed; Broadway just pumping, pumping, pumping," he said. "Not just Broadway, but the hotels." Owner Kenneth McCoy says that toward the end of 2021, things had started to pick up — "We were actually doing kind of the same numbers that we were doing prior to COVID, and I was shocked" — but Omicron crashed the party. "Those last two weeks of 2021 were just," he pauses. "We were dead. We were totally dead."
But once again, there are glimmers of positivity (hotel occupancy has inched upward to pre-Omicron levels, for example), and once again they are tempered by the difficult reality of doing business in the city. "A line has started again," McCoy tells me. "It's basically back to pre-COVID, but our costs have gone up."
This, Glenn explains, is just the way things are now: "I don't think it's ever going to be 100 percent what it was, but I am hoping that enough things will come together that'll get pretty close." His business is back up too and getting better every day. "We're seeing things trending in the right direction," he says. "But there's still a long way to go."