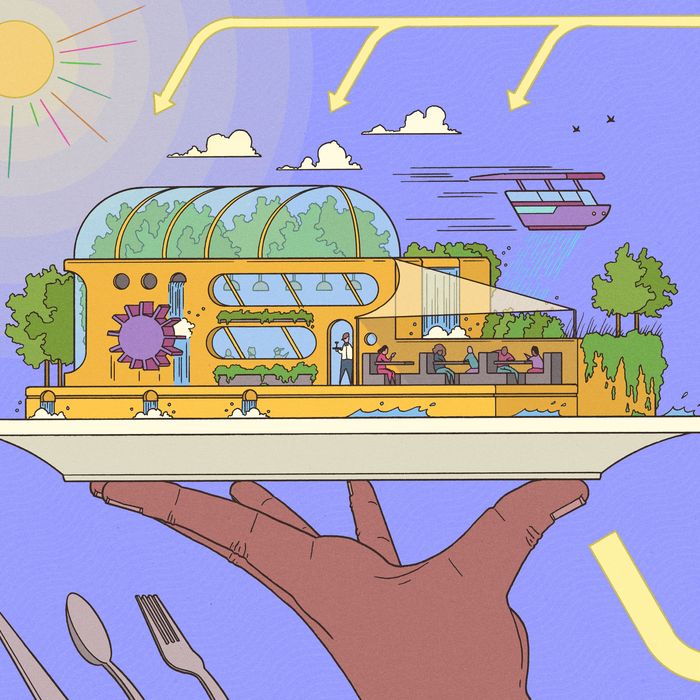 Illustration: Kyle Ellingson
The storefront sitting at 163 First Avenue in the East Village is so narrow that it doesn't afford much space for surprising design. When it housed the original Momofuku Noodle Bar, it was spare and utilitarian. A single wood counter bisected nearly the entire length of the room, placing diners on one side and the steel-clad kitchen on the other. That same aesthetic carried over as the location transformed into the first Momofuku Ko and, later, the launching pad for the chicken-sandwich chain Fuku. But Momofuku moved out a while ago, and now — owing to multiple viewings, scrutinous budget assessments, and one realtor's persistence — there are new tenants, Telly Justice and Camille Lindsley, partners in both life and business.
Walking through the gutted space a few weeks ago, Justice and Lindsley laid out their vision for the restaurant they plan to open later this year, HAGS. (A name that nods to both the derogatory term for older women and the preferred yearbook-signing acronym that means "Have a Good Summer.") First, there will be a pink kitchen, because, as Lindsley posits, "When have you ever seen a bright-pink kitchen before?" They have no interest in right angles, either. Everything will be soft, "no hard corners." The plan, they say, is to make the space feel "womblike."
And, while Justice and Lindsley are proudly queer, diners at HAGS will not see a single rainbow flag. "We're not rainbow queers," Justice explains. Lindsley adds that any rainbow flag would be "offensive to both my leftist sensibilities and my aesthetic sensibilities."
The restaurant will offer a set tasting menu, changing with the seasons, with an emphasis on flexibility to accommodate any number of dietary restrictions. But at this stage in planning, the culinary element of HAGS feels almost secondary. Instead, Justice and Lindsley are more interested in talking about their ambition to rethink how a restaurant gets built and run, applying queer sensibilities to the business to create a space that is as equitable and accessible as possible. "Representation alone is just tokenism," Lindsley offers. "What's more important is queering as a practice and not just as an identity."
When it opens, HAGS will join a growing list of food businesses aimed at upending and ultimately dismantling a culture where, supporters say, hegemony, classism, male supremacy, white supremacy, and heteronormativity have been the dominant traits for too long. They want to see a radical overhaul of the entire hospitality industry, so that it is no longer enough to simply make delicious food, or to offer some casual nod to local ingredient sourcing. Increasingly, a new restaurant must stand for something larger than itself, with many operators focused on how they can improve working conditions for their own employees. Radical restaurants aren't just selling food; they are trying to sell us their collective vision for a better future.
Zacarías González is a co-founder ofAuxilio Space, a nonprofit initiative focused on food distribution and building a cooperative kitchen studio for people who might feel otherwise excluded from the traditional hospitality world. He points to the low wages, long hours, and lack of career mobility that can plague the food world's most vulnerable workers. "At its root, the restaurant industry is systemically dependent on exploitation," he says. "What would be radical would be owners and restaurant groups using their privilege, access, and funding to create ecosystems of equity in their brands."
If that sounds a bit abstract, New Yorkers are nevertheless trying to apply these principles in tangible ways. ACQ Bread in Brooklyn is a bakery reimagined as a cooperative space where every worker is treated as an equal. Playground Coffee Shop puts its earnings toward mutual aid and community fridges. Hearts of Dinner, cofounded by former Kopitiam owner Moonlynn Tsai, is a grassroots organization that feeds and supports New York's elderly Asian community. Hot Bread Kitchen and Emma's Torch, pioneers in this approach to building a business, train underprivileged workers and refugees, respectively, for sustainable careers.
The idea that has gained the most momentum so far is to transition away from traditional ownership models, opting instead for employee stock ownership plans or worker-owned co-ops. "There continues to be an increasing recognition that the differential between the frontline and low wage workers and higher paid people really is untenable," says Alison Lingane, co-founder of Project Equity, is an organization that helps existing businesses convert to employee-owned models. Lingane hopes that co-operative models can be a way to level the playing field, but moving to worker ownership isn't easy. Lingane says it takes months to analyze each operation before facilitating a transition, which can then take more than a year to complete. And at HAGS, for example, it simply wouldn't be feasible to launch with a worker-owned model, Lindsley points out. "We realized asking people if they want to be owners would mean asking them to share in this immense debt and liability."
Instead, there are ways to institute pay equity that don't involve co-operative ownership. At the Bronx restaurant, La Morada, every employee makes the same amount — $20 an hour — regardless of their role. At HAGS, wages will be higher. The living wage in New York City is $21.75. "We're definitely going to pay more than that — we have to," Justice says. "It's incumbent upon all business owners to pay even more than a living wage in the city where they operate."
And along with equitable pay comes an equitable division of labor, with many of these establishments blurring the traditional barrier between back of the house and front of the house.
While raising wages is a necessary and laudable goal, the only real way to accomplish it is to raise prices, which in turn excludes certain customers. "Often, restaurant owners feel as though you can either provide affordable food that's accessible to everyone or you can charge a lot of money so that you can afford to pay your staff a living wage or a competitive wage," Lindsley points out.
At HAGS, the couple intend to institute a pay-what-you-want policy on Sundays, while simultaneously ensuring that customers paying full-price during other days of the week understand the real cost of cooking food while providing a livable wage to all workers. "I want people to look back two years from now and think, I can't believe I expected to pay less," Justice says. "That's an ideological shift, which takes a lot of conversation, a lot of work." (González, of Auxilio, is more blunt in his assessment: "We need a cultural re-evaluation of where we collectively place worth.")
Talking to Justice and Lindsley, I tell them honestly that I want their vision to succeed but worry it won't, that their 20-seat restaurant can't possibly turn the dining world on its head, and that instituting all of their ideas likely won't produce financial solvency. And, to my surprise, the two agree that it's totally possible the restaurant will close in a year or two, but its shuttering wouldn't necessarily mean HAGS was a failure. "Success to us doesn't look like getting rich off of this or staying open for ten years," Justice says. "It's about doing the best that we can today and then trying to do even better tomorrow, and doing that as long as we can."
So, for now, they need to figure out just which shade of pink they'll paint their kitchen and get to work building out the space. "It's a long and painful journey to building something close to perfect, if you can ever get there at all," Justice says. "But why would you do this if that's not your goal?"
As we continue walking through the space, Justice at one point uses air quotes when she calls Lindsley and herself "owners."
"Are you not literally owners?" I ask.
"No, yeah, we're literally owners — there's no reason to put that in air quotes," Justice concedes. "The idea just makes me feel squirmy."
This post has been corrected to show that Moonlynn Tsai is no longer associated with Kopitiam.