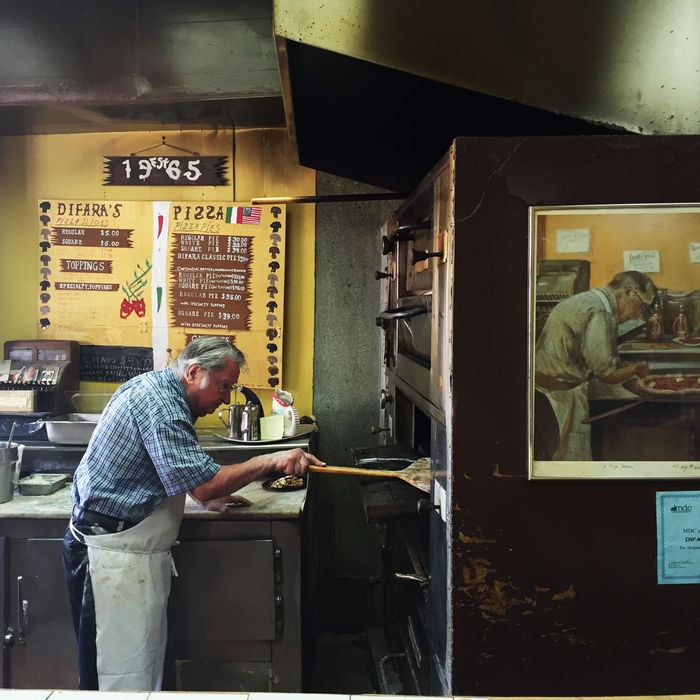 Dom De Marco working the oven at his pizzeria, Di Fara.
Photo: Jeffrey Tang
Last week, the family of Domenico "Dom" De Marco announced that the pizza patriarch had died. De Marco was the man behind Midwood's Di Fara, arguably New York's most famous pizzeria, where he was, for years, the only person who made the pies. But before he became an icon of the food world, De Marco was just a guy who ran a neighborhood Italian joint. Grub Street caught up with a Bensonhurst native and certified food nerd to learn what Di Fara meant to the people who had grown up with it. (Said food nerd asked us not to use his name because the company he works for has strict policies regarding any conversations with the press, but Grub Street has known him for years and can vouch for his red-sauce authority.)
The first time I went was a scarily long time ago: 22 or 23 years ago. My mom had found out about it from a friend of hers who was born and bred in Brooklyn, whereas my mom had moved to Bensonhurst from an Italian area out in Queens. We went the first time and waited some crazy-long amount of time. I remember thinking, This is stupid. But the funny thing is I don't think we waited very long in the grand scheme of what Di Fara became. It was maybe 30 or 40 minutes. And it was ridiculously good.
This was back when he wouldn't even let anybody else near the pizzas, which was, at that point in time, a good thing. For me, it was a very special experience in the sense of, like, you get to watch this true craftsman. It was the whole experience, and it was a very different crowd — very Brooklyn at that time. There was quite a lot of camaraderie around the waiting. If I'm describing Di Fara as feeling very Brooklyn at the time, it reminded me of going to Totonno's, which felt very Italian. It was a bit weird if you went into Totonno's and they didn't quite know you.
The whole idea of going there was also funny because the area was even more Orthodox Jewish than it is now. Back then, it was Orthodox Jewish people and this pizza place. And that was it. In other words, the area wasn't necessarily very Italian. There were people who kind of did a pilgrimage. We did a pilgrimage from Bensonhurst to get there, which is not the quickest trip, you know? If you don't have a car, it's a real pain in the ass to go from Bensonhurst to Midwood. So we would usually drive because otherwise, you have to do a bunch of stuff to get the Q train, and go back up, and blah, blah, blah.
Di Fara definitely had more of that Italian vibe back then because they used to also do heroes, and they would fry their own zucchini flowers. Then at some point, when I was in high school, they stopped doing anything except the pizza.
It was a few years after I was first going that it got really crowded. This must've been in high school too. I was probably going there once a month, maybe twice a month, leading up to that. When it got to the point where waits were two hours or longer, you could go up and order from Dom and he would just give you the next regular pie that came out — if you were somebody who went there a lot. So if he recognized you, you end up jumping a line of probably 30 people, which basically made it worth going at that stage.
I wouldn't be surprised if the Italian American community moving out of southern Brooklyn made Di Fara a little bit more accessible for others. Kind of by coincidence, this was when the crowd of slightly intimidating, older Italian American construction-worker types stopped showing up there all the time, you know? That's when all the people from Manhattan started coming. They'd come in and you'd take one look and say to yourself, Oh, okay. You live in the city. You've come out here to try this for the first time.
That switch-over occurred naturally. All the Italian Americans started moving out to Staten Island, Jersey, and Long Island, and that's when these people started to come — and then, ultimately, people from out of town, people from all over the place.
I do think a lot of the myth, the legend, is just hero worship. Americans get a bit obsessed with the idea of the singular hardworking man. You know, at the center of the entire universe. Which I totally respect. It was worth it at Di Fara. I think the American love for that imagery is what definitely gave a lot of people a romantic feel for the place. You're willing to tolerate a lot when something has that authentic look, and it obviously always had that look throughout the years.
Some people just didn't buy into the myth. In high school, damn near everyone I took to Di Fara absolutely either loved it or hated it. And the people who hated it were just like, "Why am I paying this much for pizza? I can get pizza anywhere." You'd think that people that live local to it must have really respected it and loved it as an institution, whereas most of the people that I could think of that I took there in high school, the majority, would say, "This is fucking bullshit. Why am I paying so much for pizza?" I think a lot of people were surprised by the price. For the time, it was a lot of money for pizza. That was scandalous.
Obviously, that wasn't true of everyone. I met lots of people who had no idea what the fuck this place was, and you would take them there and they could be Italian American and they'd be thrilled: "Oh, this is amazing. That's the best pizza I've ever had!" They had no idea it existed because it was very isolated in Midwood.
Where I grew up, there were a lot of places that were quite old school still. You had Joe's of Avenue U, Gino's Focacceria — places like that. I mean old school as in the owners and people and staff and stuff were mostly actually from Italy. I feel like Di Fara was actually quite separate from all the stuff I grew up around. It has its own myth and legacy and all of that. Its importance within the community may have come more out of the internet age in some regards, because I couldn't tell you how my mother's friend found out about it. That was probably word of mouth proper because Di Fara was out in Midwood. How else would they know about it?
When the crowd at Di Fara was just people from Brooklyn, Italian Americans, you could walk in and get a slice right away, you know? That's not what made it famous. It was the non-Italians. Because if Di Fara had been a focacceria, like Gino's, doing really good freshly fried stuff, they'd be out of business. As soon as the Italian Americans left, nobody would know what the fuck that shit is. But because it's pizza, you don't need Italians around. If pizza's good, everyone will come.