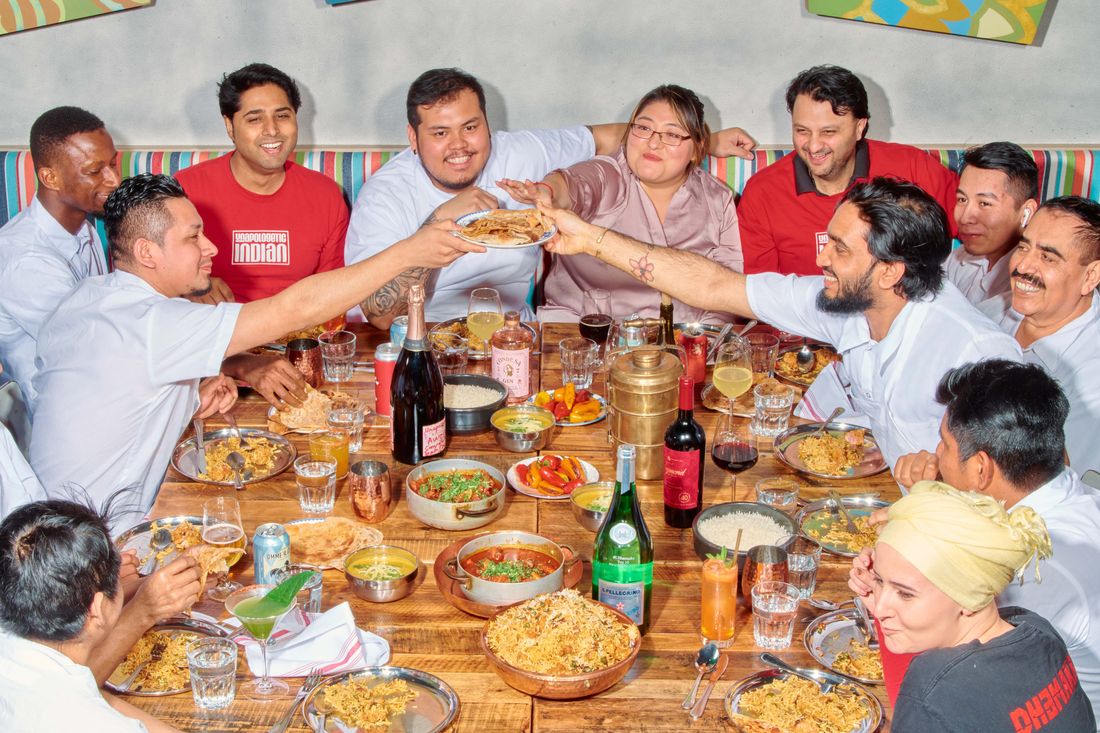 From top left:
Roni Mazumdar, Eric Valdez, Tsepak Dolker, Chintan Pandya, Saul Anastacio, Rafael Zaragoza, Shawon Deb, Cristian Gonzalez, Lila Weitzner, Juan Gonzalez, Abel Aviles, and Bubacarr Kabba.
Photo: Evan Angelastro
The kitchen at Dhamaka — the Indian establishment at Essex Crossing with a monthlong waiting list — is about the size of a large storage container. At tightly packed stations, cooks work, if not back-to-back, then close enough to pass ingredients without taking a step. To make the pulao, a rice dish, chef de cuisine Eric Valdez uses a portable butane burner, which takes up less space than a stove. "I've camped, I've cooked with this before," says Valdez. "But in a professional kitchen? This is my first time."
Dhamaka, which opened in February 2021, is known for its unadulterated representation of regional Indian dishes less familiar to diners abroad: Gujarati stuffed peppers with peanuts and chickpea-flour masala; a pig's-head salad from the country's northeast. It's become a destination to members of the South Asian diaspora seeking the house paneer, food geeks who love to complain that New York's Indian offerings can't compare to London's, and finance bros eager to boast about getting one of the most coveted reservations in town. Even at Omicron's peak, Dhamaka was booked out for weeks. "We don't really get cancellations," says chef Chintan Pandya.
Pulao is one of the most popular menu items, and at first the restaurant tried to limit orders: "Every time we got busy, it was chaos," Valdez says. Each pulao takes about eight minutes to cook, and only two can be made at a time. But he got used to it: "It's about timing. You need to smell the steam coming out — that's when you know it's cooked enough." Valdez simultaneously works the pass and the pulao station; there's no room for anyone else.
In such cramped surroundings, it helps that some of the staffers, including Valdez and line cook Abubacarr Gikineh, have worked together before (Valdez and Gikineh did stints at Junoon and then Rahi, Pandya's first restaurant with his business partner, Roni Mazumdar). One year in, everybody in the kitchen still seems a bit surprised by the fanfare. "People ask, 'How are you guys always busy?' I'm like, 'I'm just cooking the food, bro. I don't know why they like it,' " Gikineh says. "Everything that I do I learn from Chintan and Eric. I do it how they taught me, and if we can do better, that's good."