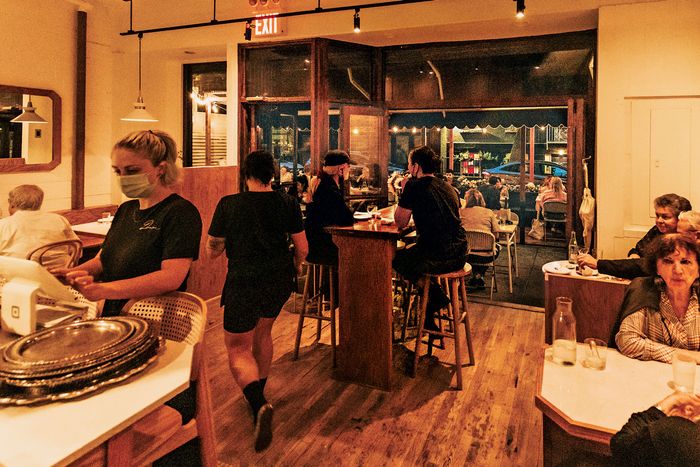 Inside Dame, on a quieter night last fall.
Photo: DeSean McClinton-Holland
Last night around 10 p.m., a mob of unmasked men and women barreled into the Greenwich Village seafood hot spot Dame, demanding service despite a lack of reservations or proof of vaccination. The situation quickly escalated until roughly 30 people filled the front of the small restaurant and gathered at the entrance. One protestor began filming as he harassed a diner, accusing her of giving him the middle finger. (She had not.) Another member of the group compared requiring proof of vaccination to "segregation in the South." Some forcibly sat at an open table, while others shouted derogatory slurs.
"It was definitely an organized thing," says one diner, Nate, who was at the restaurant and asked to be identified only by his first name.
This week, New York City Mayor Eric Adams lifted the citywide mandate on vaccine requirements for indoor dining, but Dame is one of a group of restaurants that still maintains its own requirement for diners. "We support the right to peacefully protest, and you can do that outside of Dame. But if you're coming in, interrupting diners' experiences and intimidating staff, that is where we draw the line," says co-owner Patricia Howard.
Two hours before the incident, a smaller group had come in to demand counter seats and "drinks." When a server asked for their reservation details and proof of vaccination, they began to get rowdy. "That's the second I realized this was not a normal interaction," Howard recalls. "They said something like, 'The city lifted that. We're allowed to be here.'"
When the larger group returned at 10 p.m., she and co-owner and chef Ed Szymanski were eventually able to get police to come, though it "took longer than ideal" for officers to escort the protestors outside.
"Dame's staff was so calm; it was mind-blowing," says Nate. "One or two were at the front, trying to keep them from attacking guests, and the rest kept serving."
Howard says that the horde seemed to include a lawyer, who indicated via a police officer that they intended to file a complaint about Dame's vaccine policy. "The protestors kept saying, 'We're going to keep coming back here for the rest of the week," says Nate.
Detective Martin Brown, a spokesperson for the NYPD, says that unless a crime is committed, the NYPD is unlikely to put protective measures in place. Instead, in a show of solidarity, neighboring restaurant Carbone sent over one of its bouncers to safeguard Dame, and Howard says the Dame team is now working out a contract to hire their own.
"A bouncer is not cheap," she says, sighing. "It's not an expense I want to incur. But it's worth it to keep staff safe." Howard adds that temporarily closing Dame in response to the harassment didn't even enter the conversation: "People work so hard to come to Dame, and everyone was super-supportive. We all cheered and opened champagne and poured martinis when they finally got kicked out."
Still, Howard admits that she is worried about another incident. "When we first started requiring proof of vaccination before the city mandate, we got a ton of one-star Yelp reviews and negative Google reviews. I thought that would be the worst of it," she says. "I never thought they would actually come to our restaurant physically. I didn't think it would get this bad."