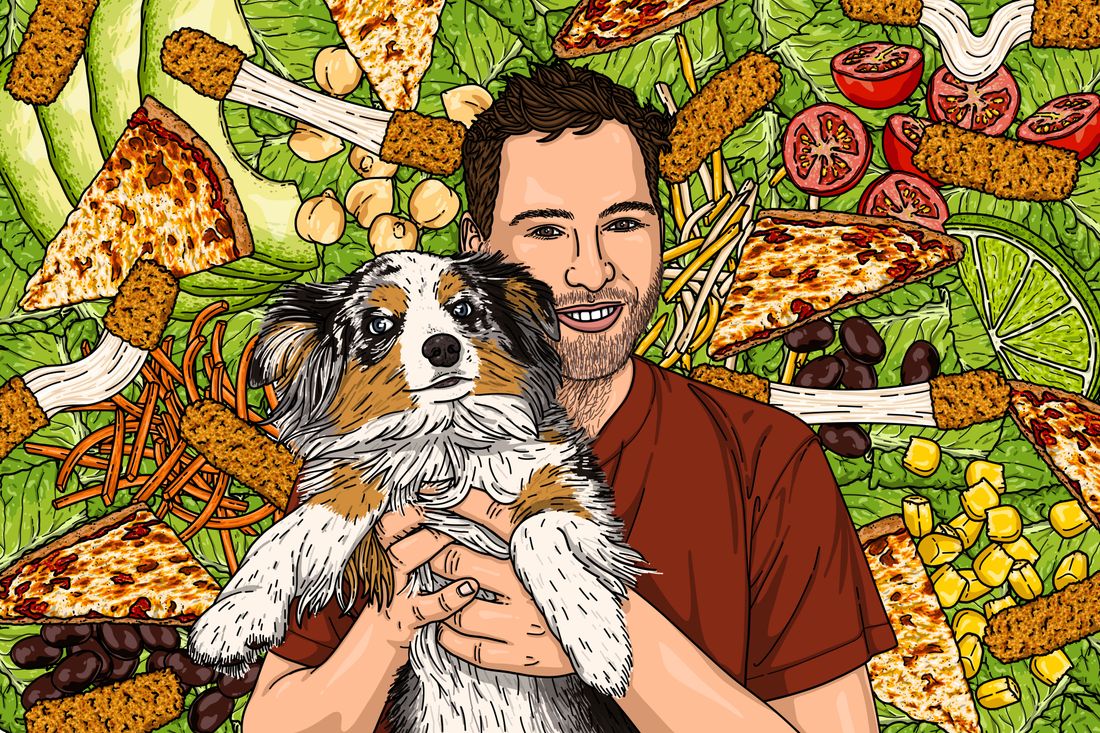 Chad Moore and Chicken Moore, who is a big fan of pepperoni.
Illustration: Elly Rodgers
Before turning to photography, Chad Moore was a BMX pro, so it makes a certain amount of sense, as I-D once wrote, that his work captures "exhilarating moments of reckless, hopeful youth." His buddies often serve as his subjects, and they tend to influence his choice in restaurants, too. "For me, it's less about the food, and it's more about the vibe," says Moore, who is working on a new photo book and has an exhibition opening at Daelim Museum in Seoul on March 16. "Even some of my favorite places, I'm kind of sick of eating there, but it's fun to hang out." 
Monday, February 21
I usually wake up around eight or 8:30 to either 30 cars honking or some guys yelling below my second-floor window and my dog, Chicken, licking my face. As soon as I open my eyes, she's ready to party. I've lived in Chinatown off and on for almost 10 years, and while it's often loud and annoying, and also becoming a weird version of Williamsburg, it's probably my favorite part of the city. I start most days with a giant glass of water and cold brew that I make myself with this Takeya "cold-brew maker." I've tried a few, but this is the most simple and cheap, and, most important, it makes a large amount. I don't understand the point of the fancy glass ones that make like one and a half cups.
While I drink coffee No. 1, I'll go through all the emails I received overnight. I work a lot in Asia and Europe, so I'm often waking up to a tonnn of stuff. Right now, I'm working on two really special projects to me. One is a book with a publisher I've always admired, Super Labo from Tokyo, and the other is an exhibition at the Daelim Museum in Seoul. I think being able to see images in real life is so much more inspiring than just a backlit screen, though I'm completely guilty of consuming a lot of art that way.
After some emails, Chicken and I set out to play ball at the Chinatown track and get coffee No. 2. I fluctuate between a few places, but most weekdays I go to SOL, also known as "Round K by SOL." It's this cute Korean coffee shop across from my studio. The owner, Han, is so sweet, and Chicken is in love with the girl Tomocou who works there. Even if it's cold, I usually get a large iced Americano (two shots) with a splash of 2 percent milk.
I head back to my studio to try and hammer out this book. I've been working on it for a few months. Usually, the process isn't this long, but over COVID, I didn't make nearly as much work as I normally would, which makes it quite stressful! Luckily, my friend Sasha Melnychuk lived with me during quarantine, so I have a lot of pictures of her. Maybe the book will be Sasha-themed.
I'm really bad about breakfast. I'm just never that hungry in the morning, so I've been trying to get back on my smoothie regimen. Super-simple: half a bunch of kale, a spoonful of coconut oil, frozen banana, frozen strawberries, frozen blueberries, some Trader Joe's salted almond butter, almond milk, all in the Magic Bullet. This is very loosely based on Juice Press's Green Light smoothie. Sometimes, if I'm feeling wild, I'll just do all kale and almond milk and trick myself into thinking I'm super-healthy.
After staring at the screen for hours, I'm finally hungry around 2 p.m. Time for Sweetgreen. I admittedly have the app, so normally I would order and ride my bike to pick up, but it's cold and I need to get this done, so I shamefully order delivery. Crispy rice bowl with kale instead of arugula, miso dressing. I order two because if you get the dressing on the side, they keep pretty well for a few hours. I do SG a lot. So much that they started sending me merch like tote bags and hats, which Sasha still wears.
In addition to stressing over InDesign today, I'm doing some photos for my friend Lucien's mom's underwear brand (what a sentence!), Vivien Ramsay, for the newly revamped Index magazine, which is pretty exciting. Index has always been a big inspiration, and it's the best to just work with friends.
I go over to my friend Danny Bowien and his girlfriend Sara's house around 4 p.m. and take pictures of Danny cooking in two layered pairs of boxer briefs. He's making mushroom pappardelle. He calls this one vegan date pasta. It's absolutely delicious. We make some fun photos, and now I'm so full.
After the shoot, I head to drop off film at Picturehouse in Chelsea. It's the best lab in the city. I get a text from a friend, and we decide it would be fun to go to Balthazar. I wouldn't say it's my regular spot, but it's fun on occasion. Also, they love Chicken and let her run around the whole place. I always prefer to sit at the bar; in fact, I don't think I've ever sat at a table there. But when we meet up, we sit at a table!
I get the chicken paillard, which may seem like a weird thing to get there, but it's really good. I also have a Stella or two. Getting a beer at Balthazar makes you feel like you're at an airport because of the giant glasses. And also they're $17.
After dinner, I head back to Chinatown to meet up with my friend Brendan at Clandestino. Two good friends, Paolo and Ivan, work on Monday, so we hang out and have a few Coronas. I run into my friend Tess, who I haven't seen since the beginning of quarantine. She's one of those magic people who don't come along too often. All the windows of the bar are fogged up, and it looks like a movie set so I take a few pictures of her.
On the way home, I stop at the deli under me and say hey to my buddy Ali who works the counter. I see this guy probably more than anyone in my life. Over the pandemic, I somehow became an ice-cream guy, so I get a pint of Häagen-Dazs Cookies & Cream and have a bite or two before bed.
Tuesday, February 22
I wake up and realize I forgot to make cold brew and I'm out of kale, so no coffee or smoothie. Womp. I end up having a small bowl of Greek yogurt with Trader Joe's coconut granola and blueberries.
I have a meeting in the East Village at 10:30, so Chicken and I walk up. We stop at Caffè Vita along the way. I don't go there enough. It reminds me of a coffee shop from a '90s movie … everyone who works there is like a cute goth kid. I get a cold brew with a little milk.
I have my meeting at Mogador. I like to do meetings there as I know a lot of the people who work there, and they know to bring the check after I order in case the meeting is bad. That way, you can just get out of there.
This meeting is good! I have plans to meet my best friend Athena for lunch at Fanelli, but on the walk down, I stop at Juicy Lucy and get a Daily Green juice that's just gross enough to feel healthy.
Another quarantine habit of mine is, or maybe was, mozzarella sticks. I'd never considered them before, but Fanelli has very good ones. Anyways, I sit down with Athena. "Our order," if you will, is a veggie burger, but on the potato bun instead of the brioche one, one piece of cheddar cheese instead of two, and two cups of tomato soup. I have a Guinness, and she has a glass of Pinot and peppermint tea … and coffee. I've had a lot of veggie burgers in my life, but Fanelli's is the absolute best. I used to live nearby and ate one almost every day. It starts raining and gets super-dark out, which makes leaving almost impossible. Too cozy.
Athena and I part ways. Chicken and I brave the rain and walk back to Chinatown. It's totally nap weather, but the show must go on. I have to scan some negatives of a shoot I did last week with Dasha Nekrasova for this really nice Australian magazine called To Be. I was kind of intimidated to photograph her, but she's amazing and polarizing and so cool.
The weather clears up a bit, so Chicken and I set out for a big walk with no real destination. Chicken is a mini-Aussie. She has tons of energy. I try to take her everywhere I go. She's cute and doesn't bark, so she often gets a pass at most places.
After strolling around for about an hour, we'd worked up a bit of an appetite. I decide to stop by Yellow Rose. I'd only recently learned about it from my friend Matt Sweeney of Guitar Moves/Iggy Pop/Superiority Burger notoriety. I've randomly ended up in places around the world with Matt, and he's shown me some amazing things — so if he says it's good, it's good. I ordered the chicken verde taco, the carne guisada taco, and the smoked-avocado thing as well as two spicy margaritas. Turns out it's National Margarita Day. I'm not usually a beef person, but the guisada was excellent.
After dinner, we head off to meet my friends Tilda and Matt Hitt at St. Dymphna's. We've been going there for years now — it's one of those places you could exist at without a phone; there will always be a friend hanging out. They have some Bud Lights while I drink a few Modelos. I get an email from my "liaison" at the Daelim Museum around 10 p.m. to approve some posters for the exhibition, so I go into the back and work on those from my phone. After I'm done, the owner, Brendan, comes in the back with some of his friends and sets up the karaoke machine. Everyone sings "Don't Look Back in Anger."
Wednesday, February 23
Back on the green smoothie, cold brew train. Chicken and I head over to SOL for the regular iced Americano. Han is super-excited because they got a liquor license and are going to start staying open later, which is really cool because they have a kind of secret back room that looks like a 19th-century library. He insists I try one of his new cocktails, and while it's only about noon, he's convincing. He makes me a Negroni di Coreano which I think just means "Korean negroni." It's yuzu, soju, Cappelletti, red wine, and orange peel. Super-refreshing. After Chicken and I play some ball, it's back to the studio.
I start getting hungry around two but have so much to do I decide to stay close and go to Super Taste. Some people think it's so weird, but I really enjoy eating by myself. I kind of play myself at Super Taste, though. As soon as I get my food (the veggie hand-pulled noodles with a fried egg and a bunch of chili paste, every time), the woman working the counter orders another customer to sit at the same table as me. These tables are super-small, so needless to say it was quite awkward, but we got through it.
I ride my bike for an hour or so — I grew up riding BMX professionally — and then head back to the studio. I'm hungry but have dinner plans so don't want to get too full. I make a little salad with Whole Foods' "super greens," shredded cabbage, Trader Joe's lemon-pepper chicken, and dressing made from my last bottle of Orange Muscat Champagne vinegar, which I mix with a bit of sesame oil. It's my favorite for dressings, and for some reason Trader Joe's discontinued it. I know tonsss of people love it. Also, the lemon-pepper chicken is the plug! For so long, I was cooking my own for salads, and a friend put me on to it.
Around seven, I head out on a Citi Bike to meet my friends Jeff, Gabi, and David at the Ear Inn. They're some of my best friends, but because of work and COVID, it's rare that we're all together. Jeff and I are early and meet this really cool lady, Carla, who's 85 years old and pounding beers at the bar. We spend the next 30 minutes waiting for a table and showing Carla pictures of Jeff's son, Ryder (my godson!). After everyone arrives, we sit down and everyone orders an extra-dirty martini, so I feel pressured to do the same. I get one with a twist and am reminded I'm not a martini guy. Just too strong. Gabi and I order the special, which is written as "grilled chicken with Parmesan on a bed of arugula." We both thought this was going to be more of a melted dish, but it was just a salad, basically, which was still great and healthy, I guess?
We head out to Dymphna's yet again for a friend's birthday and to hang with Tilda. I have two Modelos but have to get up super-early to talk with the Japanese publisher.
Thursday, February 24
I wake up at 5 a.m. for that call. The time difference is always the worst, and I'm one of those "once I'm up, I'm up" people.
I have a meeting at 10 a.m. with a possible new agent. Unfortunately, they insist on meeting at Abraço, which is fine, but I have no exit strategy there. It ends up going really well, though.
After my meeting, I start walking back downtown and decide to stop at one of my favorite places in the city ever, Downtown Bakery, to get a breakfast burrito. I've been going there since I first moved here in 2008. I get the ranchero breakfast burrito, which is eggs, chopped green peppers, onions, tomatoes, jack cheese, and refried black beans. While they offer the option, I really don't like breakfast burritos with potatoes, seems like overkill. If you go there at nighttime close to closing, you might be offered a shot of Hennessy.
Around 2:30, Chicken and I head over to Little Canal. I go there for coffee on Thursdays and Fridays because that's when my friend Katie works. It's weird because we don't know each other really outside of the coffee shop, but she's the sweetest person ever and I love hanging with her. I never really eat at Little Canal, but I'm hungry and Katie suggests I get the TLT (tempeh, tomato, avocado, arugula, chipotle mayo, and what Guy Fieri would describe as a "cheese skirt"). I get that and a cup of tomato soup. Good combo.
After Little Canal, Chicken and I stop by her favorite place ever, Scarr's Pizza, to see her best friend, Carla. Carla is the ultimate legend and GM at Scarr's. She always gives Chicken tons of pepperoni. Any time I need a break from the studio, we go see Carla and sit at the bar and just talk shit, she's so funny. I've known Scarr forever now, and he basically provides my second office.
Around six, I run up to St. Marks to see my friend Raquel. She and Patricia own what was Taberna 97, now Taberna Cantina. We're trying out some of the new dishes. Taberna is kind of the weekend hangout; a lot of my friends work there, and it's only open Thursday through Saturday. I have some kale soup with vegan chorizo, a piece of the quesadilla (mushrooms and huitlacoche), and the popcorn cauliflower as well as two Super Bocks. All so good.
After Taberna, I take the train to Mission Chinese in Bushwick. Danny's hosting a dinner for me and some old friends and some new friends as well. I start with the MSG Margarita. It has blue Curaçao, so it looks like Windex. It's also really pretty. Danny makes us a custom mash-up menu with a wood-ear–mushroom salad, sizzling lamb ribs, mapo tofu, sour fish stew with pumpkin, salt-cod fried rice, house-special cumin noodles, garlic pea greens, baby king-oyster mushrooms, and Pop Rocks panna cotta with whipped cream. Kinda the perfect combo of everything on the menu. Danny also brings out these really beautiful white strawberries to dip into the panna cotta, along with a bowl of watermelon Twizzlers.
After dinner, I realize one of my oldest friends in the city, Jack Ridley, is working nearby at Pearl's. I stop by, and we catch up for a bit over a couple of draft Pacificos.
Friday, February 25
I wake up early to finalize a book title and send it off. I'm pretty sure it's going to be titled Anybody, Anyway.
Chicken and I hit up Little Canal for an iced coffee. Feeling a bit rough, so no smoothie. I have a long phone call to talk about a potential job. It takes an hour. It's always daunting when ten people are on the phone and you have no idea who's talking and oftentimes what they're talking about!
I need to drop off film at Picturehouse, so I head up there on the train. I decide to walk back as it's not too cold out. On the way, I stop by Mogador and see my friends Eden and Rowan. Rowan runs the place and is having the chicken grill, which inspires me to have the chicken grill. It's probably my favorite thing on the menu anyways. It comes with, like, pickled cabbage and rice. Add extra harissa. I sit there for a while and talk to Eden. She's the cutest, nicest, kinda wildest person ever from Manchester. She makes me a Mogarita, which is their version of the spicy marg.
After Mog, I stop by a coffee shop called All the King's Horses to have a meeting with my friend Julia Cumming. She's the singer of my fave band, Sunflower Bean, and we're trying to plan a shoot for a British music magazine. She's about to go on tour, so it's a bit stressful. I have another iced coffee, and she has an iced coffee and some kind of vegan sandwich from which I take one bite.
I talk to my friend Chris Apple, and we decide to meet up at Scarr's for an early dinner at six. Chris is a super-important person to me. He kind of runs the show at Agnès b., at least the art side. He's responsible for finding a lot of great artists for Agnès's gallery: Ryan McGinley, Dash Snow, it's a long list. Carla saves us two seats at the bar, and we get the hookup. We each have a slice of pepperoni and sausage, which they never make, and a pint of Stella each. Chicken has some pepperoni, and Carla gets cuddles. I would have had another slice, but I'm going to do a Scarr's doubleheader, so I'm saving room.
After, I stop back home and drop off Chicken, then head back to Scarr's to meet my friends Erika, Pete, Gabi, David, and David's new girlfriend, Julia. Her debut. Carla saved us two booths in the back. VIP! We order two pies (a margherita and a half-mushroom, half-pep) and two vegan Caesars. Everyone has a few beers and Lambrusco while we plot what to do. We decide after dinner to go to our old hangout, Swat Bar or Upstairs Bar. It's had different names. We came across the place at least a decade ago when we saw people going in at 4 a.m. The door was locked, but our friend was able to stick her arm through the mail slot and unlock it. We definitely weren't welcome, but I think because we had already seen it, they let us stay. Back then, it was quite lawless, smoking inside and some illicit activities and people singing karaoke. Now, it's a bit more tame. I'm more of a karaoke observer, but I did have a Taylor Swift "You Belong With Me" moment.
At Swat Bar, we run into our friend Kristi who says there's a house party down the street, so we go check it out. We go into one of those newer Chinatown buildings and walk into this guy's place, and he has one of those oak hot tubs. It's a super-strange crowd, but we have a few beers and then decide to get into the hot tub. It feels like we have to. I go in my boxers, and the weirdest part is the guy has "take home" swimsuits for girls. Huh. Once the novelty wears off, people start to disperse, so we decide to call it a night and I leave my favorite boxers.