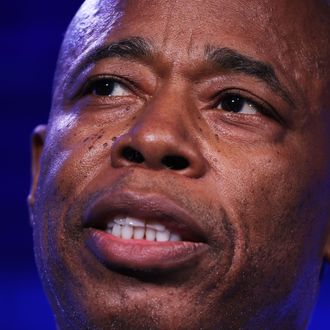 A man contemplating the fish.
Photo: Alex Wong/Getty Images
Every time New York City mayor Eric Adams goes to a restaurant, as he often does, I like to check the menu. While I would not say I have a tremendous amount in common with Adams, he is vegan, and I am vegan. Perhaps he knows some good vegan dishes I should order, I think. This is how I learned, for example, that frequent Adams haunt Osteria La Baia has a surprising number of clearly labeled vegan options for a white-tablecloth Italian joint in midtown (three). I would order the wood-smoked mushrooms.
But apparently, I have been playing "What Should I Eat With Eric Adams?" wrong. Because Eric Adams, New York City's first vegan mayor — Eric Adams, who wrote a book about the transformative powers of his veganism — also eats fish. An employee at La Baia, where Adams dined last week with former mayor Bill de Blasio, told Politico that Adams ordered fish and a salad and, moreover, that Adams usually orders fish and a salad despite the charitable existence of the "winter-squash pizze." "He's not a vegan, he's a pescatarian," the anonymous source said. Politico reports that three other people allege they have personally witnessed the mayor eating fish in restaurants. On some level, we knew this, given that last July he was reportedly spotted eating an unspecified broiled fish at Rao's.
Could it be that Eric Adams, the first vegan Mayor of New York City, is not actually vegan in the traditional sense of not eating any animal products? Yes, it turns out, though it has been a long and winding road to get here.
When I posed this question to his office yesterday, I was directed to watch the press conference the mayor had just held. Standing before a table of plastic vegetables, Adams dismissed this line of questioning. "Don't worry about what's on Mayor Adams's plate," he said, reiterating his commitment to eating vegetables. "Those who have questions on what I am eating? I'm over 18, and I know how to take care of myself." He did not directly respond to questions about his order history, only repeating that he's on a "plant-centered diet," which is great, nutritionally speaking, but also not an answer.
By late Monday afternoon, though, he had no choice but to release a statement addressing his order history directly. "Let me be clear: Changing to a plant-based diet saved my life, and I aspire to be plant-based 100% of the time," it read. "I want to be a role model for people who are following or aspire to follow a plant-based diet, but, as I said, I am perfectly imperfect, and have occasionally eaten fish." The perfectly imperfect mayor did not specifically address whether he ate the fish at La Baia last week or what fish he ate, but given that the skate comes with a cream sauce, Grub's money is on the branzino.
This post has been updated to reflect the mayor's admission of occasional pescetarianism.