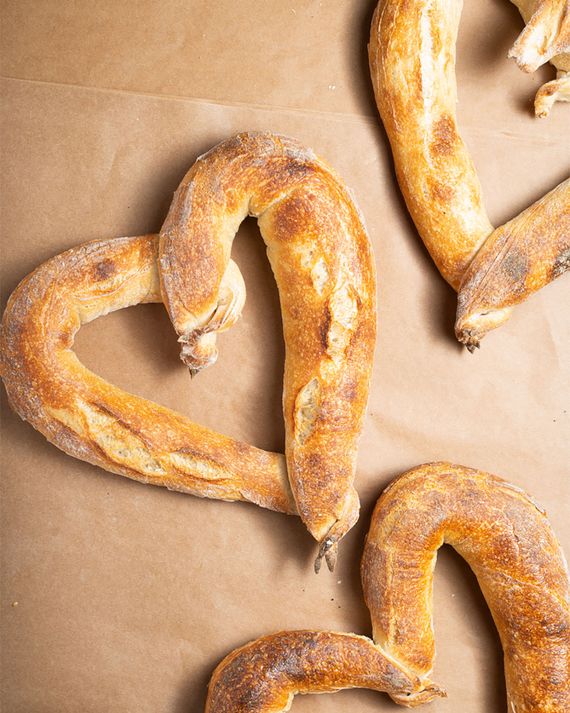 Photo: Courtesy of Breads Bakery
Here we are again, lovers and haters. Valentine's Day is a week away and even if the world at large still feels particularly unromantic, there is magic to be found, as long as you know where to look. So here are 22 delicious, exciting ideas — over-the-top butcher spreads, a bougie cookie gram — to make your 2022 Valentine's Day as special as it possibly can be.
1. Share a first kiss at a special counter.
At the delightful Agi's Counter in Crown Heights, chef Jeremy Salamon will offer two nightly sittings for a five-course, family-style menu that pays homage to Eastern European hotel dinners (and Wes Anderson's The Grand Budapest Hotel). Some highlights include escargot, duck pâté, roasted beef, and creme brûlée. This is a super-limited event at a much-loved new restaurant, so make a reservation before it's too late.
2. Up your chocolate game with a classic New York name.
The 36-year-old dining institution Gotham just reopened its doors (again) after a 19-month closure. A dinner reservation is a fantastic way to support a place we almost lost once — or you can grab some of the restaurant's namesake chocolate, including Champagne bonbons that feel as timeless as the restaurant.
3. Eat somewhere sexy that's also accessible in the right ways.
The pretty Peruvian-influenced Contento in East Harlem has both indoor and outdoor tables, and with only 35 seats, a date night is guaranteed to feel intimate. To add to the good vibes, Contento's owner and co-founder of Wine on Wheels, Yannick Benjamin, designed the restaurant with accessibility and the disability community in mind — which is both inspiring and essential.
4. Score a table at the hottest joint in town.
With endless shareable items at the brand-new, wood-fire Eastern Mediterranean restaurant Zou Zou's, from chef Madeline Sperling, dinner is bound to feel romantic. The menu celebrates the flavors of the Eastern Mediterranean region, bringing in influences from Lebanon, Israel, Turkey, Egypt, Syria, and Jordan. Think: a tower of dips such as ember-roasted eggplant and whipped ricotta served with warm bazlama bread. Or, hot kasseri cheese lit aflame tableside served with bread to dip. Its fire-roasted leg of lamb is carved tableside and more enticing than anything else: All your friends will be wildly jealous of your amazing night out.
5. Eat some hearts.
Sami & Susu, the Mediterranean joint on the Lower East Side, just launched dinner service, which has become an instant evening destination. For Valentine's Day, it's offering a special — and, at $45 per person, very reasonable — "Hearts and Bubbles" menu, which is a name you can absolutely take literally. It will include chicken hearts confit, grilled duck hearts in zhug, lamb heart pastrami toast, and beef heart au poivre, all served with a glass of Champagne.
6. Check into Brooklyn hotels that take their food very seriously.
Bar Blondeau is the Wythe Hotel's new rooftop bar, with dramatic views and dependably glamorous French cooking. Elsewhere in Williamsburg, the Winter Village at Westlight, on the rooftop of the William Vale hotel, is a truly magical scene with private chalets, fondue, and chicken empanadas. Reserve your own private chalet, get the fondue, get the tempura bass buns, get the spicy chicken empanadas, and get romantic. It's almost impossible not to, when you're way up there.
7. Forgo chocolate and Champagne, and get some aphrodisiacal CBD instead.
Launched by writer Silvana Nardone, the CBD gummy brand Via Viaggio has a Verus Amor selection, which combines organic CBD with "libido-lifting" botanicals, romantic rose petals, and an appealing strawberry-saffron flavor.
8. Feast on an exclusive tasting menu.
If you're coming from midtown, hunker down at Kaiseki Room by Yamada, a new ten-seat counter led by chef Isao Yamada. On Valentine's Day, guests can enjoy a special nine-course traditional Japanese kaiseki meal, featuring luxury creations like chawanmushi with Hokkaido uni and foie gras dashi.
9. Make the case that tapas is the ultimate date food.
Nai is a buzzy, bilevel tapas place in the East Village. Chef Ruben Rodriguez's menu features tapas that pay tribute to his Galician heritage (nai means "mom" in Galician), with dishes such as mussels escabeche with potato chips and lemon mayo, or a mushroom carpaccio with Marcona almonds and manchego cheese.
10. Go full glam in the Flatiron.
SONA has two special menus for guests dining at home and inside the restaurant. Dine-in guests get a seven-course meal that includes lobster malai curry and shiso leaf chaat. Its "date night in for two," meanwhile, is available for takeout and delivery, and includes fan-favorite dishes such as blackened spiced roast chicken for two and masala chai chocolate truffles.
11. Pretend you cooked something special from scratch.
Ipsa, a chef-y prepared-meal service, has a February menu that includes two new lasagnas, Belgian beef stew with egg noodles, and much-loved bake-from-frozen cookies in flavors like chocolate pepita, rye cherry chocolate chunk, or chewy honey. As long as you can hide the packaging, nobody will know someone else did most of the work for you.
12. Suck it up, and do a blind wine tasting
In the West Village, Temperance Wine Bar is offering a sweet little V-Day program that includes a blind taste test with four half-glasses of wine for a set price of $30. If you guess all the wines correctly, you can win some bonus wine. The bar also has a heated outdoor patio that you can use, whether you guess correctly or not.
13. Enjoy the view.
The Manhattan views from Celestine in Dumbo are always spectacular, and Valentine's Day is as good a reason as any to drop by. Its Valentine prix fixe features oysters with black truffle, dry-aged rib eye, seared scallops, a raspberry cream tart, and much more.
14. Host a steak night at home …
Erika Nakamura and Jocelyn Guest, a.k.a. the Butcher Girls, have put together an at-home spread that includes a 24-ounce bone-in rib eye with marrow butter, and caviar, and a full bottle of small-batch vodka or gin for martinis. It's $275, which is like half of what you'd spend at a restaurant, and they've already done all the hard work for you.
15. … or hit a beefy Brooklyn pop-up.
For one night only, Edy's Grocer will become Edy's Chop House, a Middle Eastern take on a classic New York steakhouse dinner, hosted by Bill Clark and Edy Massih. A portion of ticket proceeds will be donated to the Ali Forney Center, a nonprofit that funds and supports homeless LGBTQIA+ youth in New York, and menu highlights include tahini Caesar salad, lamb chops with pomegranate and mint, twice-baked potatoes with labneh, and sumac flourless chocolate cake for dessert.
16. Sip some sultry mezcal.
Bar Lula, which just opened in the East Village, will offer a $90 Valentine's menu of baked oysters, pozole risotto, grass-fed steak, scallops, and more. But the real draw might be beverage director Julio Xoxocotla, who has stocked one of the most ambitious mezcal collections in the whole city.
17. Go low-key in brownstone Brooklyn.
Whether you have a valentine, a galentine, or a palentine, just go to Grand Army. On the 14th, it's serving oysters, complimentary chocolate-covered strawberries, and special Balvenie cocktails. Added bonus: It's got a strong outdoor setup and a wonderful fireplace inside.
18. Create a high-level charcuterie situation at home.
Slow Table curates gourmet meal kits that are as close to at-home restaurant experiences as it gets. For a two-person date-night experience, the Mini Crew, a grazer's dream of assorted meats and cheeses, is the way to go.
19. Honor a food-world legend.
Vermont's Jasper Hill Farm has put together a Valentine's Day package in memory of the late Anne Saxelby. Its Victory Cheese box consists of some of her favorite cheeses, plus her book, and 10 percent of the $99 price of the box will go to the Anne Saxelby Legacy Fund. (The actual boxes won't ship until March, but we promise your Valentine will still appreciate the gesture.)
20. Send a gourmet cookie gram.
Levain has launched a "cookie gram" program, where single cookie flavors are boxed with a "to" and a "from" at the top. You can order through DoorDash or Caviar or grab one in any of Levain's stores. The gifts are great for teachers, supers, or harmless secret crushes.
21. Give a chocolate subscription, straight from the North Fork.
Disset Chocolate, which specializes in hand-crafted chocolates on the North Fork of Long Island, just launched a Chocolate Club. Like a wine club, this is a membership that provides new chocolate all year.
22. Or just buy a heart-shaped baguette and call it a day.
Head to Breads Bakery in Union Square and, for 7 bucks, buy a heart-shaped baguette that is just begging to be slathered with salted butter. Share it with someone you love.
This post has been updated to correct the description of an item on Kaiseki Room by Yamada's menu.