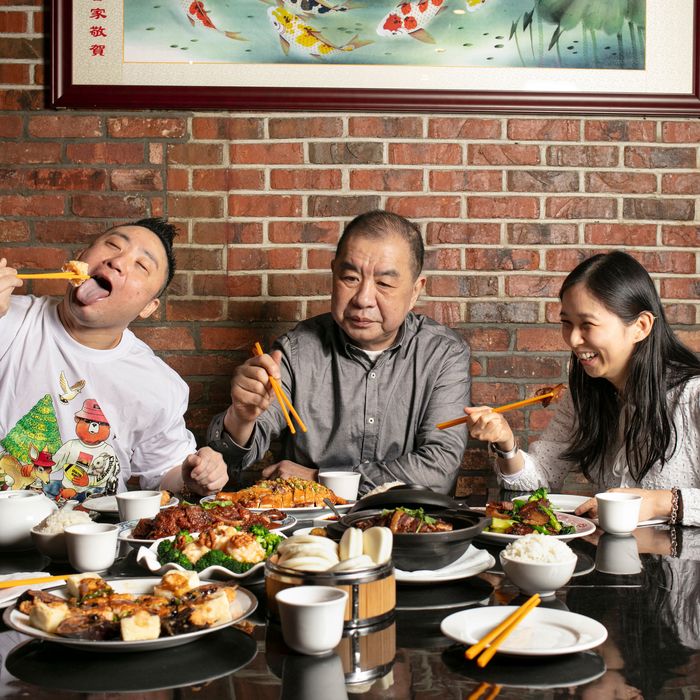 Louis Wong, center, with Eddie Chan and Gloria Wong inside their new restaurant, Uncle Lou.
Photo: Melissa Hom
To his neighbors in Manhattan's Chinatown, Louis Wong is Uncle Lou. He has lived in the area for nearly 50 years, and, in that time, worked variously in restaurants, trucking, the garment industry, and newspapers and as a bookie. In the '90s, he opened his own store, Speedy Communications, first selling pagers and then cell phones, while expanding with several other locations. When the pandemic hit, Wong finally retired, ready to enjoy his 60s. Turns out he hated it.
He wasn't sleeping, he was tired, and he needed to do something. "I was so frustrated sitting at home," he explains. "Like my ex-wife says, every day I wake up, I'm the first one to leave the door. She didn't like it either. That's how we broke up."
It was during this time that a couple of Wong's friends started to talk about opening a restaurant. He had never run one before, but he missed people. Why couldn't he do it? he thought. He had the necessary neighborhood connections, a love of food, friends who were experienced cooks, and other friends who would be eager to try the old-school Cantonese food that he wanted to serve. He even had the perfect name: Uncle Lou.
After finding a 2,000-square-foot location on Mulberry Street, Wong and his partners (including his nephew, Eddie Chan) opened the restaurant in late December. Instantly Wong got what he wanted and found himself working nonstop: "My feet don't belong to me anymore," he says. "When I walk down the street, I see people and tell them I've opened up a restaurant business. They're always very surprised. 'Why? You don't need to work.' But I've been working the last 45 years. I love my job."
At the restaurant, Wong is eager to chat with customers and quick to pounce on what he perceives as shared interests. When he and I started to discuss the Knicks, he told me about the time he almost became an usher at Madison Square Garden.
Wong also loves to talk about food, Cantonese food specifically, of the sort that some Chinatown locals lament is missing from the city these days. "It's Cantonese, the old Chinese style from the countryside," Wong explains. "The low wah kiu." As Chan puts it, "I call this the more OG Cantonese."
The low wah kiu dishes are highlighted within a section on the 200-item menu, where you'll find delicacies like pork belly braised with pickled mustard greens; buffalo fish steamed with ginger-scallion sauce; and chenpi duck, cooked in a jiggly sauce of sweet-bitter, sun-dried Mandarin peel that is reminiscent of marmalade. Oxtail casserole arrives with a sticky gravy, and other dishes — like steamed or fried pork patties with salted fish — are marked with a lo wah kiu stamp of approval.
"Today is my 11th time here," Alice Chiao, who lives in midtown and stumbled across the restaurant shortly after it opened, told me earlier this week. "Chinatown's food scene has changed a great deal over the past 40 years. I've been eating out since I was 8 years old." Chiao points to a few personal favorites, like crunchy fried silver fish nestled among chives and crisp jicama, and sweet-and-sour pork ribs made the "old-fashioned" way with lychee and pineapple. But she also keeps finding new dishes: "See this place, in general, you could blindfold yourself and go 'eeny, meeny, miny, moe' and chances are 90 percent you'd be satisfied."
While Wong is the face of the restaurant, he's not in it alone. His brother-in-law, an architect, designed the space. Friends and family members contributed art that decorates the walls, including one piece provided by a home-care attendant. There's a neon logo and a display of Vita lemon tea. And large scrolls spell out, in hanzi, the restaurant's mission of marrying the old and new. Globular light fixtures hang from the ceiling; a couple squares of artificial foliage look straight from Instagram.
"What we're doing is marrying the OG Cantonese with what we call jook sing, which is the ABCs," Chan says. He's one of a crew of younger people who are helping out, along with Uncle Lou's goddaughter Gloria Wong (who also worked for Wong at his cell-phone store) and an old friend who insisted I refer to him in this story only as Larry. "I love that guy," Larry says of Wong and why he agreed to help with the restaurant. They met back when Larry was a teenager and found himself hanging out at the cell-phone store. "I ran into him out of nowhere. He was like, 'Oh, I'm bored, and you know I miss customers and miss chatting.' I was like, 'Well, I have some time.'"
For anyone concerned about the state of Manhattan's Chinatown right now, it's heartening to see a group of people from the neighborhood putting together this new project. Augustine Tang, a cabdriver and operations manager with the taxi company Waave, was thrilled to see Wong open up his restaurant. "I was very happy that Uncle Lou was opening up a restaurant and keeping it within the community, because he just knows so many people," he tells me. "I was scared that it was going to be someone from outside of Chinatown."
While the restaurant has only been open for a little over a month, Wong's longtime presence in the neighborhood makes it feel like an institution. "It just feels like his restaurant has always been there," Tang, who grew up in the neighborhood, adds. "It's something that I feel was always part of Chinatown."
On an icy cold Wednesday night last week, I dropped by with a handful of friends, taking over one of the restaurant's round tables. Songs by Future Islands and Badbadnotgood flowed softly out of the speakers. We ordered a bunch of things I'd wanted to try: the chenpi duck, chiefly, and the Peking pork chops, which are fried until they're golden and then tossed in sweet- and-sour sauce. Next to us was a group of older men, drinking high-end scotch, and Wong sat down to join them.
"With the pandemic, you don't see your friends and family anymore," he says. "With the restaurant, they start coming back now, saying hi to me. I see them and I feel very happy." As for his first foray into the famously ruthless restaurant business? So far he likes that, too: "It is growing and growing every day. The most important thing is I can see my community people coming back."