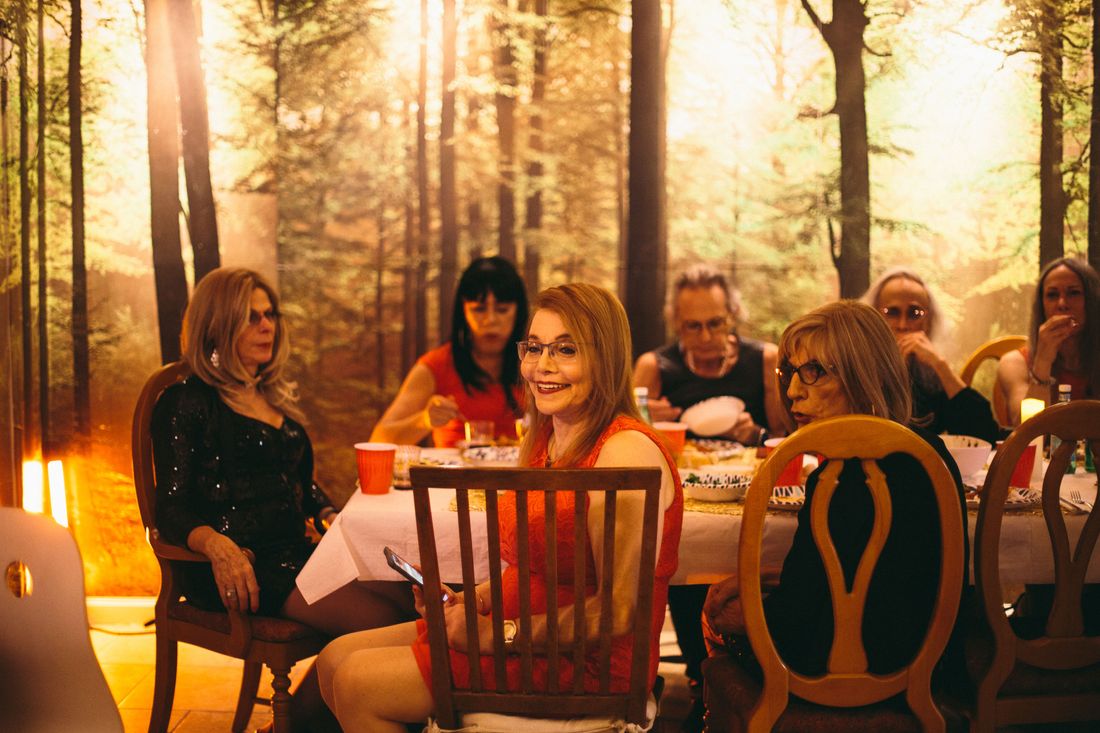 The group CDI hosts its dinners on Wednesday nights.
Photo: Mengwen Cao
Most nights at Don't Tell Mama, the piano bar on 46th Street, bartenders belt out tunes by Etta James, Ella Fitzgerald, or Elton John, accompanied by the house pianist. But a Wednesday evening late last year was different: a septuagenarian transgender woman named Burnice, wearing a skirt set, dancer's heels, and a mid-'90s Barbra Streisand bob, played ragtime and boogie-woogie on the bar's upright, her pearl-strewn fingers chasing the tunes of "Sweet Georgia Brown" and "Russian Lullaby."
"She's not part of our staff," a bartender explained, "but she's an absolute talent, and the only customer we allow to take over the piano."
When her performance concluded, we decided to introduce ourselves and pay our compliments. Burnice asked us to sit and introduced us to her group of friends: transgender women in their late 50s, 60s, and early 70s, eating cake and ice cream, celebrating a birthday. Eventually, they told us that they were all part of a weekly dinner club — CDI Cross Gender Community — and asked if we'd like to join one night. "It's not about the food," Slim, a CDI member, model, and former manager of the Rainbow Room told us. "It's about the nourishment."
"You can both come as my guests," Burnice told us, "but you will have to present as female," she added, looking at Joe. Attendance at the dinner meant that anyone invited had to respect the club's only rule: Gentlemen were not welcome, and we were both required to come as the "most passable feminine presentation" of ourselves. We were honored to be welcomed into this space and couldn't say no.
The entrance to the CDI clubhouse is sheltered from the sidewalk. Members can rent closets and arrive early to dress before dinner. There is a room of wigs, a wall of donated heels in all sizes, and a professional makeup artist at most gatherings to help with "facial feminization." In many ways, the clubhouse is a modern, urban version of what Casa Susanna provided for trans women in upstate New York in the 1960s.
CDI was born in the late 1980s when a group of male crossdressers, tired of being harassed in public, placed an ad in the back of The Village Voice directing other male crossdressers to meet in hotel suites around the city where they could lift gender boundaries and safely dress femme.  Eventually, the club grew and moved its meetings to a member's apartment next to Port Authority where they answered questions and gave advice on hotlines connected to the ads. They moved to their current Hell's Kitchen clubhouse six years ago.
Ten people were in attendance, with double that number dialing in via Zoom. The club's "kitchen" is a small room with three toaster ovens, two microwaves, a rice cooker, and a refrigerator. CDI members make do with the equipment, often preparing meals off-site at a member's house and reheating at the clubhouse. More than the food, there is great emphasis on tablecloths, lighting, napkin folds, glassware, flower arrangements, table cards, and creative dish descriptions.
A 2017 menu from a 1930s–themed dinner lists filet mignon au poivre, glazed carrots, zucchini spears, marinated asparagus tips and petit crème brûlée for dessert. "It's Paris/Berlin 1930s style, so nothing subdued," the invite reads. "Come in long gowns, risqué cabaret dresses, gloves, fur boas, hats and nite-club makeup."
COVID has limited the way dishes are prepared and served at the clubhouse, and they're slowly getting back into the rhythm of supporting the more elaborate soirées that were held in pre-pandemic times. On the night we attended, a senior broadcast engineer named PD approached from across the parlor and asked Joe — wearing a borrowed red polka-dot dress with epaulets, brunette wig, beard cover, and a pair of size-13 pumps, christened Joanna for the night — if she was up for The Stroll. "It's a walk around the block. You don't have to if you don't want to." The Stroll is CDI's ritual of initiation for newcomers, and a chance to overcome insecurities about gender expression with a chaperone. We wanted to, and together we set off for Ninth Avenue.
As we walked, PD told us about the transgender conventions that take place in every major American city, where members of a "crossgender community" gather on a much greater scale. We asked if she felt any pressure to adapt to a prescribed model of femininity.  "Absolutely," she replied, telling us about the measures she had taken to achieve what she saw as her ultimate female presentation.  "If I had been aware of the growing acceptance of gender fluidity a few years earlier, I don't think I would have had bottom surgery done," she explained. "There is a new wave of acceptance that wasn't there when I decided to make that transition."
CDI tends to skew older, and some members have hidden themselves for more than 40 years. One member had nervously waited years to come out to her 25-year-old son. When she did, he greeted her with love and relief; it turned out that her son had also been wrenching himself for years over how he would tell his parents that he identified as a trans woman. Another member has driven in from Pennsylvania each week for decades and only presents as female when she's in the city. A member with three children under the age of 12 keeps her female clothing hidden behind her wife's clothing, so that the couple's kids won't discover it.
"We have so many people that are in various stages of being hidden away, I think that all of us — including me in an earlier phase — are deathly afraid of being found out," Allison, the club's organizer who wore a burgundy slip and a red crescent necklace that accentuated her cleavage, told us. "We have all of these assumptions about how people are going to laugh at us or react, but when we get the confidence or boldness to begin to come out, we're often surprised that people aren't reacting." She said that the strongest reactions are often from family members. "Emotionally, it's very, very hard." (A new member had driven down from Boston that night in a pink satin dress and pearl-drop earrings. She told us she was terrified that she might run into her son who lives a few blocks away from the clubhouse.)
Dinner was pastrami and pesto sandwiches, bags of potato chips, and boxes of pink Franzia wine. Food wasn't the point, of course. "We come together, we eat together," Slim explained. "We seek refuge and safety and find it in our clubhouse — we're a family, and it's the universal truth in all families: It's about coming together over food."
Around nine, the meal began to wind down, and talk turned to where the night would lead next. They decided on Don't Tell Mama; it's one of those establishments where the members of CDI feel wholly welcome, and safe. They reminded us that isn't the case everywhere, and to understand that is to begin to understand what a stronghold CDI has become for its members. We hugged good-bye and left, lucky to have been welcomed into the family, if only for a night.