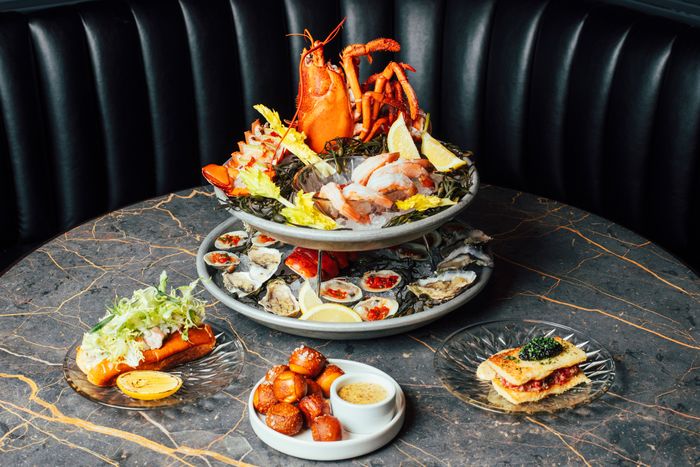 The seafood tower and some of the other fare at Pebble Bar.
Photo: Lanna Apisukh
Over the course of its long life, Hurley's, the 1892 saloon located in a Victorian townhouse on the corner of Sixth Avenue at 49th Street, was many things to many people: a neighborhood bar, a Prohibition-era speakeasy fronted by a flower shop, a pain in the ass for John D. Rockefeller (he wanted to tear down the building for Rockefeller Center, but the bar's Irish American owners wouldn't budge). Later, it became a refuge for the folks who worked in radio and television at 30 Rock, including Johnny Carson, who treated the place like a home away from home. Since then, it has housed a kitschy Hurley's clone, Citarella's seafood restaurant, and office space. Magnolia Bakery has occupied the ground floor since 2008. First there was binge drinking and barroom brawls, then came the banana pudding.
Now, in what sounds like an attempted revival of the old Hurley's spirit, if not its frosty-mug vibes, comes Pebble Bar. A savvy gang of restaurateurs and nightlife impresarios including Matt Kliegman, Carlos Quirarte, Julian Brizzi, and Noah Bernamoff has turned the second, third, and fourth floors into a standing-room bar, a 35-seat seafood-centric dining room, and a private-events space called Johnny's, respectively. Lobster Club vet Carlos Barrera brainstormed the menu (pretzel bites, seafood towers, steak tartare). Partner Matthew Charles's cocktails run the gamut from a yuzu-litchi martini to a Dark and Stormy. And Beat-lit buffs may recognize in the name a reference to the architectural musings of Jack Kerouac in this snippet from Visions of Cody, the author's streamiest-of-consciousness writing and some say his best: "Following Lee Konitz the famous alto jazzman down the street and don't even know what for — saw him first in that bar on the northeast corner of 49th and Sixth Avenue which is in a real old building that nobody ever notices because it forms the pebble at the hem of the shoe of the immense tall man which is the RCA Building."
67 W. 49th St., at Sixth Ave.; no phone