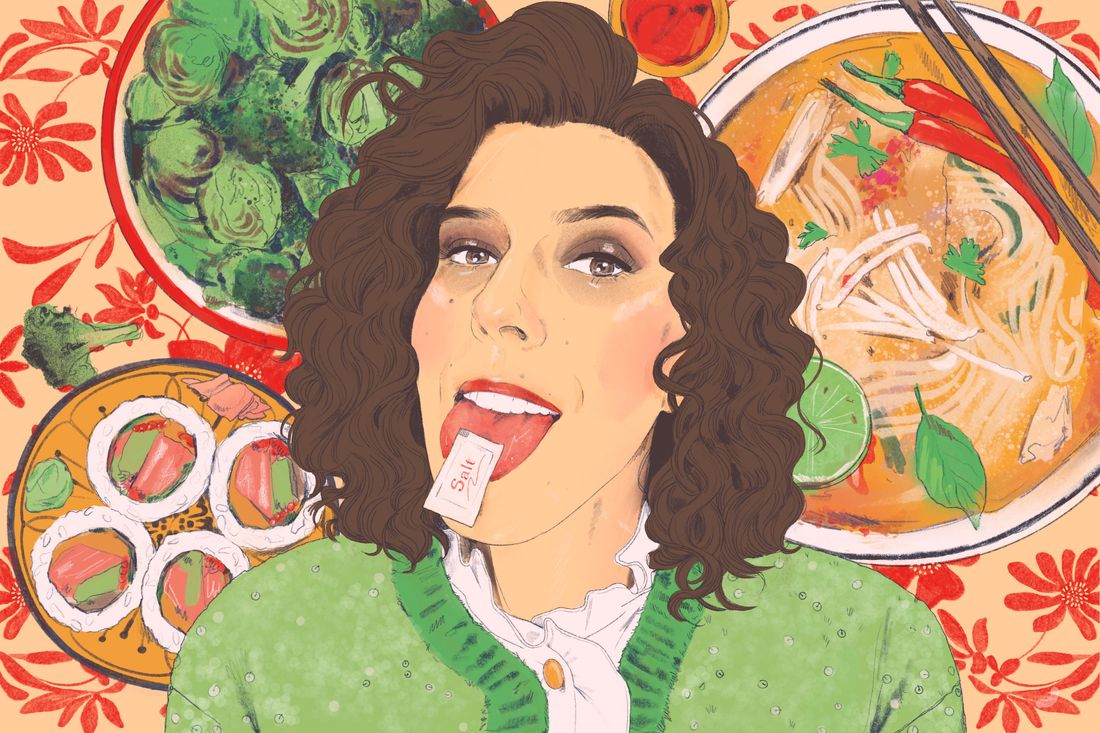 Edi Patterson plays Judy Gemstone on the HBO series
The Righteous Gemstones.
Illustration: Lindsay Mound
Nobody was happier about the return of HBO's The Righteous Gemstones than Edi Patterson, who both writes on and stars in the series, which is currently wrapping up its excellent second season. "I was so, so deeply happy to be back at it," she says. "In many different ways, I feel like COVID made us strange caged animals." Of course, the show's fans were happy too: Texas Monthly has called Patterson the show's "breakout, wild-card star," and Slate declared that she "might be one of the top three funniest performers on planet Earth right now." Gemstones has already been renewed for a third season, but in the meantime, Patterson is in Winnipeg, shooting a movie and braving the bitter winter freeze. "It's so shocking, it makes me laugh," she says. "There's something really cool about it — about the violence of nature."
Tuesday, February 8
I'm going to start by saying that my food has been fuuucked up because it's the coldest place on earth here. I'm in Winnipeg, Canada, filming a new movie, Violent Night, with David Harbour, John Leguizamo, and Beverly D'Angelo.
You can't go outside. That's what you discover. You try to brave a walk and then you go, Right, people don't mess with this. I think people who grew up here just know better. For six months of the year, they mostly stay inside.
It's legitimately shocking. I've been to cold places before. Mind you, it was spring when I was in Oslo, but I've been to Calgary, which is also cold. I've been to Moscow and St. Petersburg. But this is unlike anything I've ever experienced. It's almost one of those things that's so extreme, you can't help but laugh at it. I don't wonder why people live here because the people here are really nice. I just wonder how they continue to. I think I'm convinced that they've all got some kind of superpower blood, and they're just the heartiest people on earth.
Anyway, at 10:30 a.m., I had a coffee with almond milk. Almond milk is my jam, for sure. But I will easily slide into the bed with oat milk, if that's what presents itself.
I ate an omelet with mushrooms, red peppers, and avocados; potatoes (wah wah); and half the fruit in a big bowl of fruit. The big winner of the morning? Bites of potato combined with a grape.
It's all been room service. I haven't gone to the restaurant in the hotel because I'm also doing some writing here. It's almost psychopath eating. Something is brought up to my room and I go, I'm giving myself 30 minutes to watch the Olympics and eat this food, and I'm going to enjoy it.
A few hours later, I ate the remainder of the fruit from the fruit bowl, which was still in my hotel room. It all was still there. Mostly melon.
Eventually, I had a desperation apple that was in my room upon arrival. I hadn't eaten for six hours. Let me tell you more about that apple. By the time I ate it, I was starving. I don't remember what led up to that, but by the time I ate it … Look, I don't know how many days it sat there, but it was maybe a little bit mealy. Still, I ate it all the way anyway. Down to the core.
Understand, this was at a point in the day when I had no snacks in the room. I really am big on having some kind of snacks around.
Dinner was a big improvement. I had steak filet, well done, with au jus; side salad with olive oil; and sweet-potato fries. I proudly eat my steak well done. I know that makes me a real piece of shit, and I'm okay with that. I think that it tastes better, and I think more people should be okay with admitting that it's the truth.
I feel like a lot of people think, Oh, I have to come off as cool. I have to say I want it medium rare. Whatever. It tastes better when it's well done. Let's get real. I love food so much, and so I'll try anything, but I'm not going to eat the less delicious option just to have the right opinion. If something's presented to me and I know a really delicious way to eat it and a really, Eh, medium way to eat it, I'm going to pick the delicious way all the time.
I do have some other strong opinions about food. I think licorice makes me mad. I'm just like, Go fuck yourself. What are you? I don't understand how anyone could choose it if they were told, "You can have any kind of candy." I think it's full American Psycho behavior if you're like, "Give me licorice."
Wednesday, February 9
9:00 a.m., black coffee.
I went to set, and they were passing out something hot and incredible. I was like, "Do you have a gluten-free version of whatever it is?" They were like, "We have a bowl."
I was picturing brown rice with chicken or whatever. But they handed me a plastic thing of hummus with crudites. Celery, some sort of gluten-free cracker, carrots, and limp cucumber. Real talk: The cucumber was flimsy. It was probably very fresh, noticed the cold of Winnipeg, and just gave up.
Later, I had two hard-boiled eggs and two cups of pistachios. Pistachios are very heavily in the mix for me lately. My food options have been limited with a capital L. I don't have a car here, and what made it worse when I arrived is that there's no grocery stores near my hotel. I finally found out there's this store called Shoppers Drug Mart underground near my hotel. Getting there, however, was a struggle. I walked around outside for 40 minutes, practically crying because it was so cold, and I almost went ass over teakettle on black ice like four times. Later, someone told me the place where I was walking is considered the coldest, windiest corner in the country. P.S. A girl squatted next to me and peed. It got dicey.
Eventually, I figured it out, and discovered that Shoppers Drug Mart is basically like a CVS or a Walgreens. They had Wonderful pistachios, which I was really happy about. They had rice cakes and they had yellow mustard, which I'm, you should know, a big fan of. I didn't know when I'd be able to go back down to that Shoppers Drug Mart, so I bought three bags of pistachios.
More room service for dinner. This time, it was butter chicken with rice and romaine salad and tiger shrimps. I have no regrets.
Thursday, February 10
Started the day with two hard-boiled eggs and a handful of pistachios.
Then two brown rice cakes with yellow mustard on them. I'll put yellow mustard on almost anything.
You know what else they have down there in the underground mall, where Shoppers Drug Mart is, that's awesome? This thing called Freshii, which is like a bowl restaurant. I got a salad bowl with chicken, greens, quinoa, and all kinds of veggies. The woman behind me was apparently in a hurry and left in a huff when I asked if the chickpeas were gluten free. There was no one else in there when I went in, so I asked maybe two questions. When I asked about the chickpeas, I heard a big sigh. I was like, Wow! They're not playing around at this Freshii.
I didn't feel terribly judged. I just felt like she had some altered sense of time, in that I think she thought she could walk into the Freshii and be out of the Freshii in 20 seconds.
Around 9 p.m., I panic ate a gluten-free chicken quesadilla because I didn't know I was going to wind up in a hair and makeup test all night. They were cooking something and I was like, "Oh my God, whatever that is, I will eat it." I housed it like an animal.
The thing is, I don't find myself in panic eating situations a lot. But when you're away like this, it can get weird. At home, I love to have things. I love to have a giant stash of mushroom jerky. I love to have egg salad that I make the day before. I love putting anything on a rice cake. I love to roast vegetables.
Later, I had some pistachios. Many with yellow mustard squirted upon them. Hi, hello: This may sound like a weird snack to you, but it's not to me. I feel like I've done that maybe since I was a kid. I used to get made fun of at the Groundlings all the time because if there were any nuts backstage, I would just get a pile of them and put them in a cup, and I would take the yellow mustard out of the fridge. Then I would, one by one, put a dollop of mustard on the nuts. I highly recommend it to anyone looking for a new taste treat.
Friday, February 11
Coffee with collagen and "almond beverage" I'd gotten from Shoppers Drug Mart.  Thumbs down.
About half a cup of pistachios because I bought enough to last. And two rice cakes with yellow mustard.
I know, I know. Look, it's been negative-11 degrees outside. I haven't figured this all out yet. However, I made some major progress because after a few days of room service, I discovered that, Oh right, I can order DoorDash to my lobby. I had an epiphany. So that's when I started getting some awesome Vietnamese food and Thai food.
How did I feel after discovering this, you ask? Oh God, I felt like a new woman. I felt like, Come at me, world. There's nothing you got that I can't handle. 
I had not one but two different soups, both from a restaurant with a pretty dope name. That place was called Banh Mi King. For lunch, I got a spicy lemongrass soup with rice noodles, which I supplemented with my usual routine of pistachios. I also dipped two rice cakes into the soup, so I had two kinds of rice with it, and ate six pieces of beef jerky.
Around 12:30, I decided, Let's get another coffee going, baby.
Six hours later, more pistachios in a panic.
For dinner, I had chicken pho. It's one of my favorite foods on earth for sure. I didn't even know pho existed until I went to L.A. And then after I'd had it, my sister got into it around the same time, and I think she didn't discover it 'til she was living in Denver. But anyway, now when we're home in Texas, we will seek out a good pho place, and it's something. We've found some really awesome places.
Saturday, February 12
I had my two rice cakes with yellow mustard, and the coffee with collagen and almond milk.
Around noon, I ate the rest of the pistachios, which means at some point I will have to brave the cold and go back to Shoppers Drug Mart.
For a late lunch, I ate a chickpea curry, but my dinner was a bigger deal. I got tom yum soup from a restaurant called Thailand Foods 1691. It was so good. I ate a pile of coconut rice with it, and, okay, another rice cake with mustard.
Along with the soup, I got a papaya salad which, as you know, comes with peanuts. I've been talking all about pistachios, and you know what? I will eat all kinds of nuts. One thing, though. I don't eat a ton of peanuts. The reasons in my head are super vague and real floaty, but I feel like I've read some things that peanuts are not necessarily great for you. That's weird, right? I'm just realizing this. I have a thing against peanuts a little bit.
Here's the thing: Their flavor is awesome. It's more just, like, they make me mad. I didn't pick them out of the papaya salad or anything like that. I'll eat the peanuts, but they're not something I seek out. I would say I've hated peanuts for a long time.