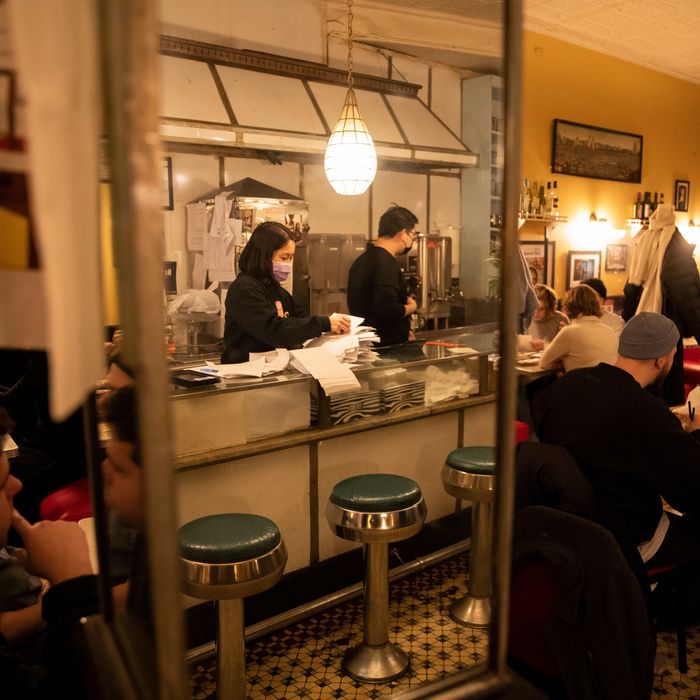 An overall improvement.
Photo: Liao Pan/China News Service via Getty Images
Things were looking so good there for a bit. Then boom: Omicron — an unnecessary reminder that if there is to be a stable sense of normalcy within the restaurant industry, we haven't reached it yet. In fact, some watchers say the situation is more precarious now than it was at the outset of this pandemic for a number of reasons — mostly that the first-wave problems have only compounded and multiplied over the last two years. Here's what we're facing as we enter 2022.
Labor concerns, product shortages, and rising prices aren't going away.
Restaurants need workers. They also need food. Both of these are difficult to find at the moment for complicated and intertwining reasons you have read about ad nauseam.
To recap, though: Whether there is actually a "labor shortage," restaurant operators are having trouble hiring enough workers (and ensuring they stay healthy enough to come in to work). The result is a lot of restaurants are still short-staffed and scrambling for labor.
They are also scrambling for ingredients. Continued supply-chain issues mean a lot of stuff is hard to get right now. A short list from the past few months: chicken wings, certain mushrooms, takeout packaging, cream cheese, and bottled drinks. As of November, more than 90 percent of operators said they'd run into product delays or shortages in the past three months, according to the National Restaurant Association's survey. There are a lot of reasons for this, but one of them, not coincidentally, is labor, whether it's too few truckers or too few mushroom farmers.
Meanwhile, prices are up across the board even on very basic stuff. Fryer oil, for example: One D.C. chef told the Washington City Paper that ordinarily, he'd pay $20 for a 35-pound vat of it. These days, he pays $50. "All of a sudden, that ingredient that didn't cost anything, you're paying premium prices for it," he said. A chef in North Carolina reports a crate of onions has gone from $24.95 to $40.72.
Restaurants can eat some of that difference, but after a while, there's no choice: To survive, you've got to raise the prices, whether you're a dollar-slice joint or Le Bernardin. But raising prices brings its own risk — at a certain point, you lose people.
Public ennui is real.
Whereas 2020's shutdown was shocking, the general public is by now growing tired of this conversation, diminishing any sense of urgency that may have created demand for outside support. People are used up. Empathy is waning. There is so much suffering; isn't it time to focus on something else? "I find it amazing that there have been so many articles about the poor restaurant and bar industry as if it is the only sector to have suffered during the pandemic," commented one New York Times reader below an op-ed on the topic ("How Much More Can the Restaurant Industry Take"). "The only people who need restaurants are the employees and if nobody cares about other types of jobs then what makes a server or line cook job so much more important."
"It's not the government's job to prop up the nation's restaurant business," agreed another reader. "Frankly I reserve my compassion for healthcare workers," opined a third. And while you can put only so much stock in random comments on the internet, they do — at least in this case — paint a portrait of a mood: The problems facing restaurants aren't solved, but the energy for talking about them is fading fast.
Outdoor dining is here to stay, but will it be warm?
It's happening! What began as an emergency stopgap measure to keep restaurants afloat at the height of the pandemic is now set to become a permanent part of the city's streetscape. (It will still need approval from the City Council and the new mayor, but both have expressed support for it.) What exactly the permanent program looks like, though, is still TBD: There will definitely be new regulations and potentially new fees.
None of it matters for this year: The new rules, whatever they are, won't take effect until 2023. But while the uncertainty might be unavoidable, it does leave operators — many of them already cash-strapped — stuck trying to figure out how much to invest in building (and heating) structures that may or may not be possible for them to maintain next year.
Right now, the more pressing issue is heating. Last year, restaurants were temporarily allowed to use propane heaters, a relatively inexpensive and effective option. This year, propane is back to being banned. Some operators are hoping the new mayor — a noted propane-heat supporter — will change that, but we'll see.
Takeout cocktails might help, but nobody knows if or when they will return.
In the early days of the pandemic, booze to-go emerged as a temporary lifeline for New York City restaurants. But in June, the state lifted its emergency order and takeout cocktails came to an abrupt end — much to the frustration of many operators, who pointed out that, while they might be open at full capacity again, business is hardly normal.
As the city weathers this latest COVID wave — and another round of empty dining rooms and temporary closures — it would seem to be a great time to bring back to-go drinks. But as Gothamist explains, it's not so easy: At this point, the only way to revive to-go cocktails is to change the law. And that could happen: Bills to that effect have been introduced in both houses. But it won't necessarily happen soon, and it isn't guaranteed. "It's a bill that's had a lot of resistance," Assemblymember Patricia Fahy told Gothamist. One obstacle: the liquor-store industry, which objects to restaurants encroaching on their business. "Why change the license?" New York State Liquor Store Association president Stefan Kalogridis asked the Times in June. "We can't sell potato salad and a BLT."
Too many customers remain oblivious to the problems.
Going out to dinner feels like a blissful return to normalcy, and it should. You are supposed to enjoy restaurants; you don't go out for a $24 hamburger because it's practical but because it is a pleasure. And restaurants should be a pleasure. That's a reasonable expectation!
But it is also true business is still not normal, and going out requires a new level of flexibility and understanding. Yes, prices have gone up, and menus keep changing, and service can be a little wonky, and it's annoying, and nonetheless, we must all soldier through. Restaurants are (mostly) trying. Customers not understanding why dinner costs a little more or why they're out of tofu again doesn't help.