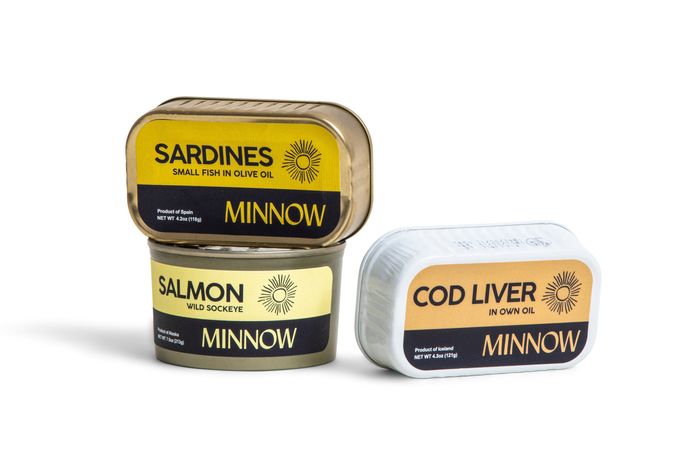 Minnow's inaugural products include Alaskan salmon, Icelandic cod liver, and Spanish sardines.
Photo: Aaron Joseph
Considering how deftly the owners of Hart's and Cervo's transformed their premises into COVID-era groceries, it's no surprise they retained a retail mentality when indoor dining resumed. Their latest venture, Minnow, is a private-label line of shelf-stable tinned fish that mirrors the Mediterranean-seafood slant of much of the group's cooking. But according to co-owner Nialls Fallon, the idea predates the pandemic; Fallon immersed himself in the industry when he co-opened conservas bar Maiden Lane in 2013, and he shares his passion for preserved seafood with current partners Nick Perkins and Leah Campbell. "Our love of anchovies and sardines runs pretty deep," he says.
Minnow's first three items are all sourced from canneries that work with sustainable, traceable fisheries: young sardines, or sardinillas, from Spain's Basque Country ($11 for 4.2 ounces); wild sockeye salmon from Bristol Bay, Alaska ($14 for 7.5 ounces); and cod liver from an Icelandic company that got its start sourcing shellfish for local restaurants ($9 for 4.3 ounces). More than just a new revenue stream, the sideline allows the restaurants to have an impact beyond their walls. "Minnow is a way for us to keep ourselves in people's kitchens in that kind of culinary dialogue," says Fallon. "Our main goal is to find producers who are making really amazing product that either complements what we're already doing or isn't readily available in the U.S."
Canned salmon is nothing new, of course, and, in the eyes of the Minnow team, therein lies its problem. The only thing preventing this hyperseasonal national treasure from garnering the praise heaped on canned Mediterranean tuna is its fusty image — one the partners hope to overcome with savvy marketing to a young clientele willing to recognize (and pay for) quality in a can. Cod liver has its own baggage, to be sure — at least in the United States, where, as Perkins puts it, "cod-liver oil is always the butt of the joke or the health food that your parents foisted on you." Elsewhere, the fish liver is a valued food product; Perkins goes so far as to call it "luxurious." But Fallon says that most imports are either smoked, which obscures the delicacy of the flavor, or come from Eastern Europe or Russia, where traceability is "a lot murkier." The trio recommend it mashed on toast with some sea salt and a squeeze of lemon. "We like the freshness of it," says Campbell. "We call it 'butter of the sea.' "
As befits its name, Minnow is starting small, but the expansion potential is unlimited. "We love the idea of salt-cured products like bottarga and mojama or shelf-stable non-canned things like dried shrimp and fish sauce," says Fallon, whose wish list also includes garfish, mussels, and escargots. "We really want to have a high-quality anchovy in a can just because we use anchovies so much in our cooking." But why stop there? "Just like wineries, a lot of these canneries have their hands in other things," he says. "It would be fun to use it as a way to import olive oil." Maybe the best pandemic groceries never really go away; they just go online.