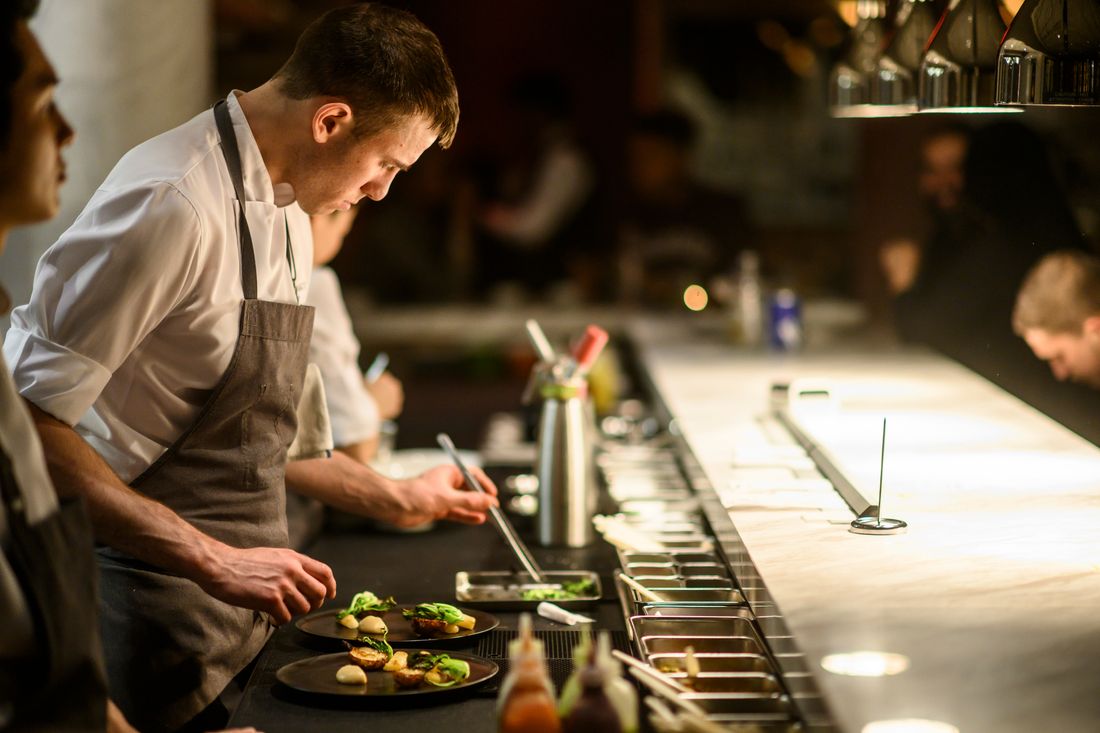 The restaurant featured a rotating cast of guest chefs from around the world.
Photo: Daniel Krieger/The New York Times/REDUX
For the past two years, sadness has plonked along in ways that have become almost shockingly predictable. In turn, we've gotten the hang of mourning the places we will never visit again. By general assent, we mark the loss of institutions like the '21' club and Egg with elegies distinct from those with which we mourn the loss of hot spots like MeMe's Diner or Flora Bar. The passings of Jeepney and Hua Ji Pork Chop Fast Food occasion laments in a different key than the passing of a Hunky Dory or a West~bourne. Some were the ends of an era, others felt like the end of this particular one.
It's a little less clear what we do to mark the closure of a peculiar establishment like Intersect by Lexus.
The awkwardly named restaurant, which will serve its final dinner this coming weekend, was an early entrant into the "restaurant as experiential marketing" category. It opened in November 2018 as "a unique creative space for individuals looking to be inspired by fashion, art, food, music, and technology." The first floor was given over to sleek furniture that felt like freestanding car seats, assorted Lexus gadgetry, a full-size prototype automobile, and, if I remember correctly, a Lexus hoverboard. The bookshelves were well-stocked with Taschen-, Rizzoli-, and Phaidon-published tomes, each hand-selected by two curators. Notably for me, who considers myself a bit of a bathroom connoisseur, the loo was reached through a hallway lined with a wall of toy cars, and the automatic doors whooshed open with a satisfying, indeed diuretic, susurrus.
The main dining room, on the other hand, was reached by ascending a staircase against a wall of dismembered Lexus parts in ghostly white, like an automotive death mask. The concept, which was operated by Danny Meyer's Union Square Hospitality Group, was designed to host chef residencies lasting four to six months apiece. The first chef, Gregory Marchand from Paris's Frenchie, was followed by Sergio Barroso from Chile's Restaurante 040 and Tomás Kalika of Buenos Aires' Mishiguene. The list of visitors continued to grow until last October, when Nina Compton of Compère Lapin in New Orleans would become the final guest.
Though the chefs in question were present for parts of their residencies, the day-to-day interpretation of their dishes fell to the restaurant's executive chef, a man named Nickolas Martinez, and his crew. When I climbed the stairs for the final time last week, I saw Martinez at the far side of the bar. He was receiving some sort of what I assume was a parting gift from a regular. On Instagram, I saw Compton was shaving truffles at her new restaurant, the Bywater American Bistro in New Orleans, but her physical absence hardly mattered. Over the years, I've watched as Martinez and his crew shape-shifted to execute Barroso's whimsical bites (such as "vuelve a la vida" venezolano, ceviche atop a bit of Bloody Mary sorbet and a pillow of cotton candy, which, surprisingly, I did not hate), Kalika's hearty pastrami short-rib-and-tongue sandwiches, and beyond. It's edible Zelig activity, a telectroscope from kitchen to kitchen. It was also a passport for people who don't globe-trot.
When I had it, the final menu was an iteration of what's available at Compton's New Orleans restaurant, an assay of cuisine from West Africa, the Caribbean, and the Creole coast. Two buttermilk-chive biscuits were warm pillows into which honey butter and bacon butter melted. A trio of fried boudin balls spilled their guts (and rice) when broken open and dipped in sour-orange mojo. Curried goat tangoed with sweet potato gnocchi and cashews, and a West African peanut soup had a heat that snuck up on you like a mugger. Frankly, it was a damn good meal from an out-of-town restaurant I've long wanted to visit — and I've been saying that same thing for all three years Intersect has been open. When it closes, I'll lose this particular vehicle of edible teleportation for the foreseeable future.
To be honest, the strangest part of Intersect by Lexus maybe was not that it was essentially a vessel for a luxury-car brand's marketing team. (As the Genesis House around the corner indicates, it might have been an early entrant into a burgeoning category.) It wasn't even that it was so remarkably good. It was the very idea itself that an open-ended shape-shifting restaurant could exist in Manhattan in the first place.
Though the durability of pop-ups has ratified the notion that we as diners adore impermanence, a pop-up is one thing limited by time. The only change it undergoes is to be there or not. A restaurant like this, by contrast, is — or was — a permanent place that remained ever-changing. an altogether slipperier, squirrellier idea. It is a sort of meta-restaurant. That the place lasted for as long as it did — and by all accounts was doing well — gave me hope as to the adventuresomeness of our city's eating public.
Equally aberrant and unlikely was to find a chef like Martinez, who was skilled enough to faithfully execute a broad range of recipes and styles in the service of other chefs. No one wants to lead a cover band. And yet to me, that selflessness was, and continues to be, a model of commendable talent.
At the conclusion of this week, Martinez and the back-of-house staff will be absorbed by USHG. The books and sculptures and art will be dispersed to friends, family, and staff. (I scored a copy of Teju Cole's very good Blindspot.) The hoverboard is gone, but most of the furniture will find its way to Lexus dealerships. Whither the toy cars? Who knows, perhaps to a tiny junkyard. No matter what, Intersect by Lexus will cease to exist in New York City, and the destinations to which it served as a portal will only become more distant. If it feels uneasy to mourn the restaurant, it's because it is not a simple thing that's being lost, but a very strange, very unlikely place indeed.