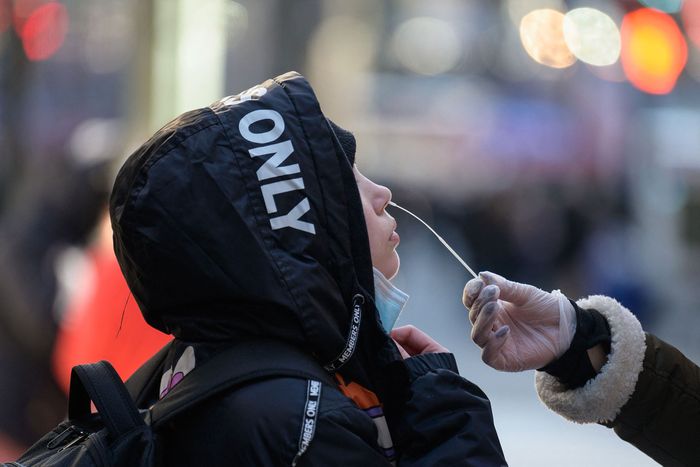 Photo: Angela Weiss/AFP via Getty Images
On December 3, the chef Calvin Eng opened the Cantonese American restaurant Bonnie's in Williamsburg. After years spent working at restaurants including Nom Wah Nolita and Win Son, he finally had a place of his own — and it proved to be immediately popular. Then, two hours before service on December 17, Eng decided to shut down his dining room and go takeout only.
"Business was great for those first two weeks, but we decided to pivot as a team," he explains. "It didn't seem like a smart or safe thing to put our staff or customers through."
It's now been a month since Omicron arrived in New York, slamming the restaurant industry with a wave of positive cases and anxiety over how to react. Broadly speaking, business had been good, servers and owners told me, in the weeks leading up to mid-December. Then it dipped, as cases rose and potential customers stopped socializing in advance of seeing older or at-risk relatives over the holidays. As of January 7, reservations on OpenTable were down 38 percent from two years ago. A representative for Resy shared that covers were down in New York last week by roughly 20 percent from the Q4 average, though she added the first week of January is "always slow."
Some restaurant owners have moved quickly to adapt: At his Prospect Heights restaurant Olmsted, for example, Greg Baxtrom will switch to a tasting-menu format after, he wrote on Instagram, struggling "to offer a consistent, delicious, and safe experience during these ridiculous times." At Bonnie's, Eng switched things up too, introducing a "McBonnie's" menu with with a char siu McRib and a filet-o-fish. (The regular menu, he says, didn't work well in the takeout format.)
Around the city, over the last few weeks, I'd heard mixed reports about business. Wu's Wonton King owner Derek Wu says that business is down 40 percent over the last month. "Definitely a ghost town in the Lower East Side," Matthew, a bartender who works in the neighborhood, texted. But a server said that her restaurant in the same area was doing okay: "Young people restaurants," this server said, were doing fine.
But that's not the case everywhere. One Brooklyn server, who asked to remain anonymous, told Grub Street in December that he had nights with only a few tables at the restaurant where he works, and that if this persisted, he would have to move back home. He went from making $757 before taxes the week of December 12 to $576 the following week. The week of Christmas, when he only worked a couple shifts, he made $110. When January 1 came around, he wasn't able to pay his full rent.
When I popped into the Fly at the beginning of this week, it was the emptiest I'd ever seen it. The restaurant is usually packed; on Monday night, there were only a handful of people inside. Then again, it was 12 degrees outside, and it was a Monday in early January, typically an incredibly slow time for any New York restaurant.
"It's difficult to tell whether it's Omicron or the weather as our location is so seasonal!" says Leticia Skai Young​​ of Lolo's Seafood Shack, the Harlem restaurant she owns with her husband Raymond Mohan. "We have closed on Mondays because it's slower, but we normally do that between Thanksgiving and Valentine's."
Still others theorize it's not fear over Omicron transmission that is forcing a business slowdown: It's the fact that many people are already sick. "Our big customer base is New York Presbyterian Hospital and Columbia Medical Center, and all the adjacent medical offices and institutions," says Amy Pryke, who runs the Washington Heights restaurant Native Noodles. "I have heard this anecdotally from friends who work there, that a lot of the staff are calling out sick or are actually getting sick." So, she says, "I think that might also be a contributing factor to lower sales, right? Because they're not going into work, and they usually are the customers that order from us."
There are some glimmers of hope, and some of the city's more talked-about restaurants are seeing business return. With the holidays in the rearview mirror, Bonnie's reopened for indoor dining on January 4. "We are very fortunate to be relatively busy, all things considered," Eng says, although he points out that cancellations are more common than they had been. It doesn't seem they're having any trouble filling those tables, though: When I dropped by last night, at 7:20, it was 34 degrees outside, but Bonnie's was hot as hell. "Do you have a reservation?" the host asked me. When I said no, they told me it'd be a two-hour wait, before correcting themself. "Actually, it's going to be three hours."