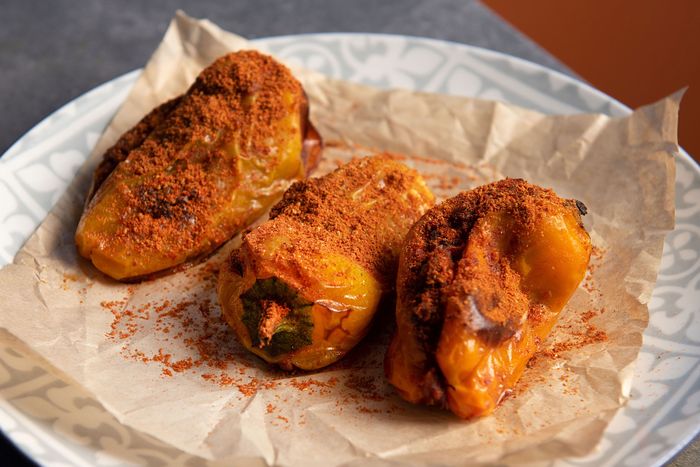 Dhamaka's bharela marcha.
Photo: Liz Clayman
When, late last year, I finally made it to Dhamaka — the Lower East Side restaurant your friends have surely talked about — there were a few dishes I knew I had to order thanks to all the research done (generously) for me by the dining public: the paneer tikka that people rave about, the pressure-cooker pulao that New York Times critic Pete Wells talked up, and the paplet fry, to name a few. (I'd forgotten about that rabbit dish you have to order in advance; I may always be thinking about my next meals, but I'm not the type to actually plan ahead.) While the paneer was as creamy as advertised, the dish that really caught my attention was one ordered on a whim: the bharela marcha, a Gujarati side dish of stuffed peppers.
"It's a very classical dish made in different ways," chef Chintan Pandya says. "I like my mother-in-law's version, the way she approaches it, because there's everything in there: sweet, sour, spicy." He admits he did tweak it for the restaurant, but not much. "The basic principle of it is the same; it's just that I made it better than my mother-in-law. Let's put it that way."
The peppers are sweet (although the exact variety varies, Pandya says), and the filling is seasoned with spices including coriander seeds, ground chili, cumin, and cinnamon. There's jaggery for sweetness, cilantro, and chickpea flour to bind everything together. The key ingredient — what captured my attention — is the roasted, crushed peanut, which despite being listed on the menu nevertheless arrived like a delicious surprise. Maybe it was because the peanut-stuffed fried sticky rice pancakes I'd recently eaten at CheLi were still on my mind? Or maybe I'm just liable to like and endorse any dish that goes heavy on peanuts. While Pandya has eaten plenty of bharela marcha in his time, he says peanuts were not usually featured in the versions he had. "Sometimes you add something and it just changes the entire thing," he says. "It takes a dish from good to great."
In any case, my mind stayed on the Dhamaka peppers even as showier dishes came out: tender lamb ribs showered with Kashmiri chili, plump tiger prawns grilled whole, dogfish swimming in turmeric, ginger, and tomatoes. Those dishes were all great, but mostly I wanted to talk about the peppers. I wondered if anyone else wanted to start a support group for people who couldn't quit them.
"The funny thing about this dish is nobody orders it," Pandya admits. "Except once somebody does order it and they get a taste of it, they always order them whenever they come back."
I've always liked stuffed peppers — maybe I was indoctrinated early on by my dad, who would take bell peppers and fill them with rice, ground meat, and tomato sauce. As I struck out on my own, I found there was a much wider world of stuffed peppers out there: chiles rellenos made with blistered poblanos and (even better) chiles nogadas swimming in walnut sauce, shrimp-stuffed green peppers I ate at dim sum banquet halls, deep-fried gochujang with a beef filling. The possibilities are endless, really, which is why you should commit to helping me with an important goal I'm setting out to accomplish: making stuffed peppers the hot dish of 2022.
First things first then. Order the bharela marcha. In fact, maybe order it twice. You're told to eat each pepper in one bite, and the order comes with a mere three. Three bites aren't enough. Six bites are maybe enough.