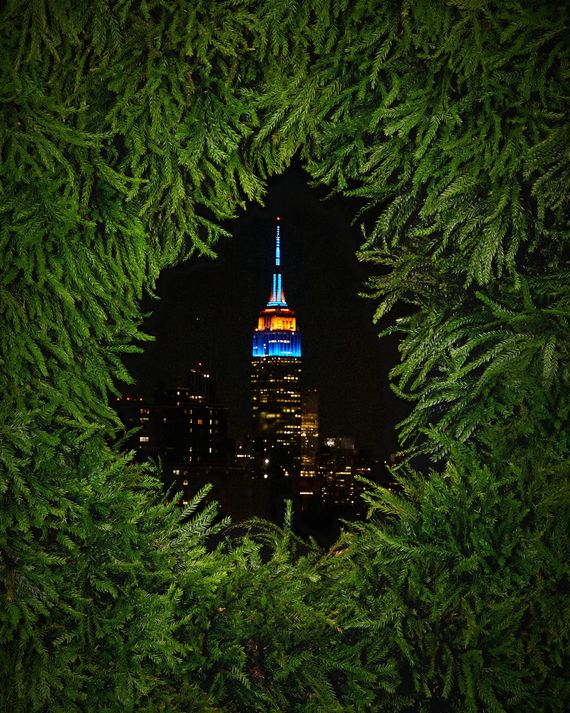 Mountain Sweet Berry Farm's wreaths come plain or decorated with local plants like juniper, mountain laurel, and rose hips.
Photo: Marcus McDonald
Turkey is the turning point," says Rick Bishop, owner of Mountain Sweet Berry Farm in Roscoe. He's talking about the annual moment when he goes from being one of Union Square Greenmarket's preeminent farmers, famous for his spring ramps, summer strawberries, and autumn spuds, to an emissary of Christmastime cheer. For more than 30 years, that first Saturday after the Thanksgiving feast marks the official launch of the December crop: upstate flora fashioned into holiday wreaths and miles of garland.
For New Yorkers who want their seasonal décor as local as their weekly groceries, the Greenmarket is a great source of festive evergreenery. Each stand takes a different approach: Van Houten Farms is big on trees and tree wreaths, Stokes has cornered the market on wreaths crafted from its signature herbs, and River Garden specializes in dried flowers. Mountain Sweet Berry distinguishes itself with its creative use of princess pine, a.k.a. ground pine or club moss — not a tree but a fernlike perennial native to the eastern United States that creeps along the forest floor. "I picked it as a kid," says Bishop, who used to sell it to a local florist.
Like the ramp, princess pine is a wild plant and can become endangered if not foraged judiciously. (The State Department of Conservation categorizes it as "exploitably vulnerable.") For Bishop, good stewardship is synonymous with good business. "You never want to pick where it's weak, only where it's lush," he says. This means minding the growth cycle, bypassing first-year plants for more mature ones with three or four branches, and rotating patches. He starts wreath production once the plants get hardened off by the cold. "When the leaves fall off the trees, it's good to go," says Bishop, who stores the picked princess pine in the vegetable cooler in his potato barn. To keep it at its best, he'll take it out on damp days for a brief misting.
Once the last Atlas carrot is dug, Bishop and his farm crew, intergenerational family members from the town of Cuilco, Guatemala, set to work on the holiday decorations. Garlands, typically sold in 25-yard increments, are made with the assistance of a special machine Bishop bought from a florist who went out of business. But wreaths are hand work, and he credits the special touch of team members like Rony Gomez. "Guatemalans are famous for textiles, and their hands are magic," he says. "They have a really nice way of putting things together." His best-selling wreath is the $25 eight-incher. "It's small, it's light. It can go on anyone's door in Manhattan," says Bishop.
But it's not only apartment dwellers who are drawn to the stand. Over the years, Bishop has sold wreaths of all sizes and custom designs to chefs and restaurateurs to decorate the façades (and, more recently, the sidewalk sheds) of businesses like Loring Place, Wallsé, Blue Water Grill, 232 Bleecker, and La Mercerie. Last year, Wildair's Jeremiah Stone bought several dozen to sell from the restaurant's online store. For Bishop, this seasonal sideline is a link to a dwindling tradition of his native Upper Delaware River region and a cottage industry that helps sustain his business off-season. "It's better margins than agriculture," he says. But he'll always consider himself first and foremost a producer of food — even if that fact eludes the occasional Greenmarket shopper who, come December, greets him like a long-lost friend. "You have people who don't know us for ramps, potatoes, or strawberries," he says. "They'll see the display and say, 'Welcome back to the market!' "