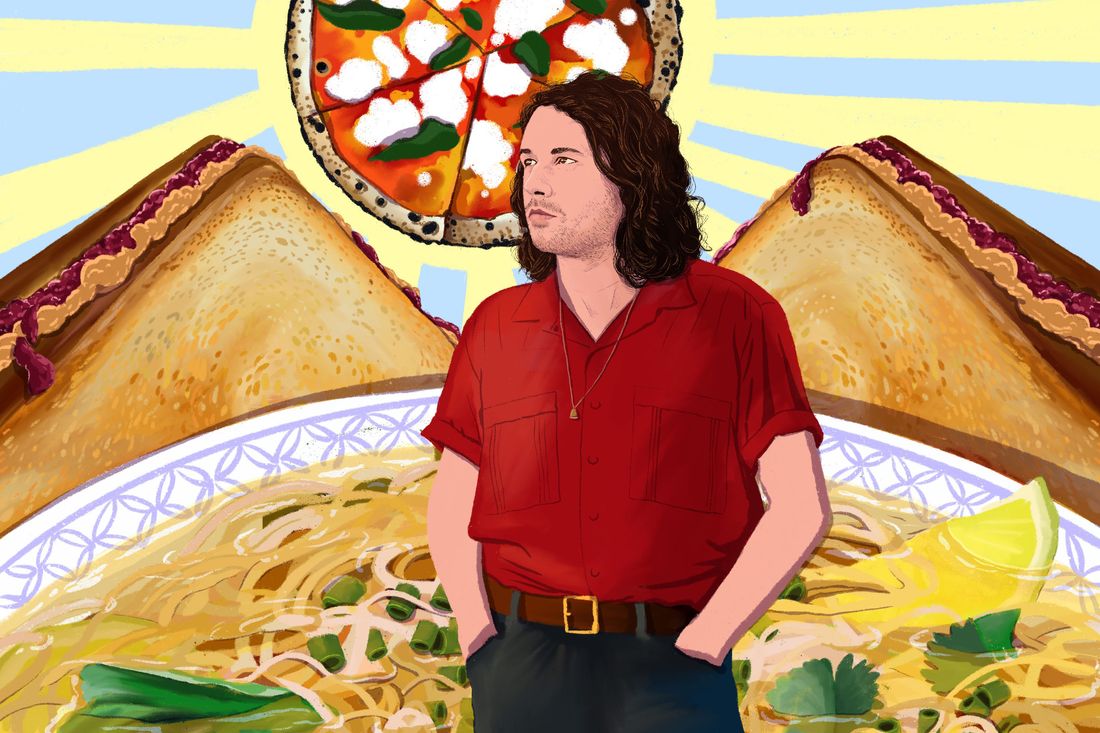 Kevin Morby's Triple P: pho, pizza, and PB&J.
Illustration: Maanvi Kapur
Like most of us, the musician Kevin Morby — whose latest record A Night at the Little Los Angeles released in October — found himself spending more time cooking and gardening in the last year and this past winter. After lockdown, he admits that he and his girlfriend Katie Crutchfield (a.k.a. Waxahatchee) "fell off" a bit in the kitchen. And then Morby went on tour with Hamilton Leithauser for seven weeks in support of their albums Sundowner and the Loves of Your Life, respectively. "We haven't been home in a long time and we were just talking about how we're very excited to jump back into cooking," Morby says. "There are definitely some dishes that I've walked away with from then that I never knew how to make beforehand." Until that happens, however, touring brought Morby back to New York and to some of his favorite spots in the city he once called home.
Tuesday, November 16
We were driving overnight from Pittsburgh to New York. Around 1 a.m. on the bus, I had some sausage, onion, and mushroom pizza — which our tour manager got for us — and beer. I really like light beers. I drink Miller Lite or Corona Light, just the lightest beer possible, so I can drink from the time we sound check until the end of the night without ever feeling drunk.
Playing a show is very much like a workout. That's how I view it, especially since I jump around and I wear a suit that's really hot, so I sweat a lot. It's like a power hour of cardio that's hydrated by beer. I'm always very hungry after.
We get off stage after the encore and our tour manager has pizzas waiting for us. It's kind of a fun thing to do, though it can be dangerous. If we do that every night, we start looking pretty crazy after a couple of weeks.
In New York, we were staying at a hotel in Williamsburg. I lived in the neighborhood for like seven years, so it felt like my old haunt. A lot of the stuff that I loved back in the day is gone now, but Café Mogador is still there. It's one of those restaurants that I've been going to for years. It's just like an old standard for me. I love those Halloumi eggs. So we went there, and I got the Halloumi eggs, French toast, an iced tea, and grapefruit juice.
I have this thing that I do, which I feel like is worth mentioning. If I haven't been to New York in a couple months and I fly in during the afternoon, I purposely won't eat all day. Then I'll get in and I'll do what I call the Bedford Stomp, where I go to Joe's Pizza and I get a slice. Then I walk up to the taco truck that's on North Seventh and Bedford and I get one taco. Then I go to Oasis and get a falafel, all with a can of Sprite. Those are my three standbys in Williamsburg. I wasn't feeling it, though. I wanted to do it for this, but I was like, I think I need breakfast food. Still, I thought it was important to mention.
Took the East River Ferry. We were going shopping and we talked about taking the train or a car, but my girlfriend Katie had never taken the ferry. They have a bar there. I didn't know you could get beers and stuff. I just got a seltzer and I bought some Trident gum. I love that ferry. It's such a good way to get to the city.
We were in the city, so we were going to do dinner at Via Carota, which is one of my favorite restaurants ever in the West Village. The reason I've even been to Via Carota at all is because of my favorite restaurant in Manhattan, which was Takashi. Man, rest in peace. That place was amazing. It closed because of the pandemic, but me and Jeremy Earl — he put out my first couple records — would go there whenever something good would happen and we'd get some money from royalties or whatever. If I was in New York, we'd go to Takashi and celebrate.
I like when there's this big lead-up to dinner. Sometimes, when you're hungry and it's just over in a few minutes, it's kind of like, Oh, well, now what?
So the plan was to go to Via Carota with my old friend Robert. We used to play in different punk bands that would play shows together, and his wife Petra. They run that pie company on Delancey called Petee's Pie; we usually like to go there. But we had all these shopping bags, so we're like, Well, let's just go back, and we got a quick reservation at Rule of Thirds.
I've been there many times. My favorite thing is the mazemen, the brothless ramen with the pork jowl. There's a peanut butter–like quality to it. I like that a lot. The sashimi is amazing. The karaage is really good. Then the almond miso soup is super-creamy, it's almost like a dessert. Katie's favorite thing is the white chocolate sake soft serve, which is great. We had all of that, plus the chicken meatballs, curried potato salad, and cheesecake. Also some Asahi beer.
It sucks that a lot of my favorite places have gone, but then I eat at someplace like Rule of Thirds and that place is amazing. It's super-weird how much this neighborhood has changed, but, I guess, because it's New York, that's what's beautiful about it, so I really try to plug in and seek out the new stuff that I do like.
Wednesday, November 17
Katie and I went to Sunday in Brooklyn for breakfast. She had gone there recently with a friend. It's on the same block as my record label, so I wanted to go. The head of my label was able to join us, so it was a convenient thing. We had to sit outside and it was a little cold. But it was a good little place. I had a salad and the eggs with chicken sausage, toast, and potatoes, and an orange juice and peppermint tea.
Iced tea from Sey Coffee. I do not drink coffee. I'm naturally a wired freak that if you give me that stuff, it's like a person who's already on cocaine doing more cocaine. That's me on coffee. But it's funny because I actually worked at a café. It was my last normal job before being able to make a living off of music. It was at the Culture Espresso that my friend manages in midtown in Manhattan. I was around coffee all the time.
This was a show day, so I got some food delivered from whatever was closest. That turned out to be Mama Pho. It was a pretty typical show-day meal: chicken pho, spring rolls, summer rolls, soup dumplings. l tasted a few things and then ate the pho and I was feeling good. I also had an oatmeal cookie from backstage.
If it's nearing showtime, this other part of my brain takes over. It's less about trying to find amazing food and more about finding something quick and easy. It was like, You know, I got this big show. I kind of don't want to think about food. I'll just get some pho real quick.
After the show, I had Joe's Pizza. Sausage, onion, and mushroom. That's kind of a tradition. Anytime I play New York, I like to get Joe's. It's always a very nice, celebratory thing to have after the New York gigs. And it's my favorite pizza ever. The sauce is just so great.
Thursday, November 18
A chicken burrito and chips and guacamole at De Mole in Williamsburg. The space used to be a bar that my friend worked at maybe ten years ago. I've been to this restaurant a few times. They have a nice little outdoor section. It's never too busy and the food's pretty good. It's not life-changing, but I've now been there three times in a row because I know if I go, there will be room and pretty good food.
I like wandering into a random place. My thing is, if I'm in a town, it's just whatever I stumble upon. I think one of the reasons I like Bourdain so much is that he has his places that he goes, but it is also a lot about the spontaneity and serendipity of eating. I relate to that pretty hard-core. There are no expectations, which is what I like.
With that said, I have a lot of "foodies" in my band. My friend Cyrus, who plays guitar, is usually my partner in crime with eating on the road. Cyrus puts it best: He says that we eat on tour as if we're trying to gain weight for a role. That's our mind-set. Especially after the pandemic. It's like, Let's get everything. We've been going crazy with cookies and doughnuts. Doughnuts are my kryptonite. If you put me in a room with doughnuts, I could ruin my life. I love them so much.
Speaking of cookies, I got chocolate chip and oatmeal cookies from Levain. That place is insane. It's dangerous. I just scored my first film, and the directors brought those cookies to a meeting we had pretty early on. I remember they were warm. Since then, I showed them to Katie, and she's obsessed with them now, so that's another spot of ours, like Joe's. Anytime we're in New York, we have to get those cookies.
Katie ordered dinner. More chicken pho from Sao Mai. Noodle soup is my ultimate thing, especially when I'm on the road because it's a magical elixir for a vocalist. The first time I ever had pho, I was with my band Woods, which I did not sing in, so it wasn't a vocal thing at that point. My bandmate Lucas had gone to this place on Baxter and Canal called Thái Son. We were playing somewhere around the corner. Now I try to go there every time I'm in New York.
Also had my post-show ritual: mushroom, sausage, and onion pizza from Joe's.
Friday, November 19
During the afternoon, Katie ordered Sweetgreen for something quick and easy. I needed food to throw in my body. I never eat at Sweetgreen. I wanted to, though, because I'm a Naomi Osaka fan and I know she's got a signature bowl there. I wanted to get that, but instead I just told Katie to get two of whatever she was getting.
I'm newly into tennis, but obsessed. I've been playing since January and I've been playing like crazy. I was in L.A. for the winter and all my musician friends were playing tennis because of COVID. Yeah, it's a popular indie-rock sport right now.
After the show, instead of pizza, we had Soup Shack again. After I ate it, I told the whole band about it and they all got it. There was a bunch of ramen and pork gyoza. It was a double-ramen day. I also ate an orange.
Touring again and going to all these restaurants has been so great. There was a block on this tour from Houston to San Francisco when I only ate Mexican food, mainly tacos. It was just tacos for a week and a half. A big thing that I love to do on tour is to progressively watch myself look worse and worse in the photos. It's like, I can track the amount of beer and food I've been consuming. But then you get home and you're like, Oh wow, now I'm going to work at not doing this. I'm going to start cooking for myself and cleaning up my act and eating healthier. It's a mission. This tour, though, it has been really fun to indulge in all the food that I've been missing.