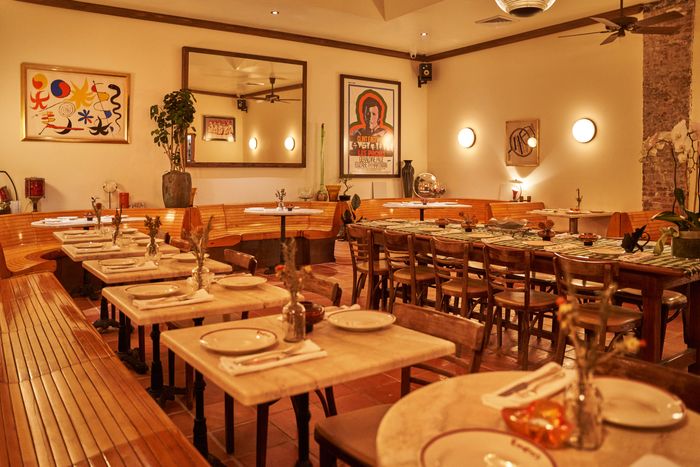 Emmett's on Grove.
Photo: Adam Friedlander
Chicago native Emmett Burke has been in New York since college, but he remains a midwestern boy at heart. Eight years ago, after abandoning a finance career, he opened a South Village bar celebrating his hometown cuisine, chiefly the deep-dish pizza New Yorkers love to hate. But Burke has always proselytized for the Second City's second pie: the thin-crust tavern-cut pizza he started shipping around the country during the pandemic. That's the style he has brought to his new West Village outpost, Emmett's on Grove, a 75-seat space with a more robust menu and a full liquor license. Here, he delves deep into the "midwestern tavern" supper-club canon with shrimp cocktail, baby back ribs, grasshopper cocktails, and a forthcoming Friday-night fish fry. "It's the kind of place I went to growing up," says Burke, who describes the décor as "north woods of Wisconsin meets south of France."
Burke is not the first to endeavor to bring the rustic, unpretentious joys of the Wisconsin-style supper club to New York. He is preceded most notably by chef and Wisconsin native Michael White, whose short-lived Tribeca venture the Butterfly borrowed food and drink inspiration from the genre, including riffs on the old-fashioned and the part-drink, part-dessert grasshopper. But White didn't have Burke's tavern-cut pies, which have already established a citywide reputation. And it's unlikely that Bill Murray guest-bartended at the Butterfly's friends-and-family preview dinner as he did at Emmett's on Grove last month.
How exactly did that come to pass? "My mother and Bill were high-school sweethearts," says Burke. When his family flew in to celebrate the opening, Burke surprised his mom by inviting Murray too. "He's the ultimate Chicagoan. I grew up idolizing him." Celebrity sightings aside, the "club" in supper club isn't intended to signify exclusivity. In fact, it's the opposite, according to Burke: What defined a midwestern supper club at its mid-century peak was its openness to all and its tendency to turn strangers into lifelong friends over the course of a long evening of drinking, eating, and, often, dancing. The food would never have been called innovative, but it was high-quality and made from scratch. The traditional menu of steaks and chops was punctuated with Americanized Italian fare like spaghetti and meatballs and chicken parm (both of which can be found at Emmett's, along with twice-baked potatoes and dry-aged burgers).
To this formula Burke has added a mostly old-world wine list and a large-format sbagliato mixed tableside. He has upgraded the pizza oven, too, from the gas-powered model at his first location to a spiffy new electric PizzaMaster, which he says retains heat much better. Efficiency is crucial for delivery, the pandemic-spurred service that has helped Burke establish his signature pies as a national brand, and which he will eventually offer at the new spot. That was top of mind when he was hooking up phone service. "I wanted 1-800-EMMETTS, but it wasn't available," he says.
39 Grove St., nr. Bleecker St.; 646-370-3858