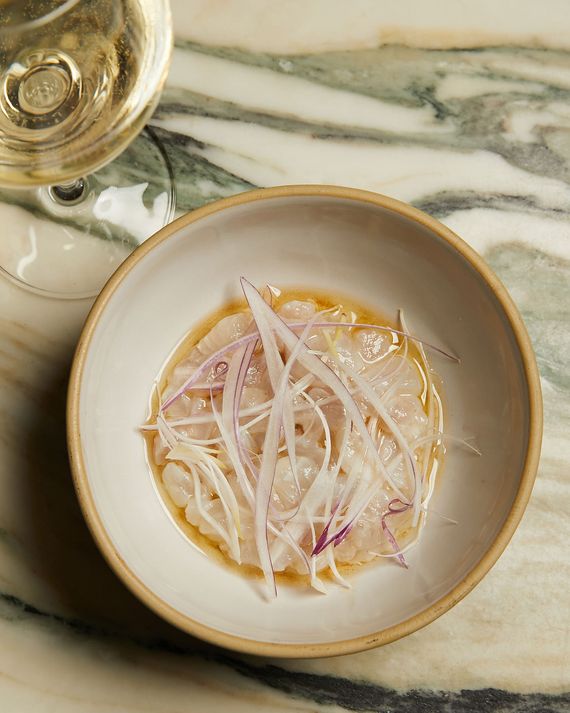 Lightly cured fluke with juniper and Tropea onion at the wine bar June in Cobble Hill.
Photo: Colin Clark
The chef Diego Moya has managed to pull off something that is, if not impossible, then certainly improbable: He has turned fluke into a must-order dish. It's not that fluke — a fish that is plentiful in the waters off Long Island — is bad. But before the pandemic, preparations of lightly dressed raw fluke had become tediously commonplace as much for reasons of convenience (it is simple for a harried cook to drizzle some citrus oil over some nice slices of fish) as economy (fluke is relatively affordable and readily available, yet it retains what people in the business refer to as "high perceived value" in the minds of diners). Alas, fluke preparations tend to be light, fresh-tasting, and largely unremarkable.
At June — the long-standing wine bar in Cobble Hill where Moya took command of the kitchen just about two months ago — the dish, which changes a bit night to night, might be described in dead-simple terms: "Fluke, juniper, Tropea onion," for example. The kitchen cures the fish quickly, in about 15 minutes. It's diced and dressed with juniper oil and lemon juice. It's finished with some pickled shallots and shavings of oversize Italian red onions. You eat a spoonful and sort of want a bagel, but instead of a bagel, there are slices of sourdough from ACQ Bread, down the street from June. "You don't need fireworks," says Moya. "You can eat the fish and enjoy it for what it is." And what it is is just unexpected enough — subtle but with a clear point of view. Everything about this particular fluke underpromises and overdelivers.
It's a dish that, by design, is not particularly complicated or technically demanding. "Something I really wanted to do here," Moya says, "is dishes that are even simpler and more pared down than you would normally find at a restaurant where you're expecting very creative food." Moya's style was already defined by a simplicity that bordered on austerity: At Racines, the Tribeca restaurant where he cooked before June, he served bowls of lentils mixed with crème fraîche. At Hemlock, the Lower East Side restaurant he ran before landing at Racines, a complex mix of spring greens might first appear to be nothing more than a single cooked onion. But Moya's focus on simple preparations is as much about his creativity as it is pragmatism.
"It all starts with the design of the menu," he says. "We're all thinking about doing dishes that can impress in a certain way." Moya's sense is the food diners want (diners at a wine bar in Cobble Hill, at least) isn't overly manipulated or complicated. "The old model, where it demands a lot of touches, it demands a lot of movement — I think that's kind of gone by the wayside a little bit," he says. "Simpler food is more exciting if it's done well. It just demands a different thought process."
It also helps Moya keep an eye on the fixed costs that are crucial to making a restaurant work: food, labor, rent — all the things that are always rising and must be constantly controlled with clever solutions. More than that, the approach means Moya can structure his kitchen in such a way that the environment isn't as ruthless or as grueling as kitchen life has historically been.
"Diego's been trying to push for everyone to have more of a life for themselves beyond the kitchen," says Dina Fan, Moya's sous-chef. "Kitchen work has always meant 14-hour days five or six days a week." At June, cooks work four full days and an additional half-day. "We are definitely seeing a push for a more sustainable lifestyle," Fan says. "Otherwise, you just burn yourself out."
In offering cooks the promise of a healthier work-life balance, Moya, who happens to be a new father, sees the future: "Just seeing the way that some of these cooks feel after having experiences in some of these very aggressive kitchens — which still exist today — I just get very sad." Moya says he noticed it while cooking in France at some of that country's most prestigious Michelin-starred restaurants. "I did see some of that ruthlessness in Europe," he recalls. "I thought it was kind of a waste of time, and it made people feel uncomfortable. It created precise cooks, but I also realized that it made very shitty cooks — people could re-create what you showed them, but they couldn't really cook."
So Moya is putting his observations to work, first at June — where the menu includes dishes like sliced coppa drizzled with cherries, raw tuna with fermented shiitake mushrooms, and panna cotta infused with bay leaves — before turning his eye to the Oberon restaurant group's other locations: Rhodora in Fort Greene and Rucola in Boerum Hill, the always busy trattoria where Moya doesn't plan to change too much ("I don't think there's much that I'll be able to do there — I'll have fun with some pasta"). But however he evolves the food, the approach is the same: "The cooks can be creative with specials, but the regular menu is simple to execute."
Technically, Moya is not a "chef" at all but the culinary director for the company, a title he acknowledges is not great. "Honestly, I'm not a director of anything. I'm just a cook, but I do think there are so many logistical things that you can do on the back end to make better environments and better food." The role means helping his staff — helping them develop their own styles, helping them become more skilled — without grinding them down. "We want to be sustainability-forward," he says. "It's a good opportunity for me to mentor our cooks and make sure that they're happy and having fun because cooking is fun, and it should be."
When I ask Fan about this approach, she tells me something I rarely hear back-of-the-house workers say: "It's a really positive environment — I'm not going to lie." It's almost shocking how reasonable and levelheaded it all sounds. "We're all there to make nice food to go with tasty wine," she says. "People like it, and that makes me happy. I'm not stressing myself out about anything else."