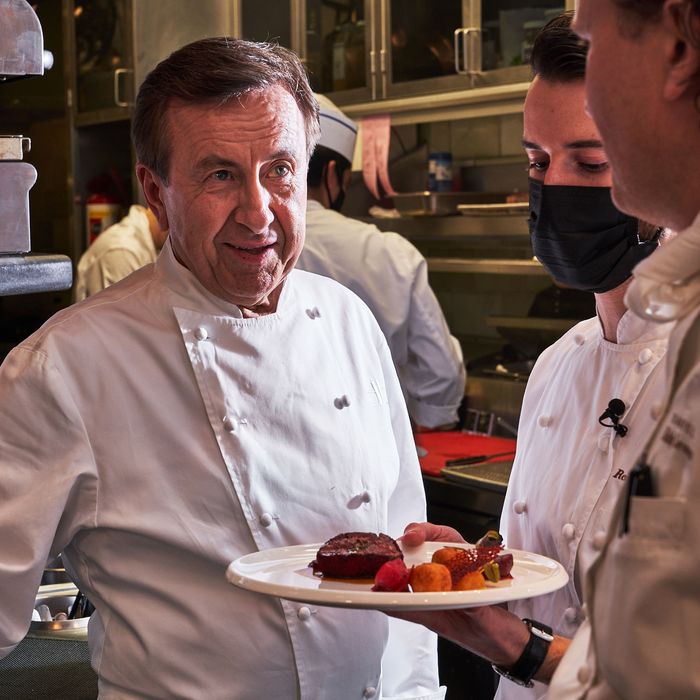 Chef Daniel Boulud in the kitchen of his flagship restaurant, Daniel.
Photo: Andrew Bui
Daniel Boulud is running late, but only sort of. He'd gotten the time right, and the location wrong. "Chef asks you to give him 15 minutes," says Claudia, a no-nonsense Canadian polyglot born in Italy who is Boulud's current executive assistant. He thought, she explains, that we were meeting at 2 p.m. at Le Pavillon, his newest restaurant, located on the second floor of the vertical pleasure dome One Vanderbilt in midtown. We were in fact scheduled to meet at Daniel, his newly renovated flagship restaurant, located on the ground floor of an Upper East Side grande dame.
Claudia asks whether I might like to wait in the Skybox? She leads me through a chrome arch at the entrance of the restaurant that reminds me of a petite Arc de Triomphe. The structure is part of what Boulud calls the restaurant's "rejuvenation." Our footsteps are silent on the newly unfurled plush carpet as we pass the glowing bar, a collaboration with the French crystal-maker Lalique, and walk through the dining room. The lights are bright, since it's still the middle of the afternoon, and I can see the changes, subtle but substantial. Gone is the room's balustrade and the step between the perimeter of the main dining room and its center, what regulars called the "pool." A small but significant step, it separated those to be looked at from those who did the looking. The chairs and banquettes are new, too, elegant and globular. Alex Katz paintings have replaced the Manolo Valdeses that used to hang on the wall. The effect is brighter and, if it can be said of one of New York's most expensive restaurants, more democratic.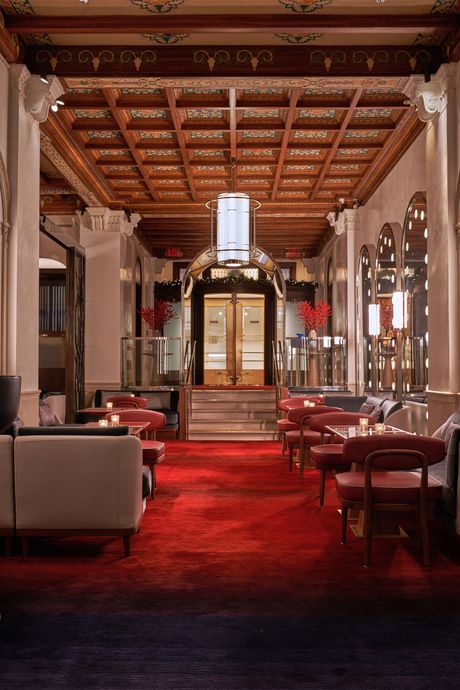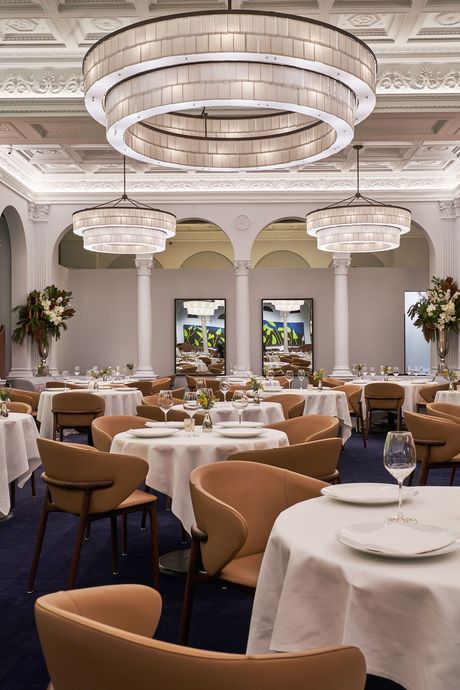 The Skybox, Daniel's private office, is sewn into the rafters of the kitchen and accessible via a vertiginous ladder. There are two small rooms in the Skybox. One, with a computer, is for Claudia; the other, occupied by a small table, is for Daniel. It is a sacristy to the 65-year-old chef and filled with devotional photographs: Boulud with Obama. Boulud with Warhol. Boulud with Sean Combs and Shawn Carter behind the pass. Boulud with Woody Allen. (Some of the saints have aged better than others.) Copies of Boulud's books sit on the bookshelf, from the near-biblical monograph Daniel to a Korean edition of his memoir, Letters From a Chef. A Medieval-looking silver duck press, one of three that Daniel owns, stands near a size-23 shoe that once belonged to Shaq.
From the Skybox, a window gives out to the kitchen below. Affixed to a gleaming hood are two scarlet plaques from the Michelin guide, indicating the restaurant has earned two stars in 2020 and 2021. It had three stars for years, but lost one back in 2015, an event that Boulud's entire organization — the Dinex Group — regards as The Catastrophe.
The kitchen is dominated by a brand new, very large Athanor stove. A few chefs are already at their stations, heads down in prep. Yongsang Song, a sous-chef with a severe side part, is cutting mustard-poached leeks into 1.5-inch pieces, transferring them from one sheet pan to another. They'll be used as a garnish for the Montauk black sea bass, part of Daniel's seven-course $275 menu. (The leek ends are destined for family meal.) Yongsang doesn't look up as Daniel quietly enters the kitchen, ducks behind the pass and stands next to him. He is wearing his traditional street clothes: dark slacks and a slightly puffy vest. (I've seen Daniel maybe 20 times over the last decade or so. Without fail, if he is not in his chef's whites, he's wearing some sort of puffy vest. Today's is dark blue.) He examines the leeks. I can't hear what they're saying, but he's using his fingers to show how large he wants them. He takes a knife and demonstrates. Then Daniel takes a leek in his mouth. Then another, knits his brows and sighs in a universal sign for pleasure. He pats the sous on the shoulder and disappears. Then there's a clatter of stairs being surmounted and — voilà! — Daniel is in the Skybox.
"Ça va?" he says.
"Oui, ça va?" I say.
"Très bien," he says and slides into the booth.
Things are going very well for him, perhaps, but generally speaking, they have not been going very well for the world for the last two years and, because restaurants are a part of the world, not well for restaurants, either. According to the National Restaurant Association, 14 percent of restaurants closed permanently due to the pandemic. Things are different in the Bouludverse: On top of renovating and rebooting Daniel, as well as opening Le Pavillon, Boulud will also be taking over Keith McNally's Financial District brasserie Augustine. And that's just in New York. On the high seas, Boulud's restaurant Le Voyage by Chef Daniel Boulud is set to open next month on the 3,260-person Celebrity Cruises ship called Beyond. And in 2022, he is planning on opening his first West Coast restaurant, on Wilshire Boulevard, at the Mandarin Oriental Residences. And just the other week, meanwhile, Daniel was named the World's Best Restaurant by Les Grandes Tables du Monde, which certainly sounds fancy.
"The biggest damage of COVID was the people who had debt," Boulud explains. "I was lucky to enter the shutdown with a lot of savings, or at least enough to keep me safe." Not that he remained completely unscathed. At the height of the pandemic, Boulud furloughed approximately 780 of his employees as closures rippled through the world. In May, Café Boulud, his restaurant at the Surrey Hotel on the Upper East Side closed, although Boulud says that had less to do with COVID and more to do with the malfeasance of his landlords. "I was paying my rent," he laments, "but the management company was in default to the owners — so when they got kicked out, I got kicked out." Though he plans to reopen Café Boulud in 2022, both DBGB in D.C. as well as his Times Square restaurant, DB Bistro Moderne, remain closed. (Bar Boulud in Boston, meanwhile, closed in 2020 while the other far-flung stars in the Boulud universe — in Miami, Palm Beach, Toronto, Singapore, and Dubai — are still shining.)
Perhaps burned by the vicissitudes of rentals, Boulud partnered with the developer SL Green Realty in the $3.31 billion One Vanderbilt tower, joining a trend of restaurateurs seeking unholy union with high-money developers to create cosseted embassies of privilege far from the indicting eyes of the increasingly embittered have-nots. Boulud describes Le Pavillon, named after Henri Soule's iconic French restaurant, not as fine dining but "as a fine restaurant." He says it is inspired, at least in part, by the bygone era of big-city French cuisine. "It was about this crossroad of time, and the history of French dining in New York."
And who better to sally forth than Boulud? He arrived in New York in 1982, and even though the original Le Pavillon had shuttered a decade earlier, the city was tumescent with Le's and La's: La Caravelle, Le Grenouille, Le Veau d'Or. After a few years at the Polo Lounge at the Westbury Hotel — where Thomas Keller was his sous-chef — Boulud found a Le of his own, first Le Regence at La Plaza Athénée and later as executive chef at Le Cirque in 1986. Daniel, when it opened in 1993, immediately joined the empyrean of French fine dining and there it has stayed, even as the genre, as a whole, has seen its star diminished. (And even as the restaurant itself moved to its current location in 1999.) After so many years captaining a prestigious kitchen and an ever-sprawling restaurant empire, Boulud has become the benign mind flayer of fine dining. Everyone from Hooni Kim and Melissa Rodriguez to Jonathan Benno and Dominique Ansel have been forged by his kitchen, while the Daniel diaspora also includes chefs in Minneapolis (Gavin Kaysen); San Diego (Travis Swikard) and Houston (Aaron Bludorn).
But Daniel sighs wearily at any discussion of whither fine dining: "What was obsolete is now not. What is hot now will be obsolete. It goes in cycles." It isn't that fine dining is staid by definition, he laments, but that so many risk-averse restaurateurs ossify around a small set of classics: "I see so many fine-dining restaurants play it safe because they're afraid to let go of the wire that holds them to the three-star pedestal."
This relentless motion might be why Boulud's restaurants seem so hard to pin down or simplify. Daniel is certainly fine dining. But, under the watch of Boulud's longtime chef Eddy Leroux, the food is also playful, offering riffs and references that stretch back through the history of European cooking. It's like Fred Armisen's Standup for Drummers, but for gourmands: Inside jokes designed for an extremely specific audience. The veal tenderloin, for instance, comes with enough garnishes to fill their own small cookbook: "Talleyrand," a gruyere-and-truffle–stuffed pasta ring named after the 18th century diplomat; "boudin" with calf's liver replacing the pork; salsify; and sauce "perigueux," a classic made with Madeira and black truffles. Happily, one needn't get the references or know the history to enjoy the dish.
If the food at Daniel the restaurant nods to the past, Daniel the restaurateur is firmly focused on his company's future. "Sometimes I feel like I've never worked so hard in my life," he says. " I need to not feel guilty to take a day and go play golf or go to the beach because that is the hardest part." Claudia pops in with a question about Daniel's chef jackets. And then there's the question of what to do with Augustine, in the short term, and why Boulud thinks he will find success where Keith McNally did not. As for the name, one idea is as simple as it is economical: "I'm thinking of just calling it 'Augustin.'"
But as to the question of resuscitating the restaurant itself, Boulud thinks for a moment before responding. "The glory of Keith, for almost 15 years was to have Riad and Lee," Boulud says, referring to Riad Nasr and Lee Hanson, the professional duo who ran many of McNally's kitchens before leaving to open Frenchette on their own. "I trained them," Boulud says. "That's the difference between Keith and me — I will always be more related with the back of the house."
As if to prove the point, we descend the ladder and into the kitchen. Boulud takes great pride in the new stove — "I could have bought a Ferrari!" — and the glass-polishing station. But the real work happens through a narrow passageway in an expansive prep kitchen. As he leads me through, Boulud knows nearly everyone's name and is concerned with every detail. We come upon chef Leroux, who is busy shaving baby fennel. "Chef, taste this." He leads us to a pan of bright-orange "sauce Arnaut Lallement," a sherry-heavy take on a Newburg sauce, one of 12 elements that will comprise a Dover sole dish being served at a 50-person Champagne dinner that night. Boulud tastes the sauce and winces almost imperceptibly. With no words exchanged, Leroux understands and begins to make the necessary adjustments.
We pass into ever-smaller chambers within the labyrinthine kitchen. In the pastry room, Boulud plunges his hand into a bunch of chervil to evaluate the freshness of the leaves. In the test kitchen, he seizes a sheet tray of neatly trimmed mushrooms. "See how nice these porcini are?" he asks Jackie Kennedy, who runs the kitchen. But then he spies a wheeling rack in the corner and his face darkens. "You've lost a peg there," he nods, looking at a rack askew. "Let's get it fixed before anything falls off."