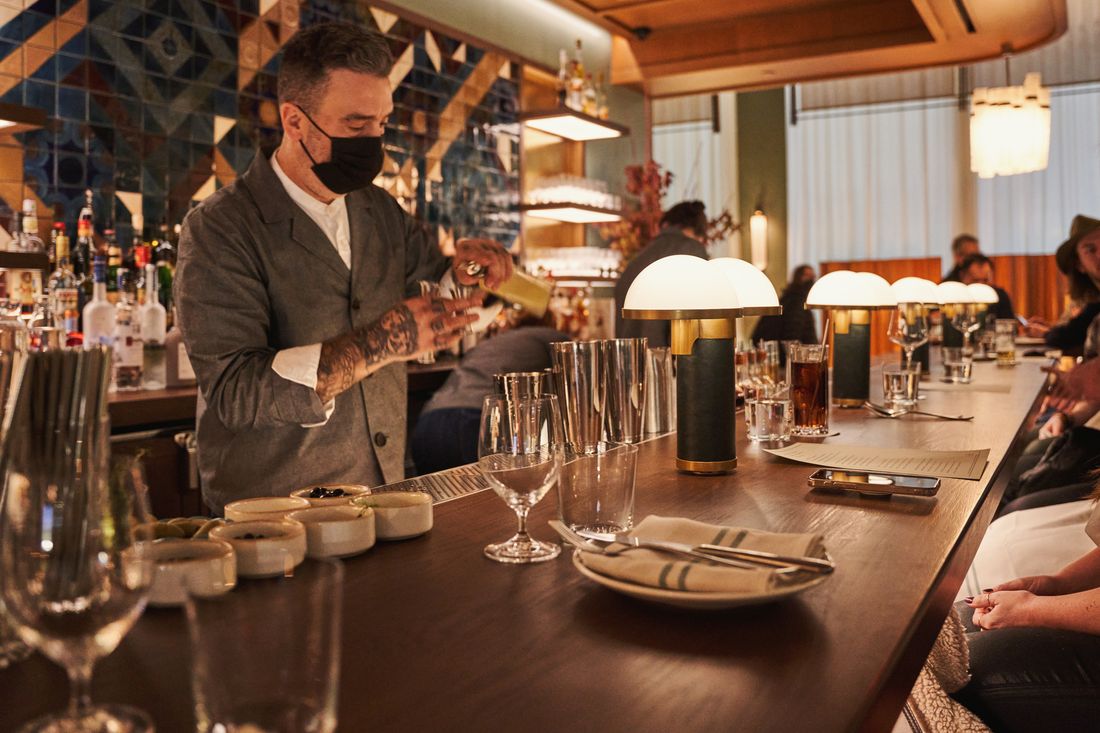 Bar dining at Ci Siamo.
Photo: Adam Friedlander
You really need a road map to find this place," muttered someone at our table after making the long trek to the latest Danny Meyer venture, Ci Siamo — a journey that begins on some nameless sidewalk in midtown. (Pro tip: If your Uber driver attempts to career into the Lincoln Tunnel toward New Jersey, start yelling.) From there, you ascend to a featureless spot called Manhattan West Plaza in the back end of what may be Hudson Yards, complete with its own freshly minted Whole Foods. When you get to the entrance, there are several more darkened staircases to climb before you arrive, at long last, in a serpentine dining room that features many of the famous Meyer touches — a long bar designed for eating as well as drinking; comfortable, if slightly generic, décor ("Westchester Italian" is how one wag put it); and the usual bevy of eagerly smiling servers and hosts (you can tell by the brightly shining eyes over their firmly in-place face masks).
Like most proprietors of large dining brands in the past decade or so, Meyer has tended to pair his new ventures (Marta, Porchlight, Manhatta) with awkward new real-estate locations all over town. Ci Siamo (translation: "Here we are") is another one of these, of course, though as soon as you're settled at your table, you get a sense that this one may be different from the rest. The first drinks from the bar are excellent (a mocktail called the Tonio; the tall, vodka-based La Torcia; a classic Manhattan served with a sidecar set in a glass of crushed ice), and the slim, one-page menu is filled with dishes from Meyer's old Mediterranean playbook, many of which (pizza bianca decked with anchovies, cheese-and-onion tarts, Roman and Neapolitan pasta favorites, roast chickens, and Florentine beefsteaks sizzled over a wood-fired grill) look as if they would be delicious to eat.
The kitchen at Ci Siamo is run by Hillary Sterling (formerly of the excellent Vic's down on Great Jones Street), a chef whose reputation speaks for itself and one in a long line of talented cooks whom Meyer has recruited over the years, stretching back to Michael Romano, in the early Union Square Cafe days, and the young Tom Colicchio. Here, Sterling has a state-of-the-art wood-burning oven and grill at her disposal (using three kinds of wood — chestnut, maple, and oak — one of the well-briefed servers told us), and the dishes that emerge from it tend to combine sophistication with a natural, fresh-from-the-oven feel. These included, in the early going of our meal, steamy bowls of littleneck clams tasting of fennel and Calabrian chiles; the aforementioned anchovy pizza, which the kitchen splashes with salsa verde; and fat wheels of focaccia baked in cast-iron skillets.
"I think this might be one of the best things I've ever eaten," said one guest as we inspected Sterling's onion torta, a classic dissertation on the joys of old-fashioned Italian-style umami flavors, which featured layers of caramelized onions and two kinds of Pecorino (Romano and Toscano), all set on a crumbly pastry crust. There were also hearty bowls of that old COVID-era delicacy braised beans ("shelling beans," for the record, enlivened with black olives and Parmigiano), and warm little balloons of the Emilia-Romagna specialty gnocco fritto. The hefty, almost overly bountiful bowls of pastas I tasted all had their charms, but if you have to choose just two, try the classic Roman alla gricia (made here with rigatoni) and the cavatelli allo Scoglio (named for the famous restaurant on the Amalfi Coast), which the kitchen folds with bits of lobster, among other things, and a touch of vermouth.
"Celebrating the beauty of simplicity" is the motto on the polished Ci Siamo website, which is filled with alluring images (iridescent cocktails, guanciale-smothered pastas, recently sizzled flaps of Florentine bistecca) that seem carefully designed to lure New Yorkers out of their apartments and back into crowded dining rooms. The bistecca we sampled was pricey ($135), like all bisteccas are these days, and also underwhelming, so call for braised lamb instead, which is chopped in smoky, fatty nuggets and tossed with Brussels sprouts, or Sterling's formidable, pizza-size version of pork Milanese, which is served with wedges of lemon and dressed with torn bits of parsley. The smoked swordfish was our table's favorite seafood option, though the dish I couldn't get out of my mind was the simple roast half-chicken, which the kitchen fires on a bed of crushed sunchokes and pours with generous amounts of house-rendered schmaltz.
Is this very good, awkwardly located Danny Meyer establishment a "dining destination" in that nostalgic, pre-pandemic sense of the term? As long as Sterling is in the kitchen and you have the cash to spend and the fortitude to find it, I would say yes, it is. As with many Union Square Hospitality Group restaurants, there were the usual well-chosen Italian wines to enjoy with dinner, and after the plates were cleared away and dessert arrived, the usual cavalcade of frosty, housemade gelati. The discerning gelato critics at my table preferred the hazelnut and the smooth lemon gelato made with goat's milk, though you can enjoy other delicacies — little bowls of "hearth roasted" figs; a rich chocolate budino scattered with smoked almonds; and a smooth, tangy slice of lemon tart drizzled with olive oil and topped with meringue — which you probably won't find anywhere else in this strange, slightly soulless part of town.