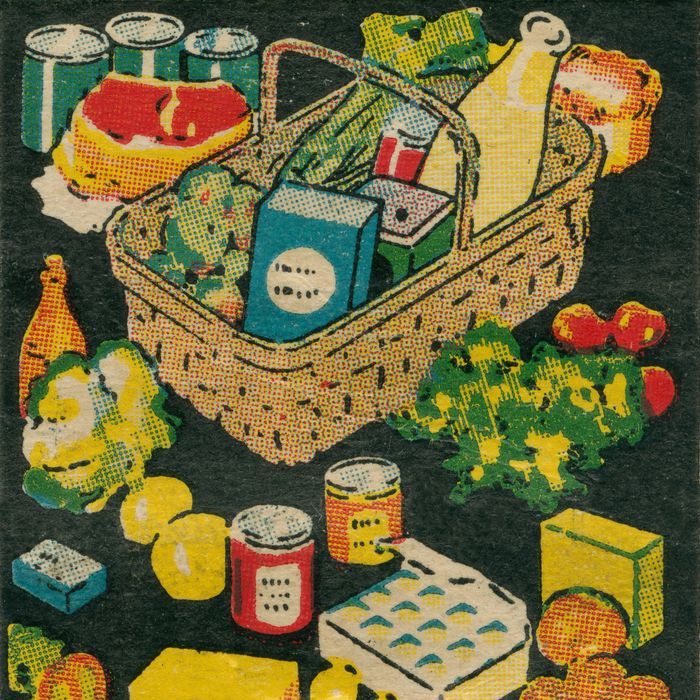 Imported potato chips not pictured.
Photo: Jim Heimann Collection via Getty Iages
This past year was a bust in most ways, but there has never been a better time to shop for artisanal olive oil. It is a staple of this new crop of provisions shops, which is how I like to think of stores that sell "curated" collections of tinned fish. The shops are tiny and adorable, and they sell a lot of things in jars. Everything is imported, unless it is local, or perhaps from Portland (either one is fine). They are temples of sensuality — not actually because you can't taste anything — or at least the promise of it, and even the potato chips (jamón Ibérico–flavored, imported from Spain) are displayed like art.
It is an imprecise category, the provisions shop. I know that. But life is messy. (A proper provisions shop is never messy.) A provisions shop is too small to qualify as a grocery store, and while it might serve food, it is not a restaurant. You could argue they are specialty stores — many of them do specialize, in genres like "local" or "Europe" or "vegan" — but their overarching specialty is niceness: an entire miniature world where everything is nice!
We already had stores like this, obviously: We had Marlow & Sons, Bklyn Larder, Mekelburg's, and Court Street Grocers — the list goes on — and then, in the first months of the pandemic, a bunch of restaurants pivoted to groceries, and suddenly Hart's and Olmsted and Colonia Verde (among many, many others) sold provisions, too.
But did we always have so many? All year, new provisions shops seemed to spring up like mushrooms. (Provisions shops sometimes sell mushrooms.) There was General Irving in Bushwick, stocked with British potato chips and Sfoglini pasta, and Alimentari Flâneur, the city's leading source of sexy walnuts. Local Roots Cafe and Market has tea eggs and bulk beans. Sami & Susu is more persuasive as a café but has a full provision wall (Spanish sardines, New Jersey granola). Romero Delicatessen is mostly Euro-provisions but with a full café. GreenPot, in Greenpoint, is a vegan grocery and coffee shop ("all our milk is oat milk"), while down the street, Big Night ("Dinner & Party Essentials") is a one-stop shop for hand-blown salt bowls and single-origin black pepper. Meanwhile, some of the pandemic pivots stuck: Fort Defiance, now on hiatus, will be a restaurant and a cocktail bar and a general store; the temporary Olmsted shop spunoff into Evi's Bäckerei, where, in addition to Austrian bäcked goods, you might also pick up shallots, small-batch fish sauce, and chili crisp.
These shops are not practical, exactly. For one thing, the food they sell is typically of the "snack" variety.
Technically, if you subscribe to the dictionary definition, then provisions are "a supply of food and other things that are needed," and a provision shop is an emporium of wants.
I spent all year wanting, mostly for abstract things. I wanted this to be over and to feel better and to go to parties. It was all obvious and embarrassing. Provision shops, though, offer direction; they are stocked with actual, concrete things to want. And throughout 2021, I could want them!
Every store is different, but there are certain recurring themes. Rancho Gordo beans and Duke's mayonnaise, almost certainly. Also: Matiz Wild Spicy Sardines, Güeyu Mar chargrilled octopus; Maldon salt; Ghia non-alcoholic apéritif; Sfoglini pastas; Spindrift and Sanzo; granolas (earthy); chocolate bars (attractive); an infinite array of hot sauces, salsas, hot honeys, chili oils; and several kinds of jam. Usually, although not always, you can buy a T-shirt and a tote bag.
Mostly, I bought nothing: As a rule, provisions are not cheap, which is what makes me want them. They aren't food, like at the grocery store, which is boring. They are absurd indulgences, which are fun. But not so absurd I can't justify them: Don't I have to eat? And if I have to eat, would it be so wrong, really, to make it just slightly nicer?
At Big Night, I considered a package of pane di musica. It cost $10 and it was a box of crackers. I put it back. Then again, at the Meadow, which recently reopened in Nolita, I'd bought a small jar of Sicilian pistachio spread for $20. "It doesn't have dairy!" is how I rationalized it in my mind. Also, it's Christmas! I don't celebrate, personally, but I like to participate in a cultural moment. They'd wrapped it like a present, so I presented it to my husband as if it were one. "It's very … sweet," he told me, referring to the pistachio spread. I have been eating it alone by the spoonful ever since.
That is the other thing about these stores: There is always the possibility that you are shopping for someone else. Everything would be a perfect hostess gift if I were going anywhere, but for most of 2021, I wasn't. This only made me want things more.
Provision shops proved to be the perfect little escapist paradises. Nobody is bored in the provision shop, or sad, or tired. They say, politely, What a joy it is getting to cook dinner! At least, it could be! I wanted this fantasy: I was glamorous and happy and probably European, and everything I touched was beautiful and all the labels had impeccable graphic design. Twenty-dollar imported condiments do not seem like a permanent or sustainable solution to either the pandemic or my personal malaise, I realize, but I will say this in my defense: The pistachio cream is very good.