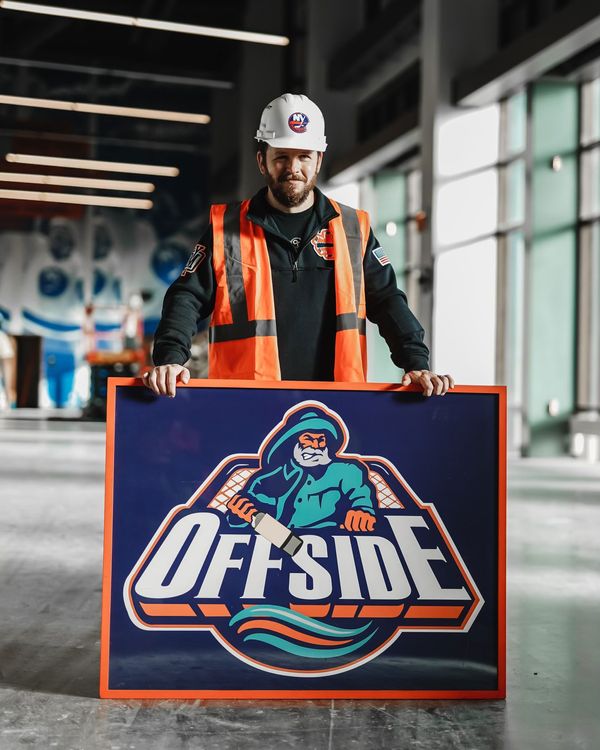 Nick Costa at UBS Arena, where his Offside Tavern is reopening.
Photo: Courtesy of New York Islanders
Nick Costa describes himself as "one of those crazy, psychotic, die-hard Islander fans where the first thing I do in the morning is check on Isles news, and then I make sure my kids are okay, in that order." And so when he left his job managing Off the Wagon on MacDougal Street to open his own spot in 2017, he knew he wanted it to be an Islanders bar. "I knew that there was a need for it," he says. "I mean, you could go to a Pittsburgh Penguins bar in New York City, but there just wasn't a place dedicated to the Isles."
Over the next few years, Costa's bar — Offside Tavern in Chelsea — did indeed establish itself as a gathering place for the team's fans, drawing lively crowds on game nights and serving up Isles-themed cocktails like the Lamoriello Sour and the Martin-arita, plus snacks like the popular Tater Trotz.
Then came COVID-19, and when the bar eventually reopened for outdoor dining, it went from serving 250 people in a packed indoor space to 40 or so out on the sidewalk. Costa says Offside was doing just 10 percent of the business it had been doing pre-pandemic, and he had no choice but to pull the plug.
That might have been the end of Offside Tavern's story, if not for a tweet Costa sent last October, responding to a photo of a space reserved for a bar inside the Islanders' new arena, which was then under construction.
Incredibly, the tweet got a response from the team, and when UBS Arena opens up on Saturday night, a reborn Offside Tavern will open inside it, sort of, between sections 217 and 317. Fans can expect new Islanders-themed drinks that will be unveiled on opening night, as part of an arena food program that includes outposts of Milk Bar, Mighty Quinn's Barbeque, Floral Park restaurant the Harrison, and Long Island's Blue Line Deli & Bagels (known for its blue-and-orange bagels).
Still, we wanted to know: What does it feel like for a superfan to have his bar reborn inside his team's arena? So we called him to find out.
On a scale of 1 to 10, how much were you kidding when you sent that tweet last year about reopening the bar inside the Islanders' new arena?
Not at all! I mean, was that the expectation? No. But was I kidding about wanting to be in the arena? Also no. Now, what did I think of the possibility of it happening? Maybe 5 percent.
So what happened after that? I'm guessing somebody from the team reached out to you?
Well, I've always had a pretty decent relationship with the team. When we were open in New York City, we held a few events for them and we were known by the fan base as being, like, the place to go to watch the Isles. And I think they appreciated that we were there. So about seven months ago, I received a phone call from one of the guys I knew at the team and he talked me through the different paths forward if this is something that I really wanted to do.
And what was that path?
It's a licensing deal. They allow the brand to live on. I don't have to do any of the day-to-day work, which is kind of nice, because I don't know the first thing about concessions in a gigantic arena. There were different routes to go, compensation-wise, whether it be a sponsorship deal by a third party or for us to buy in. But the unfortunate thing about it was that I had all my eggs in the Offside basket, and we know what happened to that basket. So I didn't have anything to give, but they wanted to make it happen anyway. And they found this path forward that made it happen.
What's your involvement going to be?
As far as execution of the bar, I'm helping name and design some of the items on the menu, and that will kind of be ongoing. We're going to release new cocktails as time goes on. They want it to be authentic to the original Offside experience. The original Offside was kind of a dive-y sports bar in Chelsea, and they wanted to capture that feeling without, you know, taking away from the beautiful décor that they've installed in the new arena. So we just grabbed pieces that I was able to rewrangle up from the old place as a nod to the original.
What did you bring along to connect with the original bar?
I gave them everything that I thought would make sense — signs and photographs that they're going to print, hockey helmets, glassware, and things that adorned our walls before. Our signage on the storefront were individual letters that spelled out "Offside Tavern," so hanging in this new place will be the original O and T. And probably one of my favorite pieces from the original place — there's a guy named Patrick Dowd, who makes these handmade signs and sits right next to where the players come out and he holds them up. And he lovingly crafted one for us, which is a play on the Nassau Coliseum being known as Fort Neverlose. He made one for us that says Fort Everbooze.
Where was all this stuff for the last year or so?
I couldn't even track down a lot of it. When we closed up shop, there was just so much stuff and so much memorabilia that — you know, our last night was pretty brutal. I was just like, whatever, get this stuff outta here. I kept a few things that I wanted, and then was like, just let the fans ransack the place. And they did.
Will you personally be on-site during games? Or even behind the bar?
Yeah, I'm going to be there on-site as much as I can be. I'm not going to be behind the bar, though.
You mentioned drinks. Are you bringing over any food?
Just the cocktails. The particular spot that we're in doesn't have cooking capabilities. But don't worry, I'm going to push the team to put Tater Trotz on the menu somewhere in the arena, preferably close to where the bar is.
That was my next question.
Gotta have the Tater Trotz.
Are the Islanders letting you keep your fisherman logo, which, for the non-fans reading this, is based on the much-maligned logo that the team wore from 1995 to 1997?
They are keeping the fisherman logo. I gave them every graphic that I had for the bar. And at the end of the day, that is their logo. They can do whatever they like with it. The funny thing is, the first time that I had contact with the team was probably about six or eight months into us being opened, and somebody had reached out. My first thought was, Oh shit, here I go, I'm about to get a cease and desist about the logo. But it was just saying hi, just wanting to let us know that we were appreciated. And then I had a conversation with [Islanders co-owner] Jon Ledecky months later, and I told him that, and I thought for sure they were going to say to stop using it. And he was like, "Nah, it's fine. Just don't sell merch with it on it." And now the team can.
For those unfamiliar, what made the original bar so special to Islanders fans?
I think it comes from its authenticity. I myself am a die-hard fan, and what I was going for as far as ambience, I wanted you to feel like you were at a game without being at a game. Everything from playlist choices to goal celebrations. I cut together the [arena's] goal horn, the goal song, and the "yes, yes, yes" chant, and had it cued up and ready to go. I created a button on my phone where I'd hit it and it would emulate what was going on at the Coliseum.
No need for that button anymore.
Right, yeah, I'll let the guy in charge of the PA system control the button.
This interview has been edited for length and clarity.