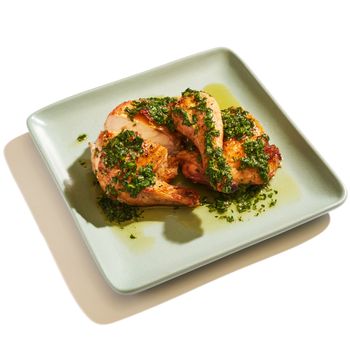 Roast chicken with salsa verde.
Photo: Adam Friedlander
If you really want to see New York, you need to walk its streets. You need to get out the trusty New Balance 990s, pull up your socks, and, as the great footslogger-essayist Edward Hoagland said, "gobble the blocks." The great thing about this type of figurative gobbling is that it often leads to literal gobbling. And for the Underground Gourmet, a confirmed block gobbler, that is the main point or at least just reward for all that exercise. The best way to embark upon one of these excursions is to avoid making an itinerary. Half the fun is discovering something new or unexpected — culinary or otherwise — or stumbling upon an old favorite spot you'd forgotten or hadn't thought about in a while.
Recent case in point: On a balmy evening last month, after maundering around lower Manhattan for hours, from our Greenwich Village apartment down to the Battery and back up through the West Village, we found ourselves passing by Jonathan Waxman's newly reopened Barbuto by the West Side Highway. Arched windows in the brick façade cast a warm glow, and the bearded one* himself in T-shirt, shorts, and hiking boots was visible overseeing operations in the open kitchen. When we reached the West Street corner, we saw, like a mirage in the slapdash covid-era outdoor diningscape, an empty table — not entombed in a plastic-wrapped box or crammed onto a busy sidewalk but perched high on a sequestered concrete landing overlooking the highway, the Hudson, and Hoboken. Though we hadn't planned on it, we took this as kismet, a sign that it was time to drop in on the new home of an old friend and see how this iteration of the West Village institution was holding up.
It's never easy relocating an iconic restaurant, as Waxman intended to do after Barbuto's original Washington Street building was sold. Toss a pandemic into the equation and things get really tricky. Leading up to the last supper at the auto garage turned Italian brasserie in 2019, encomiums were written, farewell dinners held, teary tweets tweeted. And then nine months later, in February 2020, Barbuto 2.0 emerged three blocks away from the original and twice as big. Order had been restored. All was right in the West Village Cal-Ital world. For three weeks, anyway, until the pandemic brought indoor dining and Barbuto's relaunch to a halt. (Waxman dabbled in takeout for an additional week. "The day after Floyd Cardoz died, we shut it down," he says.)
In early October of 2021 Barbuto was back again and considering everything, you might think this re-reopening would be anticlimactic. But to Barbuto addicts like us, the meal mingled the excitement of the new with the familiarity of the past. The concrete floor, the subway tile, the simple, seasonal Italianate menu all evoke the urban-industrial unfussiness of the old space. What was lost by the lack of retractable garage doors that gave the indoors a breezy alfresco feel is made up for by water views and much more room between tables. All the JW classics are here and as delicious as ever: the roast chicken with salsa verde, the crispy potatoes, the raw shaved-Brussels-sprout salad. What's remarkable about Waxman's pioneering style is how relevant and ubiquitous it is today. Examine restaurant menus around town and you'll see his influence everywhere: the subtly distinctive pastas, the market-driven salads, the open kitchens and wood-fired grills. That our favorite dish of the night was a vegetable side — juicy bok choy in a punchy bagna cauda sauce — makes sense. Always a card-carrying vegivore, Waxman is showcasing vegetables even more, now that the 71-year-old chef has shed 32 pounds by cutting red meat and poultry out of his diet—and, as it happens, by doing some block-gobbling of his own, regularly walking ("very fast," he says) down to Barbuto from his apartment on 89th Street and West End Avenue.
Our little impromptu feast, from classic Negroni to signature affogato, proved that Barbuto's essence has survived the move and the pandemic. But we were lucky. It turns out the night we visited was Waxman's only foray into outdoor dining this season. "I don't want to build one of those structures," he says. "I'll wait till springtime." That's fine. The Waxman faithful are okay with waiting.
Barbuto, 113 Horatio St., at West St.; 212-924-9700