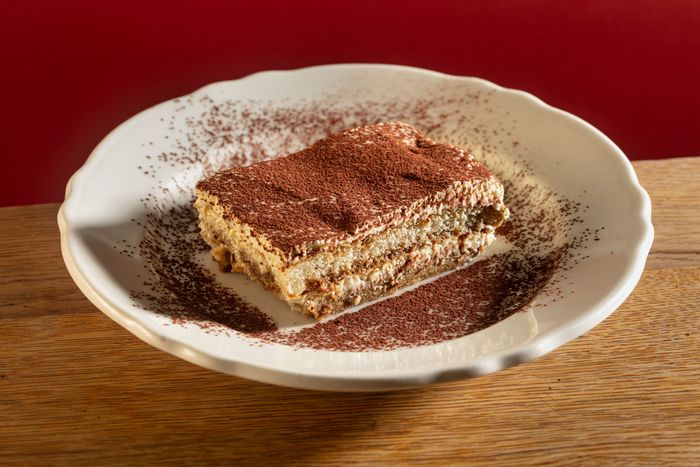 Ado Campeol, whose restaurant Le Beccherie is often credited with changing history forever by serving the world's first tiramisu, has died. The news was announced in a Facebook post by Luca Zaia, the governor of Italy's Veneto region, the BBC reports. (The region is home to Le Beccherie, which is in the city of Treviso.) Campeol was 93.
While the Italian media apparently dubbed Campeol the "father of tiramisu," he may have been more like its stepdad. As the story goes, tiramisu was invented by Campeol's wife, Alba Campeol, and the restaurant's chef, Roberto Linguanotto. It's your typical food yarn about the magic of culinary mistakes, the sort that is supposed to convey accidental genius. According to Linguanotto, it all started after he dropped mascarpone cheese into a bowl of eggs and sugar. After the chef told Alba Campeol of his delicious mistake, they added coffee-soaked ladyfingers and came up with tiramisu, he says.
As with many other dishes, some contend the Albas and Linguanotto are pretenders to the throne. NPR notes chef Carminantonio Iannaccone claimed tiramisu as his invention, and others say it originated in a Treviso brothel. Speaking with journalist Melissa McCart, Treviso chef Celeste Tonon said tiramisu was invented by Speranza Garatti, who in turn served it to Ado Campeol. Campeol's contribution, she claims, was changing the name from coppa imperiale to tiramisu.
Whatever the story, the rest is history. Tiramisu became one of Italy's most famous desserts — because it rules. Overnight in the 1980s, it became all the rage in New York and its suburbs, eventually earning a ubiquitous presence on the menus of Italian American restaurants. The tiramisu trend was global. In 1991, the New York Times reported, "Few of the recent Euro-fads have swept Tokyo as thoroughly as tiramisu," which became so popular Asahi Breweries started making a tiramisu-flavored soft drink. One of the country's biggest mascarpone importers told the Times he went from selling less than three tons of the cheese in 1989, before the fad took off, to 140 tons in 1990.
That the dessert was invented only in 1972 is surprising to some because it seems eternal. With its popularity came rifts, of course, as more chefs and restaurateurs looked to make their mark with a unique spin on a perfect dessert. Everything from pumpkin to lemon to matcha has been added to it — or used to defile it, depending on your perspective. The Italians got mad at people adding strawberries and other heretical ingredients, and in 2013, Zaia asked the European Union to give the dish protected status. You can understand where they were coming from because tiramisu is a food that doesn't need any improvement. It is already exactly what it needs to be.