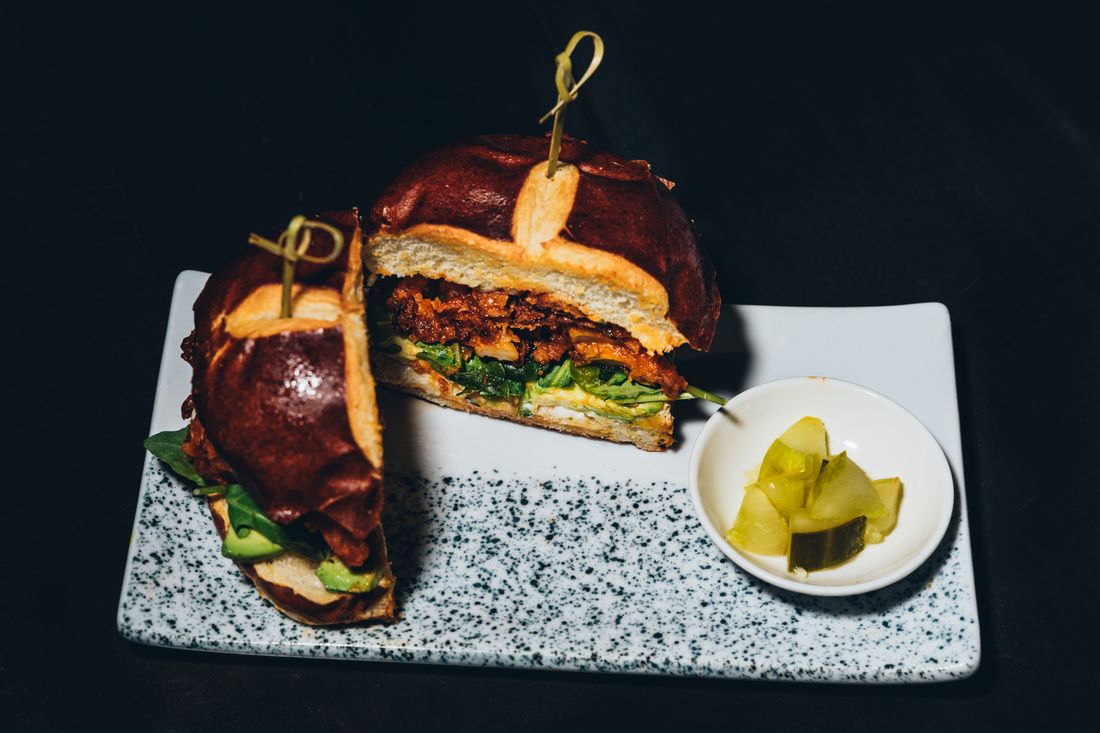 Cadence's Buffalo-mushroom sandwich.
Photo: DeSean McClinton-Holland
These are trying times for stout, beefeating non-vegans like me. Expressions like "plant-based" have been on the lips of breathlessly trendy restaurant folk for years, of course. Lately, however, and especially in the strange new COVID era, the advances in this ever-expanding genre — a refuge, in ancient beefeating lore, for sprout-munching, lactose-intolerant commune dwellers and assorted other kooks — have been downright alarming. Novel techniques (for faux milk, faux cheeses, faux meat of every variety) are being developed with the kind of avid ingenuity usually reserved for rocket programs. Talented young cooks are stampeding into the space, grand old masters are struggling to keep up, and, as my Underground Gourmet colleagues have reported, first-class vegan restaurants are beginning to pop up around town the way upscale burger joints used to do not so long ago.
Among the many plant-based hot spots I keep hearing about is Cadence, a "soul and southern foodways"–themed establishment that opened a while ago among the crowded storefronts along 7th Street in the East Village. It's one of the latest members of Overthrow Hospitality, a rapidly expanding self-described "Vegan Hospitality Group" (eight downtown venues and counting) run by a culinary entrepreneur named Ravi DeRossi, who is a vegan convert and animal-rights activist. The chef in the kitchen is Shenarri Freeman, a classically trained cook from Richmond, Virginia, whose specialties include vegan interpretations of down-home classics like cornbread, smoked grits, and great helpings of potato salad that look like something you'd encounter at a bountiful church picnic in the southern countryside.
Like those of other prominent New York restaurateurs in their early years (Danny Meyer and David Chang among them), DeRossi's little nest of restaurants occupy their own special terroir — in this case a multi-block section of the East Village — and they tend to exude the same practical, casually ornate, homespun look, as if you were dropping in to a semi-private dining club or neighborhood bar. There are no tables in the narrow, railroad dining space at Cadence — just a long countertop, lined with 12 comfortable barstools covered in crushed orange velvet, where you nurse your predinner glasses of blueberry-lavender lemonade or hard apple cider. There's a dining lean-to outside in the great COVID-era tradition, and in clement weather, a few tables are set up here and there on the sidewalk, each topped with what looked to me like the chef's own dinner plates and a single brightly colored plastic flower.
The first thing our group of skeptical non-vegans tasted was the potato salad, which turns out to be a Freeman-family recipe and is served in a large wheel-shaped portion in the center of the plate. The chef uses red potatoes boiled with the skins on (cooked with a pinch of salt, according to family tradition, and mixed with the usual chopped celery, red onions, etc., and an updated hint of dill and Dijon), and despite the presence of an egg-free mayonnaise called Vegenaise, I had to suppress the urge, as I devoured one tangy, smooth spoonful after another, to call out loudly for a cheeseburger or a side of fried chicken. There was an excellent wedge salad on the table too, though the dish we couldn't stop nattering about was a bowl of soupy, deeply flavorful smoked grits, which the chef garnishes with corn-and-tomato salsa, chunks of mushroom, and a pile of frizzled shallots.
"I don't remember vegan cooking like this when I was in culinary school," a chef friend said as we wondered at these shallots, along with a skillet of maple cornbread that our bubbly and loquacious server informed me later on was drizzled with a substance called "bee-free honey" made with apples ("They do bad things to those bees!"). Freeman's fried lasagna has gotten a lot of press, and rightly so, though it disappeared from the table so quickly that we had to call for a second order to examine the Bolognese that is made with a combination of Beyond Meat's beef and Italian sausage and a hefty dose of Cabernet. Ditto (on another visit) the uncanny version of a fried-chicken sandwich, which the kitchen makes with chunks of crisped oyster mushrooms rolled in a Buffalo-style spicy sauce, all squeezed with slices of avocado and a mysteriously tasty faux-buttermilk dressing between a warm, crunchy-topped pretzel bun.
If there's one complaint about Cadence, it's that the menu's too small, although that's probably to be expected given that we're dealing with vegan interpretations of a cuisine famous for its time-honored recipes for roasted, simmered, and deep-fried animal proteins. I don't think I'll be ordering the savory, overthick, borderline gummy "black-eyed-pea garlic pancake" on future visits, but a crab-cake doppelgänger called "palm cake" (made with hearts of palm and chickpeas) is a thing of beauty, and so were the various pies and cobblers we sampled for dessert. The berry-rich house cobbler is another bountiful Sunday-church-picnic special (yes, Freeman's aunt was a practiced church-picnic cook), though the dish I'm still thinking about weeks later is the apple pie, which is set in a thick shortening crust and tastes of nutmeg and cinnamon and a strange, almost magical hint of maple sugar.