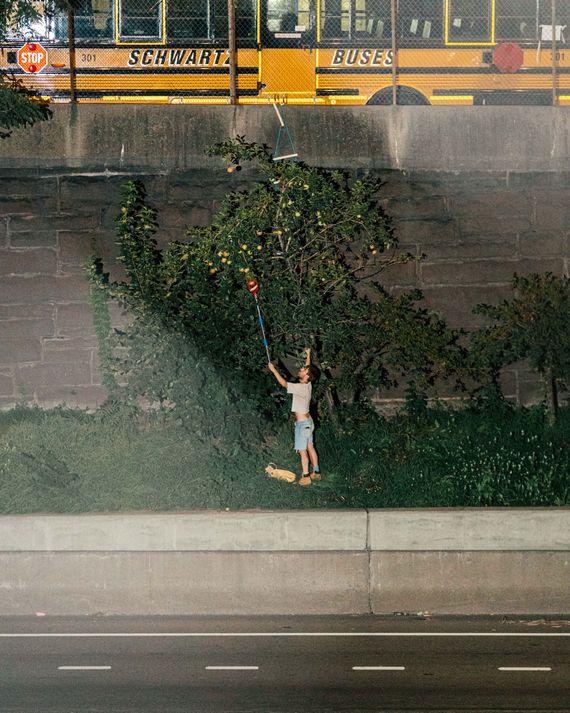 "Some of the best fruit I've ever tasted has been from the you-might-die places," says urban apple expert William Mullan.
Photo: Jutharat Pinyodoonyachet
I keep asking William Mullan if he's sure he's comfortable. "We don't have to go through with this," I say. "It's not too late to reconsider!" But he assures me he's ready as he unfurls a turquoise rope ladder and removes a long fruit-picking claw from his tote bag.
We're on an elevated footpath that runs parallel to the Brooklyn Queens Expressway, in South Williamsburg, on Yom Kippur, which meant the neighborhood's streets were even busier than usual. Below us, cars pummel down the sunken highway, their whirring tires and nonstop honking amplified by the BQE's canyonlike design.
Mullan is wearing pearl earrings, a crop top, jean cut-offs, and a pair of Timberlands. "The last time I was here, I stepped in shit, and it smelled so bad I just threw my shoes away," he says, motioning to his feet. "I'm not messing around this time."
The plan for the night is to pick some apples from a tree Mullan has been itching to pluck. The catch is that this particular tree is about 17 feet below street level, so, Mullan figures, we can either hop a chain-link fence and descend down, or get in a car, "pop the hazards on, and jump out." Eventually, he opts to climb.
Beyond the fear of getting caught or hurt, we are in a bit of a race against the clock: The weather predictions have changed and it looks like a storm may be heading our way. "This will be chaotic good," Mullan says. I can't tell if he's psyching himself up or trying to assuage my nerves, even though he's the only one making the drop tonight. It feels a bit like both.
"It's funny to me that some of the best fruit I've ever tasted has been from the you-might-die places," he says. "Which seems like a very apt nature metaphor."
By day, Mullan works as the brand manager at the small-batch chocolate producer Raaka; by night, Mullan is a photographer, who has been documenting New York City's apples and apple trees since 2017. "At the time, it honestly hadn't really occurred to me that fruit could even survive in urban environments," he remembers. "Even though I know more now, the feeling of amazement when I find super-large trees loaded with fruit in the city still remains."
Growing up in the U.K., Mullan didn't initially set out for a career in still lifes. But through his marketing duties at Raaka, he began to photograph the chocolate bars. After finding an apple tree during a run in Carroll Gardens, he used his office's studio off-hours to document his findings, initially just playing around. Now, the apples have become an unintended lens through which he's learned about NYC; likewise, he has found a community of fellow apple-obsessives — from whom he can swap tips and lessons — as well as a larger queer food scene eager to make the industry more equitable.
Usually, during apple season in New York City, Mullan might head to Green-Wood Cemetery or a parking lot in Red Hook, to pick some fruit and share his photographs on Instagram, where his handle is @Pomme_Queen. And in two weeks, he'll publish Odd Apples, a colorful new photography book in collaboration with designer Andrea Trabucco-Campos (and an update to a smaller version of the project that was printed in 2018), which he hopes can expand the public's notion of how apples can look and taste. Overall, he says, he hopes that the project helps people look at trees in a more "poetic way, as sources of wonder and joy, rather than just things we pick and eat." To that end, the book also includes poems by Makshya Tolbert.
Odd Apples features fruit shaped like candles and jack-o'-lanterns, with flavor notes ranging from "nutmeg" to "grapefruit yogurt." Photos include hard-to-find apples sourced from librarylike orchards at New York State Agricultural Experiment Station at Geneva and the Hudson Valley Apple Project, among others, and highlight just some of the 7,000 cultivars that are currently known.
By this point, Mullan can find apples that many might miss (this tree, for example, he found while looking out the window in a passing vehicle). Hovering over the BQE, I watch as he uses carabiners to secure his ladder to the fence, and begins his descent; things seem dicey at first as his ladder twists, and trucks roar past. Finally, he hops down the final few feet to firm ground and brandishes his picker. A police van creeps past on the road below, and Mullan tells me he's acutely aware of the fact that he probably couldn't get away with this if he weren't a white man — a privilege that his boyfriend, Ryan Williams, a fruit grower of color, doesn't share.
Tonight's apples (dessert apples, he believes), are almost cartoonishly perfect, something that surprises us both given the environment. They have a slick shine and no blemishes. Mullan pops a few in his bag, leaving most of the apples intact for someone else to find. "Look how huge they are!" he says, with laughter.
Mullan is not, I should clarify, an apple thief. His goal is to share knowledge (and build upon preexisting research), as well as the literal fruits of his labor. Whenever Mullan comes upon a community tree, he'll pluck the apples and leave them out in boxes for neighbors to take or make apple crumbles to pass out. "People ask me, 'Why do I post the trees? Why don't I want to keep them a secret for myself?' and the answer is that all I want is for everyone to have access." He also makes sure to carry a pen and paper with his picking supplies. "If a tree is on someone's property, I always start with leaving a note," asking if it's okay to pick a few apples. "I try to put myself in the shoes of someone who cares for the tree," he explains, adding, "I've had success with that."
Back up on the street, we clean off the fruit and each take a bite. There's an unexpectedly satisfying balance of tart and sweet, with a crunchy texture and none of the mealiness you'd find in an out-of-state, out-of-season Gala apple from the Whole Foods on Bedford Avenue. "Initially, I thought this apple tree may have been grown from someone chucking their apple out the window of a car or something," Mullan offers, "but it was surprising to see that someone had actually grafted it to the crabapple tree next to it." He continues to consider this apple and its unlikely provenance on the side of the second-most-congested stretch of highway in America. "I want to know more about the story of whoever did this," he says as we pack up and head home, crunching away on the night's findings.