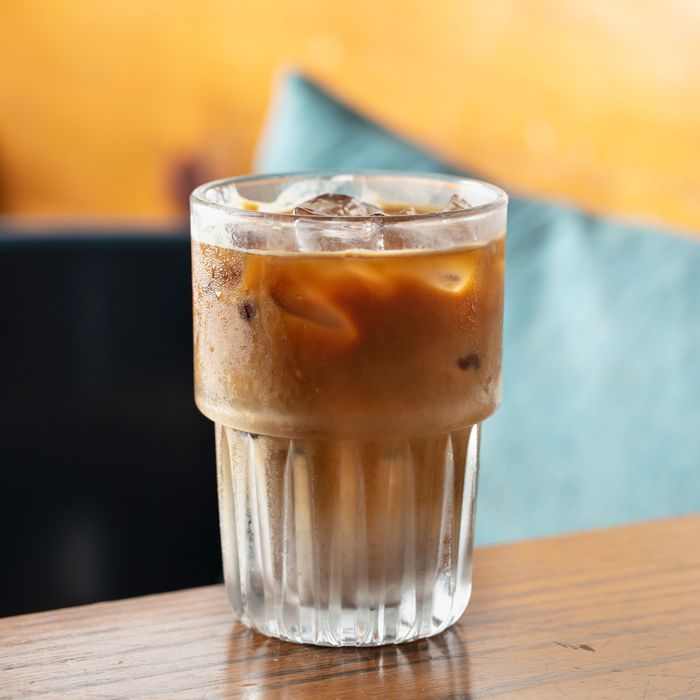 An icy blend of horchata and coffee at Colina Cuervo in Brooklyn.
Photo: Melissa Hom
Yana Volfson, who is the beverage director at Atla in Noho, admits she loathes the name of one of the café's more popular coffee drinks. Atla's horchata latte is half a shot of espresso mingled with the rice-based, cinnamon-scented drink that's familiar to anyone who has ever been to a taco truck. Traditionally, horchata is made by soaking, grinding, and pulverizing rice to make a milk that is then sweetened and spiced. At Atla, coconut milk is added to increase creaminess without dairy. The resulting drink with the added dose of coffee is really quite delicious. But still, there's that name, which would technically translate to "horchata milk."
"Coffee has its origin in more Spanish-speaking countries than it does in Italian-speaking countries," Volfson admits. "Even though I hate the name," she adds, "we decided to create this fun guilty pleasure."
I'm struck by the fact she calls the drink a guilty pleasure — a term usually reserved for prewrapped snack cakes or romantic comedies on Netflix. But horchoffee, as it's sometimes known, has grown in prominence around the country, and people are trying to make sense of the simple combination of coffee and one of Mexico's most popular agua frescas: Is it an abomination, or is it proof that culture can transform while still remaining true to some notion of authenticity?
Whatever the case, horchoffee is popular on both coasts, and it makes a certain amount of logical sense to spike horchata with espresso because horchata itself is not too far off from what some high-end coffee shops are already concocting with homemade nut- or grain-based "milks."
When Cesar Vega opened Café Integral in Nolita, he insisted on making all of his own nut milks, frustrated by the fact that industrial dairy alternatives were often highly processed drinks sold under the guise of a vague health halo. After experimenting with some brown-rice-based horchatas, Vega and his team created an almond milk that incorporates a spice blend to give it the characteristic cinnamony feel. He also serves horchata with espresso.
In Vega's home country of Nicaragua, horchata is made with rice and jicaro seeds. Vega explains that serving a more traditional Nicaraguan version in New York probably wouldn't be as popular since the flavor is very unique, so many Americans are accustomed to Mexican horchata. "But it's closer to Nicaragua than if I were serving a pumpkin-spice latte," he jokes.
That idea of wanting to drink something delicious while maintaining ties to the past comes up again and again when discussing horchoffee. At For All Things Good in Bed-Stuy, owners Matt Diaz and Carlos Macías have a primary goal of using their café to educate and expand American customers' understanding of Mexican food, with a specific focus on masa, the maize dough that is used to make tortillas and other foods.
"As much as we want to be educational, we also want to keep things playful," Diaz says, adding that he didn't try too hard to be faithful to any kind of traditional horchata, whatever that may be.
"It's not just a Mexican drink," he explains. "There are so many different horchata recipes, and our horchata recipe is our horchata recipe."
Everyone I speak to is careful to make a case for their horchata-coffee hybrid because, after all, where there is specialty coffee, there is the specter of gentrification. And some horchata purists argue that putting coffee in the classic Latin American drink is blasphemous. What would our abuelas think? (Before she passed, my own Mexican grandmother said that horchata spiked with coffee was "an interesting idea" but that she'd rather keep the two separate.)
"I just feel like all of these traditions live in our families for generations, and now they're just being kind of exploited," says Mónica Pérez, a second-generation Mexican American horchata lover who lives in Phoenix. "It's like the next kale or the next collard greens," she laments, expressing concern about the rising prices of what has typically been a very cheap drink.
The $6 horchoffee at Sqirl — Los Angeles's infamous all-day brunch destination and a mascot of gentrification on the city's east side — isn't helping matters. Nor is the "dirty" horchata served at the L.A. taco chain Guisados that is made with both milk and cold-brew concentrate. When the recipe was adapted in the New York Times, certain corners of Latinx Twitter were unforgiving in their response.
However, a closer look at the drink's history and its expansive representation across Latin America makes it clear that experimenting with the boundaries of horchata might not be as transgressive as some critics believe; horchata is a perfect example of diasporic difference in the Latinx community.
While its Mexican iteration is the most well known in the U.S., versions of the drink are traditional favorites throughout Central America and Puerto Rico, incorporating a variety of ingredients like coconut and pumpkin seeds. The horchata that people drink in Latin America is a derivative of Spanish horchata called horchata de chufa, which isn't made with a nut or a grain but with nutlike tubers called chufas, or tigernuts. This drink originated in North Africa and was taken to Spain by the Moors in the eighth century. But when conquistadores arrived in the New World, they didn't bring any tigernuts, so the drink took new forms in Latin America.
In Ecuador, for example, horchata refers to a bright-pink tea made with flowers and herbs. But when Ecuadorean American Jorge Salamea opened Colina Cuervo, a Latin-inspired café in Crown Heights, he knew the horchata of his childhood wouldn't be the best fit for his menu, which features food items like tortas, tamales, and empanadas. So some experimenting in the kitchen led to his take on a horchata latte, which Salamea says is now the shop's most popular drink.
"It was like, Aha! Why aren't we bottling this for the rest of the world?" While Salamea says his team came up with the horchata latte on their own as a "happy accident," he says he has since realized that horchata-coffee combos already have quite a following in other parts of the country. "My only fear," he says, "is that Starbucks will catch up."
Well, about that. In 2017, Starbucks did debut an Horchata Almondmilk Frappuccino that was essentially a classic Frappuccino made with cinnamon syrup and topped with grated cinnamon. Other chains have followed: Peet's Coffee serves an horchata cold-brew oat latte, and Jamba Juice serves a Lotta Horchata, which uses fat-free vanilla frozen yogurt and cold-brew coffee with honey and cinnamon.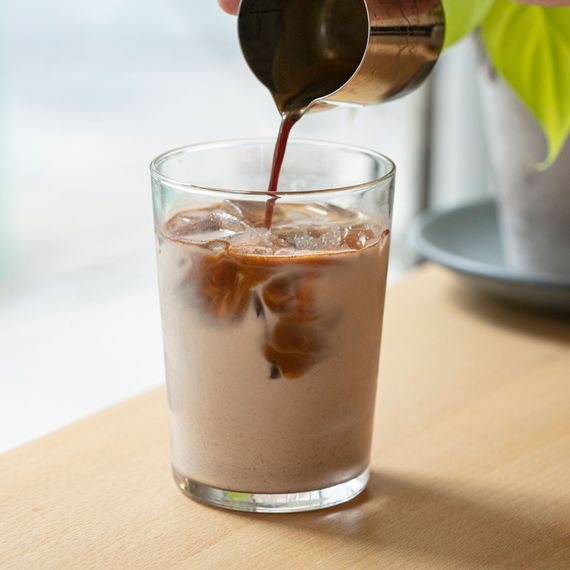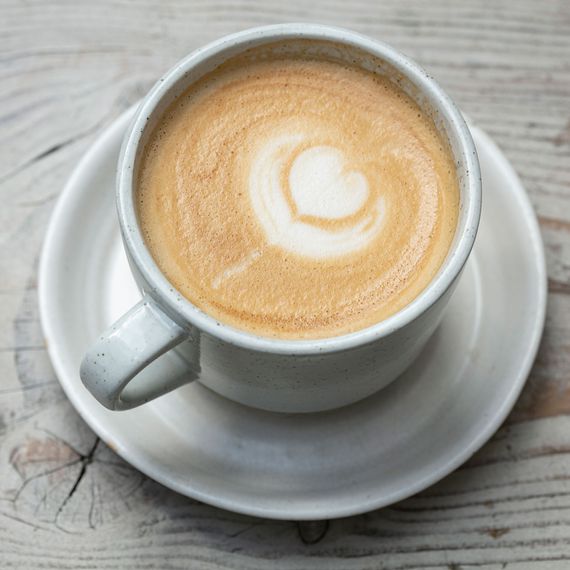 What's so grating to naysayers is that these chains are essentially adding cinnamon and calling the drinks horchata, which does nothing to help people understand what horchata really is. But this convergence of tastes is also creating new experiences for Latinx customers.
Amy Franco is a millennial Panamanian American who grew up in Chicago. She had been intrigued by a Salvadoran-style horchata she read about on Twitter but had been unable to find. Eventually, she was able to try it in the last place she expected: Portland, Oregon. At the Salvadoran American–run Café Reina, Franco tried the Horchata de Morro Latte: a latte made with a style of horchata whose distinguishing ingredient is ground morro seeds.
For Franco, the changes that have taken place in the coffee world are an extension of the coffee culture she has always known. "When I make my pour-over in the morning, I think about where my parents are, where the coffee grows, and the labor it takes to be picked and processed," she says. "I think of all the things that it took for it to come to me."
At Atla, Volfson says something similar — that combining the gentle spice of horchata with the sting of espresso isn't about transforming a traditional drink to pander to white American palates. It is instead about taking a drink that has always been evolving to some degree and offering something new that is nevertheless rooted in thoughtfulness. "I don't think we're modernizing," she says. "I think we're celebrating." Now they just have to find a better name for it.