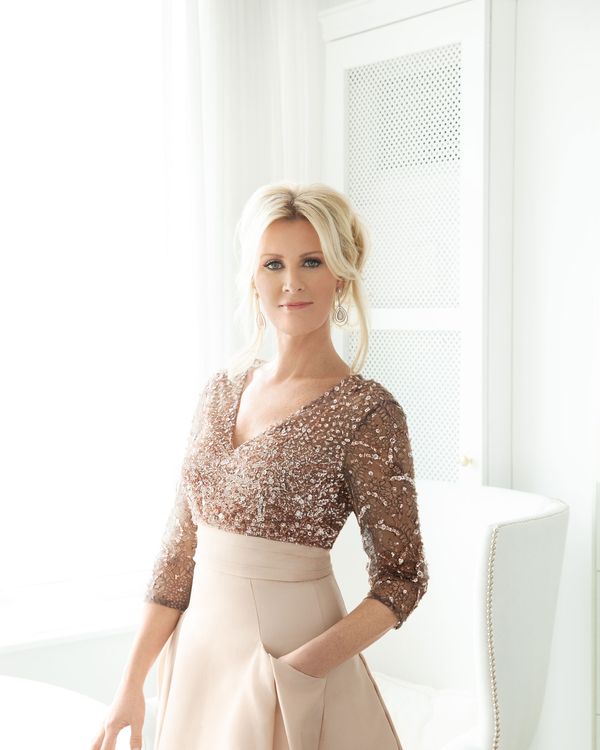 Lee has returned to the States, and the public eye, after former partner Andrew Cuomo's resignation from office.
Photo: Jesse Dittmar/Redux
I never want to get back together with my ex, but now and then I entertain lucid fantasies of Living Well in Front of Him, or at least In His Social Media Periphery. In this fantasy, I live a healthy lifestyle. I enter the scene in a flowy dress. My skin is dewy, and I'm high off of my latest professional accomplishment. When we walk past each other, I barely notice him.
In reality, he's more likely to see me crying about something while sitting inside a Dunkin' Donuts. You never reemerge into someone's sight on your own terms, but the fantasies are enough to get me through.
Lately, my fantasies have involved Sandra Lee, of all people. Not directly, but aspirationally. The celebrity chef, entrepreneur, and former partner of New York's disgraced ex-governor Andrew Cuomo has been having the post-breakup-repatriation fantasy of my dreams. After spending the summer in France — relaxing on Normandy beaches, dining in Capri in white-lace dresses, and getting engaged to boyfriend Ben Youcef in Paris — Lee is now back in the States.
"Finally coming home again.. loved Paris-loved France. Love you all, thank you for the kind words and support!! Always XoSl," Lee recently wrote in a caption accompanying a masked selfie she apparently took while flying somewhere over the Atlantic Ocean. A move like that might have tarnished any other celebrity chef's down-to-earth bona fides. But Lee's comments were filled with messages of support: "The word karma has to be your favorite word," read one. "You are traveling free now, with no ny baggage!" went another, with its unsubtle reference to Cuomo. My favorite was more succinct: "Wonderful comeback!!!"
Whether or not Lee's public return to the States was actually timed to coincide with Cuomo's exit from office, many — myself included — found it heartening to see Lee thrive on her own terms, even if it's difficult for Lee to come "back" in any way because, for most of the past two decades, she has never really left our lives.
Many Americans first entered the Sandraverse sometime between 2002, when her first cookbook, Semi-Homemade Cooking, was published, and 2005, when the half-hour series based on that book debuted on Food Network. Throughout the series's 15-season run, Lee combined pantry ingredients to create dishes that appeared handmade but didn't require the from-scratch effort. Sandra reveled in a type of culinary deception that was perfect for TV. Nothing had to taste good. It only had to look the part.
At its best, the show was an absolute fever dream of 21st-century American supermarket excess. While Ina Garten shamed us into buying good vanilla, Lee dripped vanilla extract into canned vanilla frosting just to give home cooks something to do. She stuffed an angel-food cake with marshmallow and then lined it with pearls. She turned a pint of ice cream and some cocoa powder into a dessert that looked, for some reason, like a baked potato.
I was still in school when I first encountered Lee and Semi-Homemade. It aired at four o'clock in the afternoon, and I could watch it while eating wheat bread slathered with peanut butter. While I had no interest in most of the food she made — pork chops, pasta salads, and other classics of the White People Food canon — Lee's cakes mesmerized me. They looked absurd: inscrutable art installations that always took some illogical turn to become even more fake. In a segment featuring a Christmas Tree Cake, Sandra stacks chocolate and spice cakes together with cardboard and pale-green frosting, which she calls "adhesive." She claims to have purchased the cakes from the store, even though they sit imperfectly on a wire cooling rack and feature burnt, homemade tops. The episodes always ended with cocktail time and a tablescape lesson so imaginary white suburban families could enjoy a thematic setting in which to eat their baked-potato ice-cream cakes.
Lee's cakes never seemed like actual food, and I think they made me feel better about myself because they offered me a rare chance to look down on the food that white Americans wanted to eat. I didn't know who I was yet, but I knew I was better than store-bought cake with Corn Nuts sprinkled on top.
On YouTube, I could rewatch particularly egregious cake clips and revel in the mercilessness of the comments section. I can still read those comments with a certain amount of glee:
"I've watched this probably 30 times because of how awful it is."
"She puts green food colouring on pistachios."
"I'm offended by this cake! 😂😂😂 This looks disturbing!"
"This woman is like the Tommy Weiseu of cooking."
At the time, I never thought about the many Americans who like Lee's recipes, or about Lee herself. Having fallen down a rabbit hole of internet-comment cruelty, I would be a long time in seeing that Lee was years ahead of everyone else, the queen of burnout cooking a decade and a half before the country was burnt out. (There have been plenty of nights over the past year and a half when a tub of ice cream shaped like a potato would have been a fine thing to eat for dinner.) Even before the pandemic, Lee had undergone something of a critical reevaluation. As New York's "first girlfriend," she offered a public look at her struggle with cancer. She quietly advocated for marriage equality and medical marijuana, and she made no secret of the fact that she was uncomfortable in a role that has traditionally existed to make male politicians look relatable.
Now Lee is back, or at least back in my Instagram feed, celebrating "wine'o-clock" and looking fabulous. Is she really that happy? Who knows? I can't ask her — her team never responded when I requested an interview for this story. She looks happy, and maybe that's enough. If all those episodes of Semi-Homemade taught me anything, it's that a few behind-the-scenes cheats are all you need to make something shitty appear totally fine.