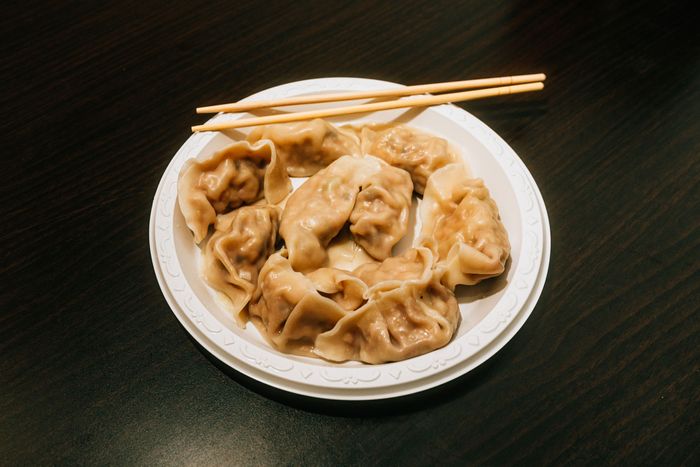 Very good dumplings.
Photo: DeSean McClinton-Holland
In the ultracompetitive world of Chinatown dumpling shops, Shu Jiao Fu Zhou stands out. The chewy, crinkled skins are never broken or tough; the pork filling is juicy and just a bit sweet, but never overwhelmingly so. They are somehow always boiled for exactly the right amount of time — a consistency that has been maintained over years' worth of visits. And at just $2.75 for six or $4 for 12, they are astonishingly affordable.
They are attention-hogging dumplings, so satisfying that I've tried almost nothing else on the menu. Sticking to the same thing on a menu isn't a bad strategy, though in this case, continuing my singular focus on the pork dumplings has meant missing out on something else just as perfect — specifically, chicken dumplings I had no idea Shu Jiao Fu Zhou even served until I stopped by this week.
Had my eyes been glazing over the menu this entire time? As it turns out, no. The chicken dumplings are a pandemic-era addition to the menu, and now they are a pandemic-era addition to my diet. These chicken dumplings are better than many pork dumplings I've had, and the version studded with chives comes with an added surprise of diced onion, soft and translucent, somehow stretching the dumplings' comfort factor even further. I will always love the pork dumplings, but now I will be adding the chicken ones next time I stop by.
And that is another pandemic-era development that brings me joy to report: For more than a decade, Shu Jiao Fu Zhou occupied a small corner space on a quiet block of Eldridge Street, where the kitchen spilled out into the dining room; there were always stacks of cardboard boxes near the counter. They never, at least when I went, set up one of those dining sheds, like some of the neighborhood favorites that received help to do so. When I stopped by a few times last year, the business was being operated as a takeout window, selling bags of frozen dumplings to customers waiting outside on frozen days.
I wondered if Shu Jiao Fu Zhou would close. But the owners have instead relocated the restaurant to a bigger space, at 295 Grand Street, which I found when the artist and fellow fan Andrew Kuo texted me, "Great location, I wonder if it'll be mobbed with cool kids." Then a co-worker who popped by over the weekend reported, "It was poppin'!! Mostly aunties."
When I went earlier this week, there was at least one very grumpy old man who got mad when someone brushed his back and an indeterminately European guy who said inexplicably, "Lady, you get your bagels from Berlin." (Later, he exasperatedly asked for a fork.) I have no idea what he was talking about, but suffice it to say, the scene is fantastic.
The space isn't any fancier, and, with the exception of the chicken dumplings, the menu isn't any bigger. There's just more room, with a handful of tables big enough to seat families or groups of friends, and a station for charging iPhones. The foot traffic is better on Grand Street, they added. It's true there is a lot more going on in its new location: Hot-pot spot 99 Favor Taste is down the street, Wah Fung No. 1 Fast Food is a short walk away, and Soft Swerve and Wayla are each around the corner, more or less. It's much more in the heart of the neighborhood now.
According to one person working the counter, the restaurant moved after the original building was sold. Selfishly, I'm just glad these good dumplings are still around and that a solid local spot in Chinatown came out of 2020 on top.
It's been a long year and a half for the neighborhood, which endured a disproportionate level of economic fallout from the COVID-19 pandemic: The neighborhood gem Hua Ji Pork Chop closed, as did Lung Moon Bakery, which was opened over half a century ago. The popular dumpling and hand-pulled noodle shop 88 Lan Zhou, my personal favorite in Chinatown, also closed in the fall. When that happened, Shu Jiao Fu Zhou took the top spot. Now, the owners have upgraded to a bigger location, which means one thing: More room to eat more dumplings.
Shu Jiao Fu Zhou, 295 Grand St., nr. Eldridge St.; 212-625-2532