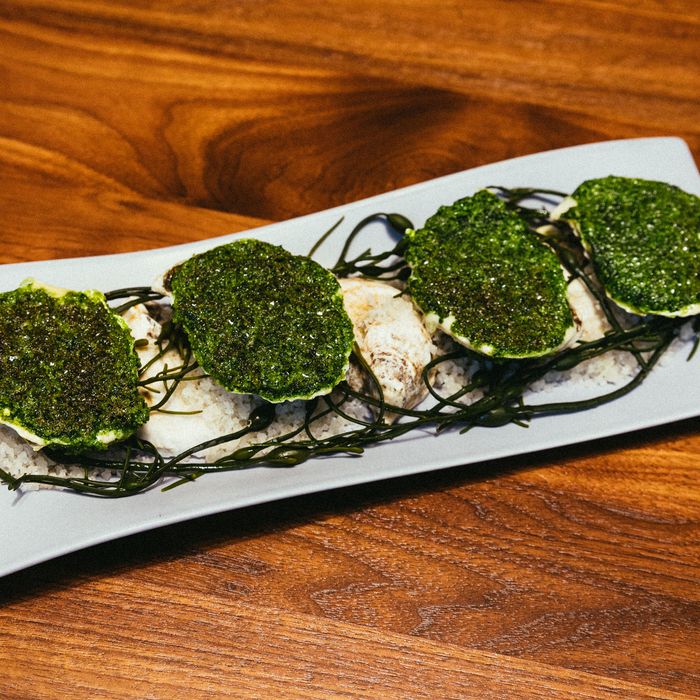 Oysters Vanderbilt at Le Pavillon.
Photo: DeSean McClinton-Holland
The days of 'Look at me, I'm at Noma!', 'Look at me, I'm at Eleven Madison Park!' are over, they're dunzo," declared my friend, the Weary Gastronome, as we sat at Daniel Boulud's new midtown venture, Le Pavillon, and watched the world go by. The great COVID-19 plague and its seemingly endless aftershocks had put an end to those self-indulgent glory days when food plutocrats leisurely toured the globe, ticking off top-50 destinations in their gold-rimmed notebooks. Snooty critics were abandoning their ridiculous "gourmet" star systems. Well-turned veggie menus and bowls of ramen were the coin of the realm these days, not Parisian soufflés or slabs of $200 côte de boeuf. "Are we ready for all this?" he said, waving his hands at the neat rows of linen-covered tables and Boulud's wait staff rushing to and fro in their pressed jackets. "Not me. I'd rather be sitting at home eating pizza in my loose-fitting pants!"
Judging by the busy early-evening crowd piling into the tall, slightly awkward space at the bottom of a gleamingly new, possibly obsolete office tower next to Grand Central, not everyone agrees. And to be fair, big-money midtown chefs like Boulud have more on their minds these days than turning their multimillion-dollar investments into global dining destinations. In this perilous, star-crossed time, the simple act of survival will do just fine, and for tonight, at least, the room is filled with a familiar assortment of Boulud regulars. There are uptown dandies propped at the bar with silk cravats sprouting from their jacket pockets and dignified elderly couples discreetly sipping their pricey glasses of Sancerre. There are a few tourists seated at the tables, along with groups of serious-faced gentlemen in suits who may or may not have recently arrived from an extended plenary session at the U.N.
Le Pavillon features an elegant bar that seems to echo Philip Johnson's famous square-shaped design at the old Four Seasons, but because of the strangely narrow dimensions of the room, somehow feels twice as small. There's an impressive view from the bar of the ornate Grand Central façade and the silvery spire of the Chrysler Building towering just beyond it. The vaulted, cathedral height of the space is impressive, too, although a low-slung false ceiling is set over the rows of tables that are clustered toward the south side of the room. Given the echoey properties of the space, this is probably for acoustic reasons (and possibly the advanced age of many Boulud regulars), although on a crowded evening, with uniform gold mushroom-shaped lamps planted at all the tables and a profusion of lobby-style flora scattered here and there, it can feel a little like you're crouched together in a random hotel restaurant or the first-class dining room of a newly built airport lounge.
You're not going to find the kind of precise, carefully marshaled (and at $125 per three-course prix fixe, not inexpensive) brand of cooking that Chef Boulud is famous for in most airport lounges, however, and the menu at Le Pavillon contains some elevated pleasures, especially early on. We tasted the signature oysters Vanderbilt served on the half-shell, dressed with spoonfuls of creamy chowder ("These taste of culinary school, but not in a bad way," muttered one of the cooks at the table), and a delicate onion tart decorated with tiny dandelions and bits of thyme. There were a few tasty if familiar crudos (if it's back on the menu, get the lime-cured striped bass instead of the usual tuna offerings), and the kind of opulent French veloutés that you don't see much anymore at the bar-restaurants downtown — one made with late-summer corn, the other with mussels and a rich mix of potatoes and watercress and dressed with dollops of caviar.
I would have expected a little more overtly classic French cooking for a restaurant named after the famous World's Fair pavilion that launched the haute-gourmet craze on an unsuspecting American public way back in the day, but like many chefs of his stature in these uncertain times, Boulud has decided to throw his hat into the crowded vegetable-forward ring. Many of these creations (mushy grilled avocado with einkorn berries; beets bombed with a few too many sesame seeds, mustard seeds, and carefully tweezed flower blossoms, among other things) seem a little busy and overproduced at this stage. So I recommend taking refuge in the seafood portion of the menu, which includes fat scallops crusted in buckwheat, generous cuts of grilled swordfish, and soft, ivory-colored blocks of halibut that the kitchen layers with thinly sliced shiitakes and pours with an aromatic mushroom-and-barley consommé.
Like everyone else's, Boulud's restaurants have had their ups and downs during the great COVID crisis (several are only just reopening around town), and when the chef emerges from the kitchen dressed in his mask and spotless whites, he looks a little like a harried, well-mannered doctor passing through the room, on his way to triage another patient. "Business is not all the way back, but we are hopeful," he says. "Every week, we are one foot on the accelerator and one foot on the brake." In the meantime, we should remember to try that most French of the haute culinary disciplines — the desserts. Soon they arrive at our table like postcards from a brighter, happier time: lemon tarts with hidden layers of strawberry, velvet hazelnut-and-chocolate crémeux, a soothing peach soup with mini rose-shaped sculptures of meringue floating on top. The Weary Gastronome took one bite, and then another. "These are really very nice," he said.