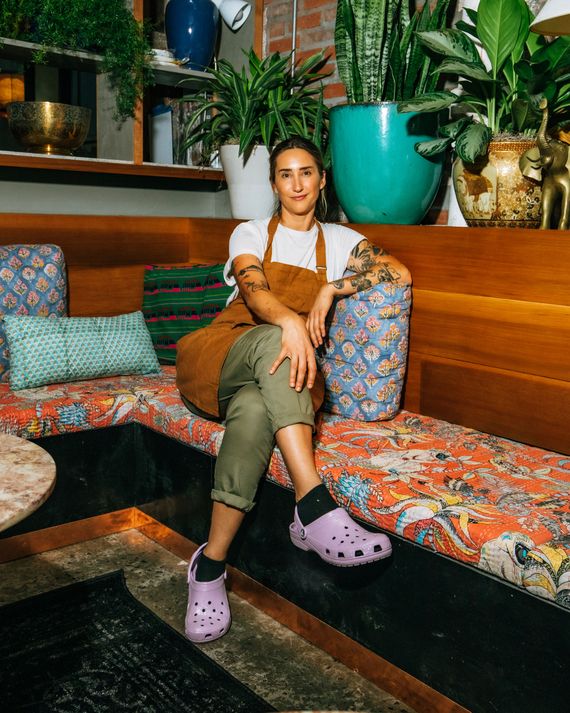 Jackie Carnesi at Nura in Greenpoint.
Photo: DeSean McClinton-Holland
"What I really want is something beautifully shellacked," says the chef Jackie Carnesi. We are standing in the still-under-construction kitchen at Nura, a new Greenpoint restaurant where Carnesi will, in a matter of weeks, be the executive chef. Or, rather, I am standing. She is busy cleaving chickens.
Carnesi is four days deep into menu development, and so far, it has been, if she can say this, a parade of hits: a plate of fuchsia- and turmeric-tinted deviled eggs sprinkled with guaje seeds, designed for sharing. Pickled mussels in a punchy coconut broth. Radicchio salad with prickly-pear vinaigrette and cashew cream. And today, she's attacking high-gloss chicken. A glaze could give her what she wants; she's thinking guava and ssamjang. "I feel like that's something a true artist makes," she laughs, very slightly. "That's the goal."
All of this is new: the job, the ovens, the sheet pans, the veritable rain forest of potted plants that have just arrived from Queens, and the recipes, which carry with them the added burden of having to be both delicious and somehow distinct. Whatever makes the cut for the opening won't only define Nura as a restaurant; the dishes will, in some ways, define Carnesi as a chef, at least in the eyes of New York diners, who almost certainly don't realize how much of her food they've already had.
For the last decade, she has worked her way up through an array of high-caliber New York kitchens, but no casual eater would have known that. "My food has been reviewed plenty of times," Carnesi says. "But never with my name attached to it." At Nura, for the first time, the menu will be under her name. She has just bought her first pair of Crocs for the occasion. This is the dream for a chef, and like most dreams, it can be unsettling: The other day, her partner, Damian Higgins, asked if she was worried about critics' reviews. "I'm like, Yeah. Shut the fuck up."
Carnesi distinctly understands the pressure that comes from having your name attached to a menu in New York because she's been responsible for executing so many others. After growing up in Texas and graduating from culinary school in Napa, Carnesi got a job at Empellón Cocina, run by the chef Alex Stupak; within a year, she'd been promoted to sous-chef. "I remember my mom was like, 'Oh, so now you're a chef, because this person said you're a chef?'" Carnesi recalls. "And I was like, 'Yes, yes, exactly! Yes!'" Then she moved to other restaurants — Little Prince, Back Forty West — and at some point realized that after a year of Adderall-fueled, 80-hour workweeks, she was, like many kitchen workers, lonely and exhausted. A change came after she landed at Roberta's in 2014 when it was the paragon of haute Brooklyn pizza.
"I was like, No way are they ever hiring me," Carnesi remembers, despite the empirical evidence that, in fact, lots of people wanted to hire her. In the end, "I think that actually ended up being a good thing, having a little humility about my ability," she explains. She stayed at Roberta's — where she became acting chef de cuisine and would eventually help it expand with the stand-alone burger joint Burgie's — for the next six years, longer than most restaurants even exist. "It was the best job I've ever had."
But in January of this year, after her mom passed away, Carnesi knew it was time for another change. "They were really kind to me about being like, take whatever time you need," she says. "I just felt like it was time." She'd been offered an executive-chef job at a new restaurant in the West Village, and she took it. When that fizzled, she found the opening at Nura the old-fashioned way: through a help-wanted ad on Craigslist.
Nura is the second project from Scott Hawley and Michelle Lobo-Hawley, the husband-and-wife team behind Otis, which is known both for its food (vaguely Mediterranean) and its vibe (very cool). Nura does not disappoint in terms of atmosphere: breezily industrial and skylit, with its onion-stained alpaca lampshades, brass trimmings, and de rigueur collection of potted plants. And the food, which is up to Carnesi, will be … well, that's what she's figuring out.
Two weeks away from opening, Carnesi is still thinking about the chickens. "We're working on it," she says, downing a second cortado. "We're gonna work on that today." When I'd seen her last, she'd been playing with a version of yogurt rice. "It was totally not right," she says. "I knew it wasn't right." But on the bright side, she adds, with a self-deprecating eye roll, "it was a reminder that not everything I make is good — that's what R&D is for." (The deviled eggs, the mussels, and the radicchio all remain definitively on the menu.) After this, she'll head off in search of chicken hearts at Food Bazaar, she tells me. "They have all the parts."
It isn't just about the food. As the opening approaches, Carnesi is thinking about the kind of kitchen she'll run. Culinary excellence, she knows, is not actually contingent upon misery and uppers. "The thing that I'm trying to do here is create this kitchen that I really, really, really want to work in myself," she says, which means a kitchen that is fun. "Cooking is so fun. It should be really fun," Carnesi continues. "It's really important to me that everybody is having such a good time that they have enough energy and mental capacity to do their jobs really well." It is not just humane, but also practical: Only when people are not stressed out and resentful can they make — and she is aware that this sounds hopelessly saccharine — "food that's legitimately made with love."
Before that can happen, though, Carnesi must also consider her kitchen in a much more literal sense: During construction, a pair of workers ask her where they should drill the holes in Nura's cement walls to mount some latex-glove dispensers. Carnesi has to think about it for a moment. "They're asking me where these things should go," she marvels. "And I'm like, Holy shit. That's so definite." It requires unexpected decisions, leadership. You can change your chicken prep after the fact, but the holes in the wall are pretty final.