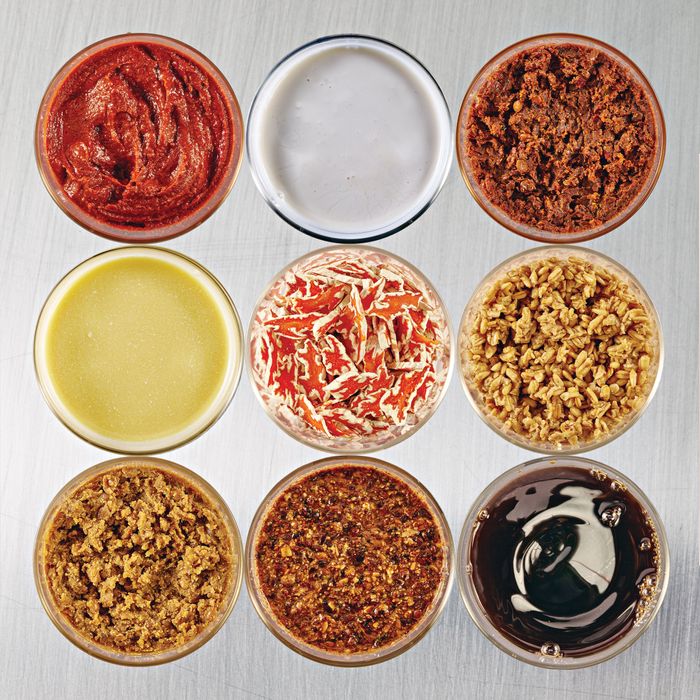 Top row, from left:
Red-pepper miso, almond crème fraîche, and Misole.
Middle row, from left:
Cultured sunflower milk, koji carrot, and Oatso.
Bottom row, from left:
Sunso; Sun Sauce, in process and complete.
Photo: Marcus McDonald
A few years ago, Brock Middleton was just another former real-estate-finance guy in Dallas running a sourdough side hustle out of his house. Today, after training with chef-fermenter Misti Norris (of Petra & the Beast in Dallas) and joining the Eleven Madison Park team as a cook shortly before the pandemic and quickly rising in the ranks, the tall 31-year-old moves about the library-quiet kitchen as the newly vegan restaurant's first fermentation sous-chef. "I don't know who came up with the title," says Middleton. "It's above my pay grade." Regardless of what it's called, a dedicated pickler is not novel. David Chang had one (Dan Felder). Noma's — David Zilber — wrote a best-selling book about fermentation. But the position is perhaps more key at a vegan restaurant. "When you're not using animal protein," says Middleton, "it's even more important to find inventive ways to unlock umami." His work is present in every one of the 11 courses on the $335 tasting menu. Recently, he walked us through what he has currently got frothing and fizzing in the jars.
1.

Red-Pepper Miso
Time: 2 weeks
"Red-pepper miso starts with a subproject, a red-bean koji — which is made by inoculating chiquito rojo beans from New York State with koji, a type of mold — that is then mixed with roasted red peppers and salt and allowed to ferment for ten days to two weeks. The red-pepper miso is used as part of the fried-pepper course, currently a pepper taco."
2.

Almond Crème Fraîche
Time: 2 days
"I combine our freshly made almond milk with cultures we get from Kingdom Supercultures in Brooklyn for 24 hours or until it becomes slightly acidic. We serve it alongside our tonburi, a Japanese seed that looks like caviar. It's also mixed with two different red-pepper purées to form a red-pepper crema, one of the condiments of the pepper course."
3.

Misole
Time: 2 Weeks
"I'm experimenting with a sort of mash-up of miso and mole. It's got koji, toasted spices, defatted sunflower flakes (the by-product of our sunflower oil), and some seriously toasted pumpkin seeds. I don't know exactly how this will be used, but we all love the flavor."
4.

Cultured Sunflower Milk
Time: 2 Days
"After we make our fresh sunflower milk by grinding sunflower seeds with water, we combine it with a special nondairy culture optimized for plant-based proteins and allow it to ferment for one day. This forms the base for our sunflower butter. It's also used to pickle the Anaheim peppers that appear as a garnish in the pepper course."
5.

Koji Carrot
Time: 1 week
"Koji carrots are carrots that have been peeled, brined, cooked, rested, dusted with koji, incubated at 30 degrees Celsius for two days and then dehydrated, sliced thin, and put through a pasta roller. The koji forms a sort of Brie-like rind. I use this to top the carrot tartare, a bar snack."
6.

Oatso
2 weeks
"Oatso is an oat-based miso that we use with the parsnip in the 'aversion' dish for those allergic or averse to nightshades. I found that koji doesn't like growing on hulled grains, so I use a rice-polishing machine to grind the hulls off the oats. Then I ferment oat, koji, water, and salt."
7.

Sunso
Time: 3 Months
"When we make the sunflower oil — by pressing the oil from the seeds — the defatted sunflower flakes emerge totally dry in a sort of tube from the oil-press machine. We use that along with lentil koji to make a sunflower-based miso called Sunso. It's not on the current menu, but it will be this fall."
8.

Sun Sauce
Time: 4 months
"Sun Sauce is made with sunflower pulp, a by-product of sunflower milk. We treat it like shoyu. Instead of using toasted cracked wheat, which is how you make shoyu, we toast the sunflower pulp, mix it with chiquito rojo beans, grow koji on it, then combine it with a brine. This is a longer-term project whose use is TBD."