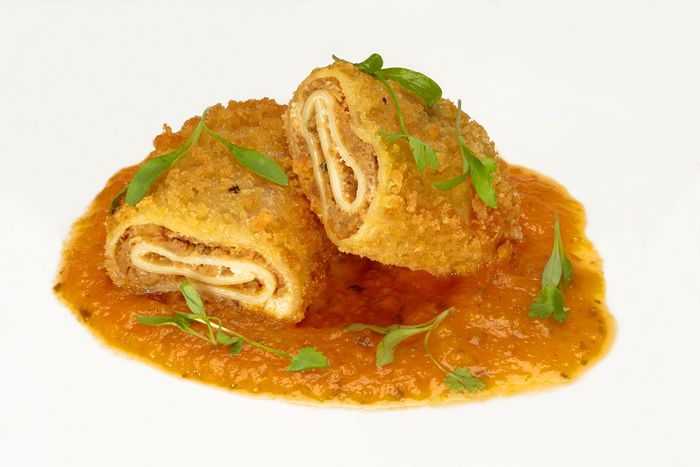 "Meat," "cheese," and sauce: a classic combination.
Photo: Marcus McDonald
Shenarri "Greens" Freeman, the executive chef at Cadence, a new soul-food restaurant in the East Village, contemplates her masterpiece: two golden batons of deep-fried lasagna atop a reddish-orange tomato sauce. "I'm really proud of this dish," she says. "It's innovative and futuristic." Like everything at Cadence, which is owned by serial restaurateur Ravi DeRossi, the southern-fried lasagna is vegan. "I was passionate about having it on the menu," says Freeman, who graduated from the Institute of Culinary Education's newly launched plant-forward Health-Supportive Culinary Arts program in June. "Lasagna is something that is a staple in many African American households. It's something I grew up eating in Richmond, Virginia, something my mother could make that would last the entire week." Of course, unlike Cadence's iteration, Freeman's childhood lasagna was full of ground beef and cheddar cheese. Her professional version is equally indulgent: "When I first proposed this dish, Ravi said it wasn't southern enough. So I deep-fried it. After a lot of experimentation — I probably made it 30 times to get it where it is now — I decided to roll the noodle up. Otherwise it was just a hot mess. Rolling also allows for elevated plating. At most soul-food restaurants, there's little focus on the presentation. It's just everything on a plate, cookout style. I love that, but I just spent all this time in culinary school. I thought, Why not put some of those techniques in play? "
Here's how it comes together, according to Freeman:
The "Meat"
"The base of the red-wine Bolognese is a mixture of Beyond Meat's beef patties and spicy Italian sausage that I break up into a ground-beef texture plus a lot of seasoning and spices. There's Aslina Cabernet from South Africa, which is one of the most popular wines on our list and a good way not to let any go to waste, plus some spinach and tomato sauce."
The "Cheese"
"As a substitute for the cheesy aspect of lasagna, I use a pine-nut ricotta. It's very simple. All you need is a blender; pine nuts, soaked or boiled; chickpea miso, which adds umami; and salt, lemon juice, water, and pepper."
The Sauce
"Our fresh tomato sauce that we serve the lasagna on top of is sweetened with maple crystals and made with fresh basil."
The Crunch
"The crunchiness is key, so after chilling the rolls, I double-bread them, first in 00 all-purpose flour, then I dip them in almond milk and then in rice-panko bread crumbs to create the crunchy outer texture. Fried doesn't necessarily mean unhealthy, either. That's one reason I use sunflower oil.