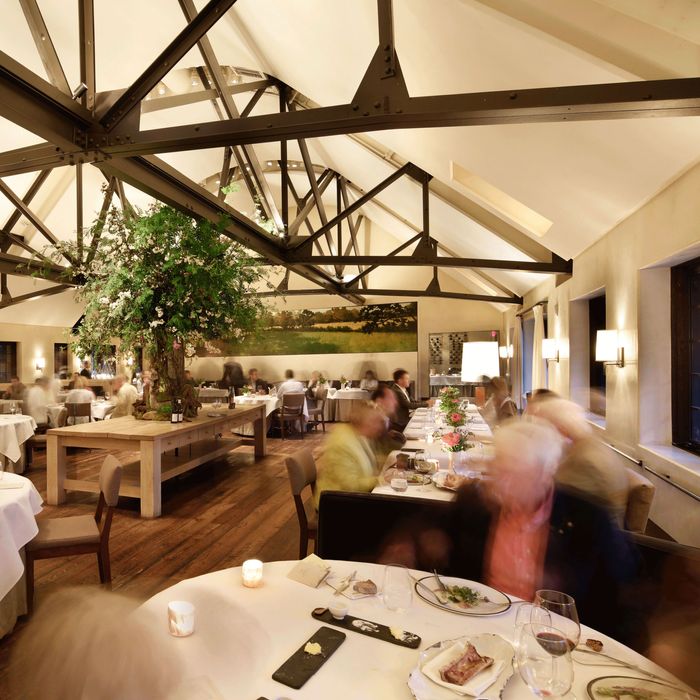 The dining room at Blue Hill at Stone Barns.
Photo: Melissa Hom
Last summer, chef Dan Barber announced the end of Blue Hill at Stone Barns as we had known it. He was stepping away from the kitchen, he explained. Instead, the restaurant would host a series of chefs in residence: a new one for each season of 2021. After that, who knew?
Today, we have the answer: Beginning October 7, Blue Hill at Stone Barns is back. With, of course, some changes. "563 days of not being Blue Hill got us thinking about what should come next inside our four walls, and outside of them too," Barber wrote in a letter to diners, laying out plans for the restaurant's latest iteration.
When it reopens, Blue Hill will be "75 percent restaurant and, with Stone Barns Center, 25 percent educational workshop — teaching, learning, and researching." The idea, he continued, is threefold. The new format will create a "less pressurized restaurant environment." It will allow the team to "engage more deeply with the incredible farmers, experts, and researchers at Stone Barns and across the food system." And, according to Barber, it will let them share the spoils of all that learning with more people.
In practice, what that means is that the restaurant will be open four days a week, Thursday through Sunday. Wednesdays will be "learning days," and a series of culinary programs — research tours, butchery demonstrations — is in the works. The residency program, he promised, will also return, in some form, in 2022.
In what is perhaps the least surprising news of all, dinner reservations for October are already sold out.