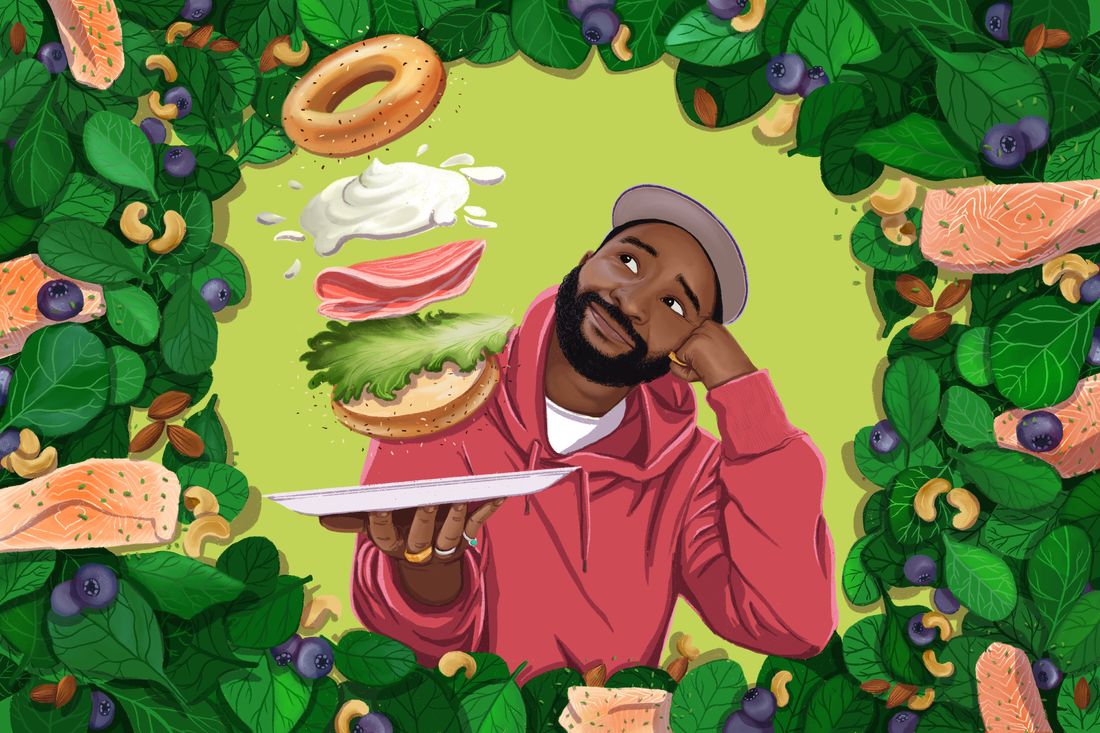 Jacolby Satterwhite and his bagel.
Illustration: Maanvi Kapur
On August 14, Carnegie Mellon University's Miller Institute for Contemporary Art will debut Jacolby Satterwhite's "Spirits Roaming on the Earth," the first solo survey of the artist's work. It's one of several projects that Satterwhite — who incorporates animation, performance, drawing, and other mediums — has coming down the pipeline: Along with the Miller ICA show, he'll return to painting with a group show at MoMA PS1 and is at work on his first public art project for the Cleveland Clinic. He's also at work on a music video, though details are hush-hush. (He was a contributing director for Solange's 2019 visual album, When I Get Home, and collaborated with Nick Weiss on an album, Love Will Find a Way Home, as part of a project incorporating recordings and drawings by his late mother.) "In a very Warholian way, I kind of look at pop stars as these weird vessels for conceptual space," he says. At home in Brooklyn this week, Satterwhite went to a couple galleries in Manhattan, had sardines that reminded him of his grandma, and ate a whole box of Fruity Pebbles in one day.
Monday, July 26
I am almost completely healed from my positive Delta-variant COVID-19 diagnosis from 15 days ago*, and I'm vaccinated — it was a breakthrough. So I decided to take my first long walk with a friend to my favorite vegan-bagel shop in Bed-Stuy. I got the virus during my seven-day vacation on Fire Island. I had a blast and did the gay thing — it was really fun being with my friends and then going to parties. The past ten days were rough, quarantining my home with the people I live with. I felt an ongoing guilt as if I was a domestic bioweapon existing in the house.
I'm still fatigued with heavy brain fog and irritability. My first major monographic exhibition of over ten years of work is launching at Carnegie Mellon's Miller ICA gallery on August 14. My public art piece at the Cleveland Clinic's BioRepository center is due on the 15th, and I'm creating a large suite of paintings for an exhibition in the fall. I really hope I can get back to normal soon so I can get back to work. I feel like I lost July completely with my vacation and COVID, so I'm focusing on proteins and eating lentil soup.
Lentil soup. My housemate makes a really beautiful one with all kinds of Indian spices. My practice is so busy. It's 24/7. I barely have time to cook, so I eat out mostly. I live with a gay couple in a nice brownstone. One of them was raised by chefs, so they cook really well. I get to eat lots of vegan food. They've kind of turned me almost into a vegan. I'm more pescatarian now.
Ate sardines and crackers. I went to Saraghina Bakery for these really nice sardines. I can't remember the brand. I usually don't have to look at what I need. I just know it. A sardine and the cracker not only has all the proteins and all the nutrients that give me energy and muscle — and I can look good — but it also reminds me of my grandmother.
She would make sardines and grits for me every morning when I was a kid.
"Have some sardines and grits."
"Thanks, Grandma."
Tuesday, July 27
My morning ritual is to do 180 one-arm push-ups, 180 lunges, 180 planks, a few other exercises, take lithium orotate, acetyl-L-carnitine (1,500 milligrams), Wellbutrin, ashwagandha, Lypo-Spheric vitamin C, B12, and magnesium and then eat a salmon salad. Then I'm ready to work in the studio.
I got the salmon salad from this bodega nearby called Secret Garden Juice Bar & Tea House on Halsey and Lewis. I love them. It's like a fancier bodega where they have nice food. They just have the best salmon salad that they make up with olives, chickpeas, carrots, corn, sautéed mushrooms, beets, Parmesan cheese, and sweet peppers. Oil and vinegar. I put a lot of green stuff in it and also cashews and capers.
When I was a kid, I was afraid of illnesses like cancer and stuff. And I'm very linear. I like to eat so I can do as much work as possible. But I'm becoming a foodie because I live with two foodies, and I realized that there is something about the perfume in food that is amazing, and that makes life worth living. You know how there's certain foods that have an equivalent to a great sexual experience? It's a certain kind of visceral feeling.
I hung out with my friends in Chelsea and went to see a group exhibition I was in at Hauser & Wirth, curated by Nicole Eisenman, Sam Roeck, and A.L. Steiner. It was a screening of queer films on a two-hour loop. We missed my film twice and took snack breaks and a lunch break in between — but in time to catch it.
At lunch, I had coconut stew. I can't remember the restaurant we went to. I never remember the names of the restaurants where I go. I'm just a freight train. I always have so much to do. And I live great experiences, and I eat great things, and I have opportunities to access so many things. But I was on to the next. Giving up control is my favorite. It's my aphrodisiac. I'm an Aquarius, and I definitely go with the flow.
Eventually we got to see my film. It was exciting. Then we went to Lyles & King in Chinatown to see a pigment print on metal I created. Following that, we ate at Dimes, and I had the steamed mussels. They were in the bowl of soup with lettuce and kale and all this other stuff, and it was just really delicious.
I love Dimes. They have the absolute best food. I feel like whoever's cooking there is crazy, but they're really good. I don't go that often, but it's a really cool place.
Wednesday, July 28 
The day felt anticlimactic and lazy. I met up with someone on Scruff after eating a vegan burrito, Impossible burger, and blueberries and blackberries all day. I love blueberries because they say they're good for the brain.
I felt like all of my regimens and rituals could not beat this sort of fog in the brain and this lack of motivation and pessimism. It felt like it altered my brain stem. So I was looking for comfort and watching WandaVision. And I was a little stressed about my deadlines, too. So when I get stressed, I get a little paralyzed.
I don't eat burritos normally — that's when the depression is kicking in. I ordered from Tepache. Their burritos are really good, and they deliver really fast.
Thursday, July 29
I needed to heal from the day before by intermittent fasting.
After restoring myself, I decided to contradict everything and get takeout from Chun Vegetarian — the food there tastes just like the real thing, and it's just delicious — before I met up with my friends to go to Frankie Sharp's club, the Q.
Frankie is a good friend of mine. I'm so proud of him. Every time I go in there, I get to go to the VIP section and it's fun. Frankie and I go back, so it's so exciting to see him create the club Q, because it's a great New York moment. And I think it's like all the people who came up in nightlife now have great positions there. I've gone there a few times, and it keeps getting better and better.
Frankie is really great because he's very New York. He understands what New Yorkers want. It's very diverse: There's a cabaret night; there's a slutty go-go night. It's a bit of it all — almost like Neapolitan ice cream, which is also my favorite ice cream.
Friday, July 30
I just feel like I love Fruity Pebbles cereal. Actually, I haven't put that in here yet, but I eat a lot of Fruity Pebbles. I ate a whole box of Fruity Pebbles in one day.
Chicken and waffles from Brooklyn Waffle House on Hancock. I ate a bunch of comfort food and did a ton of CGI and painting in the evening.
I also had shrimp and grits. Pancakes and waffles and sardines and grits — there's certain things. And soul food reminds me of my upbringing in the South: chicken livers and candied yams and corn bread and collard greens and anything related to Black food in the South really gives it the aroma of just cooked soup bringing a sense of home.
Saturday, July 31
I was eating healthy and working rigorously because I planned on going to dance at two Brooklyn parties called Susanne's Kunst and Function tonight.
Canned octopus. I like canned fish because you don't have to prepare it. I was in the studio painting and doing animation.
Ate a vegetable stew that my housemate made. It was very complicated. I think it's really interesting. It was like chopping up every vegetable in the world, adding all kinds of those cartons for the stew — stock, kale, lettuce, and celery. It was just a really complicated soup. It was really good.
Also, gummy bears. I love candy, but I try not to have it around. My housemates love candy, and it was a problem at first because if it's around, I'll eat it. If it's not, I don't think about it. But I love sweets.
Susanne Bartsch's Kunst is a party I love. It's just great because it's like raw techno and house, the collective mix of music and friends DJ-ing, and they're all visual artists and writers and poets and also sex workers. I saw so many people I love and some people I want to love, you know?
I used to always host parties back in the day. I thought about nightlife as this art medium — like, I would cast people for my films from nightlife. I would use it as a resource, like an archive. You get so much from a bunch of eclectic, eccentric traumatized queers in the fucking room.
This post has been updated. It originally misstated that Satterwhite had received his diagnosis 10 days rather than 15.