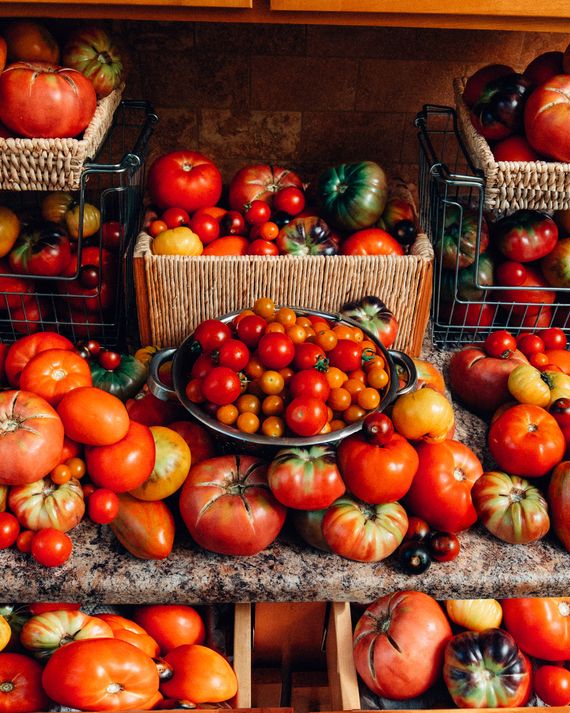 A bad case of tomato fever.
Photo: DeSean McClinton-Holland
Last August, I briefly lost my mind. I caught a terrible case of tomato fever. For weeks, I couldn't resist buying bespoke tomatoes whether or not I actually needed them. Cute little Sungolds. Smooth heirloom beauties. Ugly, knotty big boys. My poor impulse control — even poorer than usual — was no match. Over the course of a couple weeks that August, I spent something like $150 to $200 — maybe more? — on tomatoes with the sole intention of using them to make vodka sauce for the winter.
Mostly what I take away from this is that I would be a very bad prepper. More troublingly, that isn't all I bought: Some of the Sungolds went into a peach salad. I blistered cherry tomatoes before tossing them with spaghetti. Luxury beefsteaks became BLTs. While I'd rather not know exactly how much in total that I spent on this unplanned splurge, I do know that my tomato spree put an actual dent in my finances and that I had to explain to people in my life that I was short on cash because I had blown my month's food budget (and then some) on tomatoes.
By February, when I was tossing rigatoni in the bright homemade vodka sauce I stored in my freezer, I felt like perhaps I had gotten the last laugh. But now it is August again, and I fear for my bank account as I pass by city markets with glistening little multicolored orbs that once again call to me.
In years past, you may have felt, like me, a little sheepish about what tomato fever made you do. Small pleasures, though, are what make life good and worth living — the ice-cold martini glass wicked with beads of sweat, running into an old friend on the street, the $47 worth of tomatoes you spontaneously purchased even though you're waiting for your next paycheck. Why hold back now, when we've had to hold back on so much and the things that make life worth living have been so limited?
As I have shared my experiences during tomato season, I have learned that tomato fever is an affliction affecting many of the people I know. Every summer, New Yorkers lose their minds over beefsteaks and Brandywines. This is the brief time of the year in the Northeast known as "When the Produce Is Actually Good." We get sweet, popping corn. Zucchini is everywhere. The eggplants are so adorable that someone actually named them "fairy tale." The tomatoes, though, are the prize. Even New Jersey's tomatoes are unreal this time of year.
When I asked my friend Caroline Newton if she suffers from tomato fever, she quickly responded, "Usually yes? But this year we haven't gone offf yet." But then, mere minutes later, she texted me a photo of three produce baskets of very tasty looking, variously colored tomatoes her boyfriend had just brought home. We all try to create the reality that we want, even if it is false.
Others confirm their similar afflictions. "I get a mild fever," my co-worker Megan Paetzhold says. My friend Melanie Zuniga says she never escapes the grip of tomato excitement. "All year round," she admits.
Even those who grow their own are sometimes unable to resist the pull of the exuberantly named heirloom varieties that populate the city's greenmarkets. "I've been growing a ton this year," says the photographer Brad Ogbonna, who has seven plants, "but if they're selling a Black Prince or some crazy varietal I haven't heard of at the farmers' market, I have to cop."
The phenomenon is perfectly understandable if you grew up in parts of the Northeast that were once a barren tomato wasteland where we were sustained by mealy supermarket tomatoes with their notes of soggy cardboard. Growing up, the tomatoes I regularly had were so bad — despite the fact that my dad cooked five days a week — that I thought I hated them unless they were cooked. It took growing some yellow cherry tomatoes with my grandmother, a gardener, to think, Is it possible these things don't suck? Now, here I am a couple decades later, just a silly man rushing to the farmers' market to buy as many Green Zebras and Cosmonaut Volkovs as I can carry back home.
So far this year, I have kept my impulses in check, mostly. But we are now in the thick of tomato season, and my timelines are filled with tomato sandwiches, BLTs, tomato salads, and overflowing market bags. It fills me with lust, and already I feel myself losing my grip. Yesterday, I set some time aside to bike to a market where I know they have Sungolds, planning to only buy some for dinner. Then I bought $25 worth of tomatoes. I have already succumbed. I don't even know how I'm going to eat them all, but somehow, I still feel as though I have won.